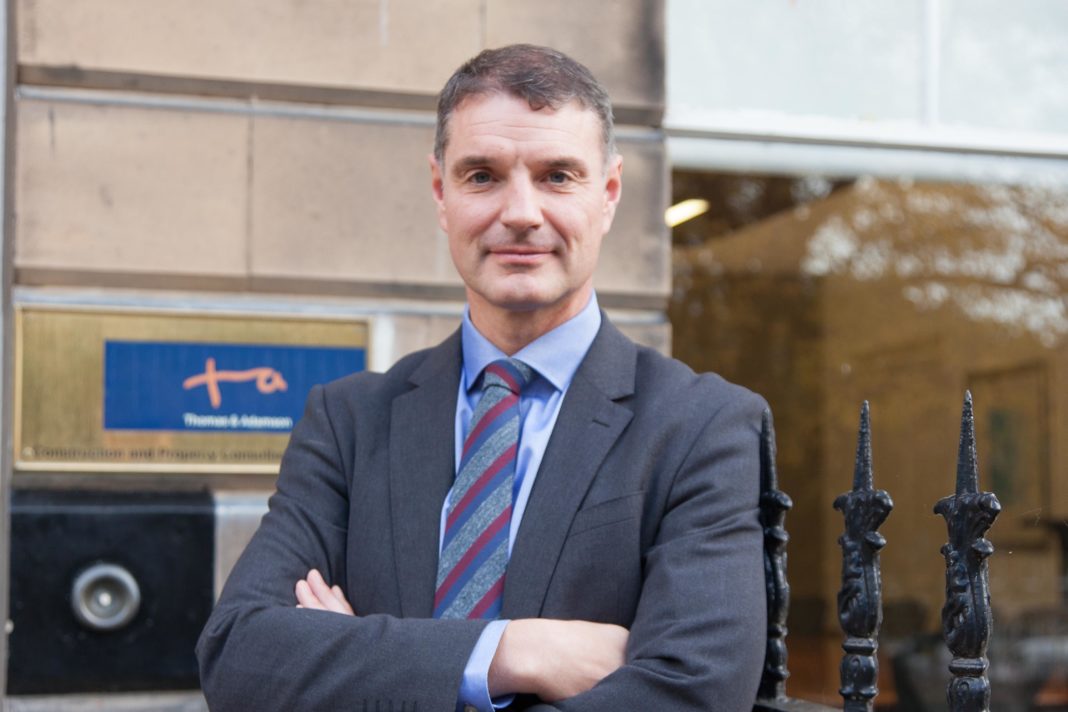 By Alastair Wallace, senior partner, Thomas & Adamson
With the UK now into its fourth week in lockdown, it goes without saying that everyone involved in construction across the country – from consultants, contractors and suppliers, are being forced to adapt and evolve in order to survive. The short-term impact of having large sections of your workforce working remotely or being furloughed, and thousands of non-essential buildings sites being closed, is without doubt taking its toll on both business's bottom line and employees' mental health.
During this time of high uncertainty, employee health and wellbeing should be viewed as a priority by every company. Additional care and support should be made available to help staff not only feel valued and supported, but also to ensure that they can handle the additional challenges that changes to their daily routine can bring. For example, we are supporting employees who are having to manage childcare and home-schooling responsibilities with flexible working patterns to help staff balance home working with parenting commitments.
It's important to us as a business to deal with any HR issues with understanding and empathy, and employee wellbeing should be seen as a priority right now. All our staff have access to our employee assistance programme which offers a wealth of additional services such as free telehealth consultations and counselling, online fitness and nutrition.
Like thousands of businesses in the UK, we have also had to make the difficult decision to furlough a large number of our staff. This is not a decision any business takes lightly but, to protect jobs and ensure our long-term survival, we've had to take steps to help us continue once life begins to return to normal. We have weekly 'check-ins' with those that have been furloughed to make sure they are keeping well and to keep them up to date with developments from within the business. It's important to us that they feel included and informed.
Despite these difficult decisions, there is of course a need for business to continue operating as usual during the lockdown. From virtual coffees with clients and suppliers to daily check-ins with colleagues, technology has greatly increased our ability to maintain relationships and help combat the effects of isolation. We're also taking steps to continue with employees' personal development, helping to keep staff engaged, motivated and developing their career progression despite the circumstances of being locked down and working remotely.
As tempting as it can be to purely concentrate on day-to-day operations to keep the business going, we also need to ensure that we are continuing to build and grow our new business pipeline. In 2018, we overhauled and revamped our IT systems and infrastructure as part of a strategic business modernisation project. This investment has played a critical role in helping us navigate today's challenges and, as a result, our staff are able to work remotely from any location in the world, quickly and easily. This has completely revolutionised our business and the investment has already paid huge dividends, with the team able to not only carry on with the day-to-day right now, but to also achieve a number of new projects wins in the past month, including Leonardo MW's framework.
Whilst it goes without saying that we still don't know how long the current situation will continue for, in the longer term, the working environment will likely be quite different once we exit lockdown. The reliance on large office spaces, individual desks and lots of meeting rooms will likely change at an accelerated rate, as people have become adept at, and attracted to the benefits of remote working. This, together with continued advancements in technology, will give us as a business the chance to become even more efficient and set us up for future success. In addition, there will be the opportunity to change business attitudes and behaviour for the better with a hit of the 'reset' button when we come out the other side, which I'm sure every business will see as a silver lining.