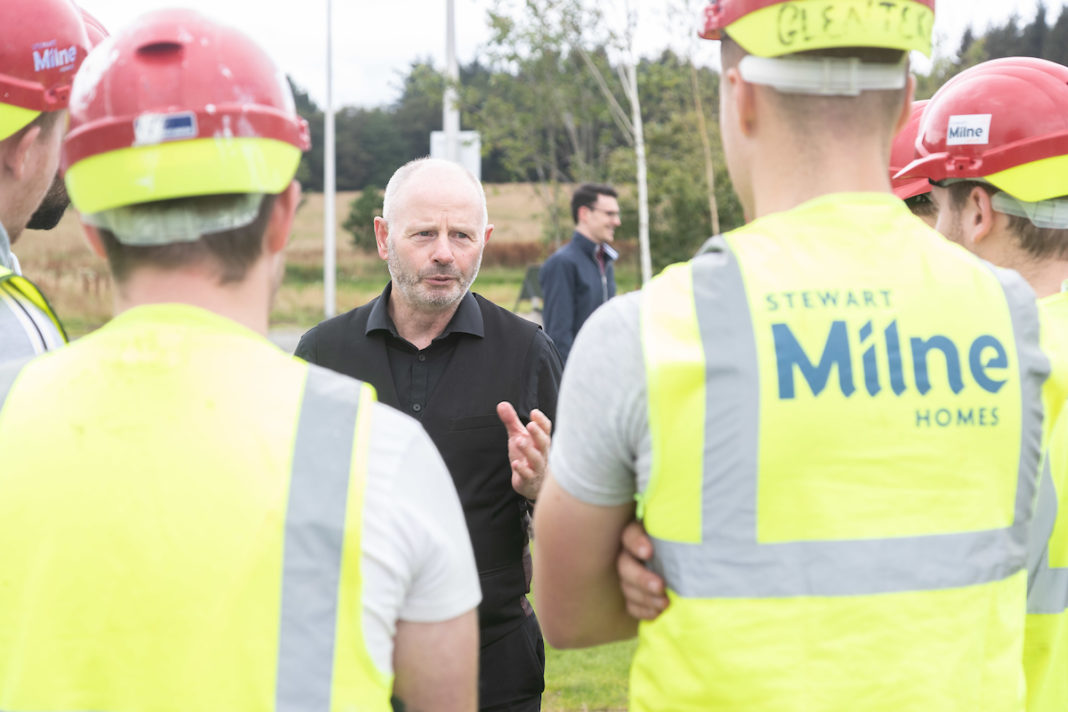 STEWART Milne Group has marked Apprenticeship Week by reporting that apprentices now account for almost 5% of its workforce.
The housebuilder and timber systems manufacturer currently has 39 apprentices across the UK, working in a variety of trades including joinery, plumbing and quantity surveying.
There are three apprenticeship routes within Stewart Milne: trades apprenticeships, fast-track modern apprenticeships and the graduate apprenticeship programme. When possible, the group also offers office-based apprenticeships.
Karen Catto, HR director at Stewart Milne Group said, "Our business is truly built on apprentices from senior managers to directors, many of our staff have come through the apprenticeship route. We're pleased and proud of our commitment to apprenticeships as a way of attracting people into the sector and offering them the opportunity to build attractive careers in construction."
Stewart Milne, a former apprentice himself, added, "At Stewart Milne Group, we are very proud of our culture that encourages and supports personal development so we can nurture our employee's talent without limits. Whether entering the industry for the first time, or building on years of knowledge and skills, there are opportunities and tools available to help our employees build a successful and rewarding career."
Meanwhile, construction and property consultancy Thomas & Adamson has been supporting Scottish Apprenticeship Week by showcasing the type of opportunities available in the industry.
Thomas & Adamson offers apprentices guidance through their chosen university course by appointing them a dedicated mentor. This allows the trainee to gain insight into both the industry and the business through exposure to a range of professional services offered by the company, including quantity surveying and project management.
Senior partner Alastair Wallace, said, "Traditionally, apprenticeships were the go-to route for those wanting to get into a trade. However, nowadays modern-day apprenticeships give the younger generation a steppingstone into some of the best career paths, whilst gaining the appropriate qualifications. It is extremely important to us to invest in nurturing the right talent who exhibit ambition, energy and enthusiasm.
"Through this ethos people stay with us for a long time because of how they are valued and progress through the business. It's great to see young people develop their skills, and we would encourage any business to recognise the important role apprentices can play in the workplace."
SELECT, the trade body for electrical professionals in Scotland, has welcomed a 'small but significant' upturn in the number of young women undergoing apprenticeships as electricians.
Figures show there are now 13 female apprentices training to be electricians in 2019-2020, compared to seven in 2018-2019.
Fiona Harper, director of employment and skills at SELECT said, "This is excellent news, coming as it does in Scottish Apprenticeship Week, which runs from 2 to 6 March. An electrical apprenticeship for a young woman, just as for everyone else, is a life-changing experience which can open many doors, not only to further career progression and global travel, but also to professional regard and life fulfilment."
To mark the occasion, SELECT has commissioned a short film, The Power of Apprenticeships, which features an interview at a member company in Falkirk with one of its female apprentices, Neave Brownlie.