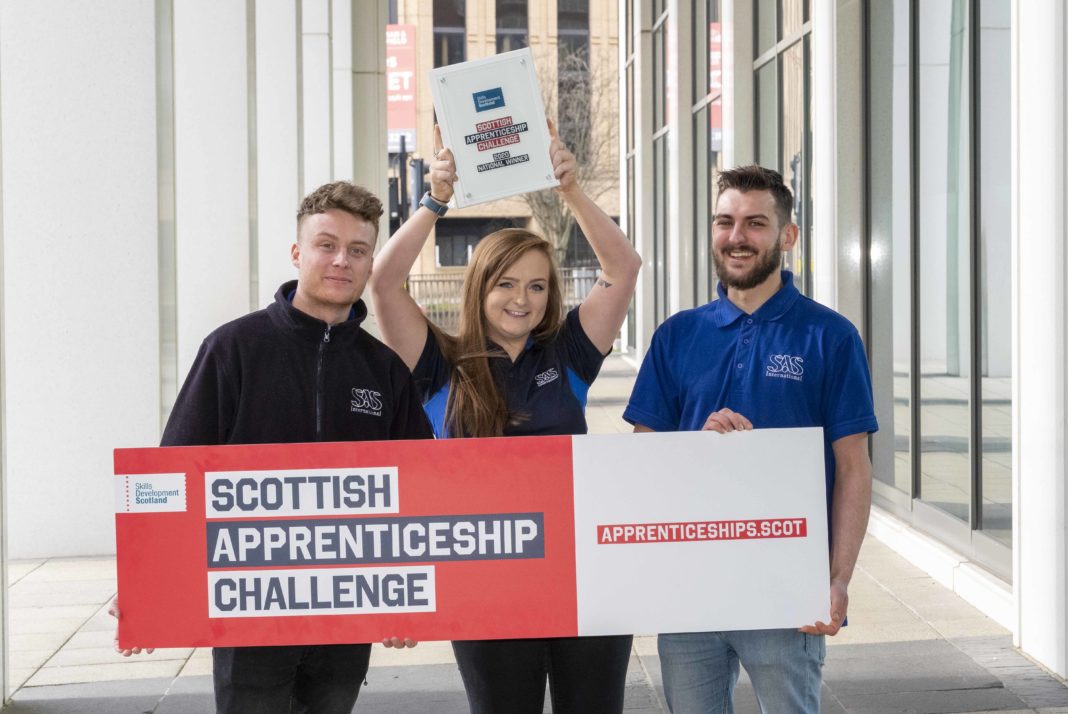 A team of Ayrshire apprentices have been recognised for their work in creating a poignant memorial for World War One soldiers.
The three Modern Apprentices from metalwork manufacturer SAS International in Maybole won the national Scottish Apprenticeship Challenge, hosted by Skills Development Scotland during Scottish Apprenticeship Week.
After consulting with locals regarding potential projects, Declan Milne, Lauren Gracie and Ben West decided to focus on the impact the war had on the local community. Six factories in Maybole made the tackety boots for WW1 soldiers.
To save money, the apprentices used scrap materials from the SAS International factory to create the memorial. They learned new skills from other colleagues to create the final pieces, which included an anamorphic sculpture that displayed a poppy from one perspective and the year 1918 from another view.
The trio also raised over £300 for veterans as part of the project and have been asked by the British Legion for more support.
SAS International team member Ben West said, "We're amazed to win. The amount of teams we have been up against and their ideas have been amazing. To make it this far, with our idea of a war memorial and to win it overall, is outstanding. The project from SQA was a fantastic idea that other employers and industries can learn from so, for us to top that, is surreal."
The other team celebrated at the final hailed from the Scottish Qualifications Authority in Glasgow. The four Modern Apprentices designed and delivered their project named 'Work Experience for All'.
The Glasgow team, which included Lindsey Burke, Lauren Graham and Eve Cunningham, partnered with Cherry Road Learning Centre, which provides a day service for adults with complex, profound or multiple learning disabilities.
The group were recognised as winners of the regional 2019 Glasgow Apprenticeship Challenge hosted by Developing the Young Workforce Glasgow.
Fiona Robertson, SQA chief executive said, "Our Modern Apprentices fully embraced the challenge and it is fantastic that this has been recognised today. Their time at Cherry Road Learning Centre gave them a unique opportunity to own a project and challenge themselves whilst making a much-appreciated contribution to their local community. As an employer we have seen their confidence and skillset grow through doing the Scottish Apprenticeship Challenge. Everyone at SQA is really proud of our winning team."
The two teams presented their projects to guests and judges at a ceremony held at Scottish Power in Glasgow.
Katie Hutton, one of the judges and head of National Training Programmes at SDS said, "Both teams of apprentices have to be applauded for their commitment and dedication to their projects, which were inspirational. As judges, we were impressed by the team from SAS, for tackling such a complex project, its impact on the community and the legacy that it delivers."