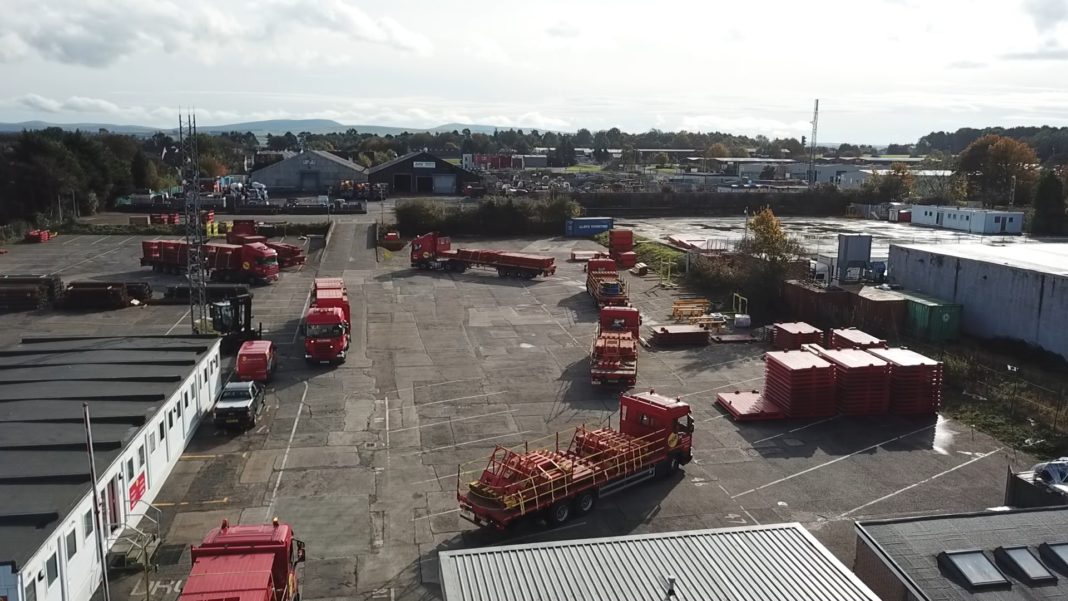 Excavation safety solutions specialist MGF opened its first depot in Scotland last year to support customers north of the border. Based in Livingston, the site will play a key role in future growth plans. MD Simon Littlewood recently answered Project Scotland's questions about the impact for customers and the firm's product offering.
Q) What was the reason behind the decision to open MGF's first depot in Scotland?
A) To achieve full UK coverage, Scotland was the final part of the jigsaw for us. Opening in Livingston has allowed us to improve and strengthen our offering to our Scottish customers, whilst also further reinforcing trading relations with our national Tier 1 customer base. 
Located within the central belt of the country means we have excellent access to both Glasgow and Edinburgh as well as being able to effectively support the North of Scotland. 
Q) What impact has the opening of this base had for customers in Scotland?
A) We're still in the early phases following the depot launch, but our large operational site enables us to stock our full range of products in a prime location. Previously, we have delivered equipment from our next closest depot, Durham, in the north east of England, which meant transport charges were quite high due to distance. 
Our new base in Livingston eradicates this issue and by having a dedicated Scottish team means we're able to provide excellent and local customer service throughout the whole of Scotland.
Q) How important is the Scottish market to the MGF business and what potential do you see for growth north of the border?
A) We see the Scottish market as a key part of our future growth plan. Many of our customers undertake work 'north of the border' and we're delighted that we can now support them here more effectively. 
The Livingston depot is the first to be opened in Scotland, but we are planning for a more northern-based location at some point on the future.
Q) Can you provide examples of Scottish projects your products have been involved in?
A) Within a month of launch we have secured several live projects in various locations. At the end of 2019, we secured a major excavation project for the development of the Waste bunker at Earl's Gate Energy Centre at Grangemouth. With challenging ground conditions, we supplied our market-leading 350T hydraulic props and we were able to showcase our prop load monitoring capabilities. 
Q) How do you stand out in what is a hugely competitive market?
A) Our track record as we've grown over the years is very strong and we plan to operate the same business model and processes in Scotland. 
Key to our success is ensuring our customer experience is high throughout all aspects of the transaction with us, including providing the best engineering advice and temporary works design solutions from our vastly experienced engineering team and supplying high quality equipment on our own fleet of wagons through to ensuring a right first time approach with respect to the hire process and invoicing. Essentially, our aim is to make the hiring of temporary works equipment as easy for our customers as possible, which we feel enables us to stand out strongly in the market.
Q) What advances have been made in excavation safety in recent times and how can MGF assist firms in minimising risks?
A) Within the UK market, we're getting much better at ensuring excavations are correctly supported, although we still see examples where this doesn't happen. We feel it's incumbent on us to continually develop our product range to fill any gaps and to facilitate this we have a dedicated research and development team to drive this forward.
Over the last few years, one of the largest gaps in the market was for lightweight shoring applications, which led the development of our GRiPSHORE range – a lightweight, man-handleable and non-conductive GRP shoring system. Our expansion into excavator mounted vibratory piling hammers means that our customers can fully drive sheet piles/trench sheets into the ground before excavating, thus increasing excavation stability.
Our recent entrance into the structural support market, whilst primarily aimed at the above ground temporary works arena, will also enable us to optimise our design solutions within the excavation business: enabling safety to be maintained with the lightest equipment.
Q) Do you provide training on the products you supply?
A) Yes, we offer Lunch & Learn classroom training as well as on site Toolbox Talks for any product or service. 
As part of our induction procedure, all employees are trained on the installation of our products as well as having access to online Safe System of Work animations and guidance. To continually develop our training offering, we are working towards a selection of our courses being CPD accredited.
We also work in partnership with a number of external training providers, which enables us to facilitate fully accredited practical excavation courses at various locations in the UK. We take this approach as we feel it's important that our customers receive independent training, particularly when accreditations are involved.
Q) What prompted the establishing of a dedicated structural support solutions division? What type of products will this division offer?
A) We work to a rolling 3-year business plan, which considers the future plans of the business. The plan is managed by both the shareholders and board of directors, and we identified structural support solutions as a potential growth area a number of years ago. 
The new business sits alongside excavation support extremely well as it's specialist non-mechanical hire, engineering solution driven and involves similar manufacturing processes. 
We've taken our time in developing the product range, branded UniShore, and designed to minimise component weight whilst retaining a high strength capacity. 
Added to this, all components are compatible and easily fitted together, which will enable quicker installations. We've already had significant interest since launch and secured several projects, which we're delighted with.