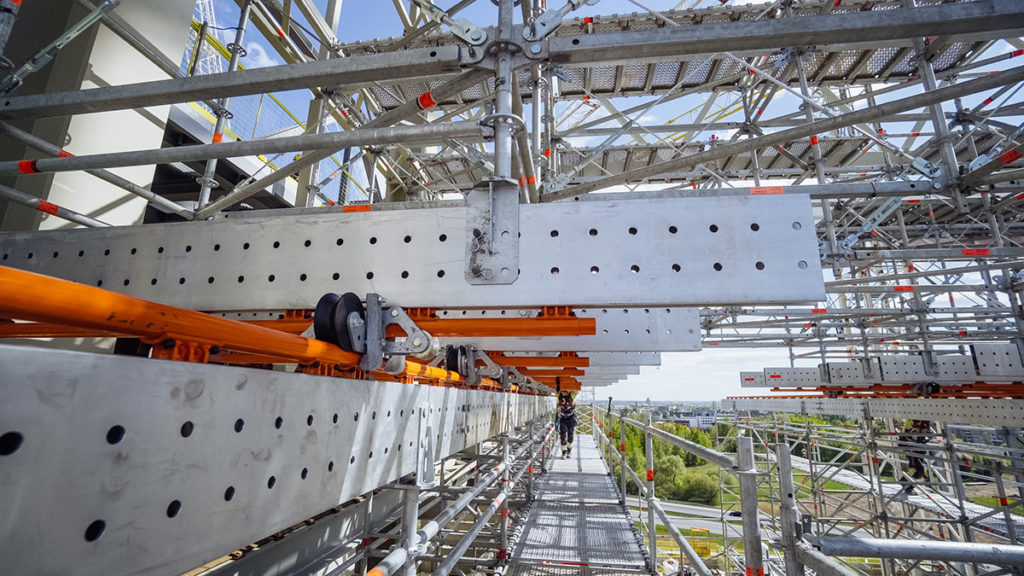 THE opportunities created by the use of scaffolding, access and protection equipment throughout the building and construction industry have, arguably, never been more extensive, according to Layher. 
The system scaffold specialist said this is, not least, because of the widespread use of modular, or system, designs that can meet precise site needs 'more effectively and productively' than has often been the case with 'conventional' tube and fitting equipment.
Layher has been at the centre of this scenario for many years and believes its dual focus of bringing its expertise directly to the marketplace and of maintaining an ongoing commitment to innovation – recently acknowledged by a series of prestigious industry awards – are both at the heart of its success.  
"The services available from our UK head office are fully enhanced by our nationwide network of depots," said Sean Pike, Layher's UK MD, "with the opening of a new operation in the Midlands the latest example.  In Scotland, our facility in Livingston is one of the longest established and has always proven key to our work in the country." 
Layher said it looks to develop 'strategic partnerships' based on a joint approach that encompasses a range of disciplines – from site survey, detailed design and planning to training and, where appropriate, a tailored demonstration of the equipment and installation method at either the manufacturer's or contractor's premises.   
The company added that the ability to ensure easy availability of Layher's extensive range of systems is seen as 'fundamental'. By allowing customers throughout Scotland to benefit from rapid access to products, both planned and ad-hoc requirements of scaffolders and main contractors alike can be best addressed. 
"Just as important, however, is the fact that our proven support and design capability is on hand," commented Kenneth Redman, Layher's technical manager in Scotland.  "From advice on legislation and health and safety issues, through to design tools such as our recently introduced Scaffold Information Modelling (SIM) software – all play a key part in safe and successful project management."
He pointed out that SIM helps with planning operations which, in turn, can maximise installation efficiency, reduce risk and enhance cost savings. It builds on the company's LayPLAN and LayCAD facilities enabling users to create 3D visualisations either on screen or via a VR headset that takes the user into the digital world. Once there, scaffolds can be rotated, 'flown-through' and readily adapted before producing key information outputs such as material needs, weights and logistical details. 
In particular, Kenneth drew attention to LayPLAN Rstab which takes the 3D design through into Layher's integrated calculation software, creating a full digital integrated service of drawings, 3D designs, VR realisations and calculations per specific design. 
Layher also places major emphasis on continuous commitment to innovation. "Market feedback is often the impetus for equipment development which, whilst often providing answers to a specific customer's needs, can then lead to solutions that become widely available across the industry," Sean Pike added. 
He said this can range from simple connection decks to purpose-designed components and structures such as bridging designs, stair systems and weather protection products. Sean highlighted the new Layher FlexBeam as a prime example, especially with the construction of suspended and cantilevered scaffold structures.
"The FlexBeam provides 40% higher bending load capacity without the need for compression chord bracing compared, for example, to our well-established Lattice Beam 450," he explained. "The design also enables lower construction heights to be achieved and enhances the range of locations that can benefit." 
Readily connected directly to Layher's Allround scaffold system, broader use of a contractor's stock can be achieved while a long list of additional fittings is said to extend its suitability further still. These range from lift-off protectors to tie-rod connectors and concrete anchors with a choice of FlexBeam lengths also available.
Layher recently won the Innovation of the Year award in front of 700 guests at the National Access and Scaffolding Confederation (NASC) Annual Ball and Awards with its new aluminium FlexBeam development.  the company was also named runner-up in the same category for the Layher SIM software, while its Lightweight Steel Deck was also rshortlisted as a finalist. 
"These are all factors that will be widely acknowledged by our growing number of customers in Scotland," Sean Pike said. "With the full support of both our UK head office in Letchworth and, more broadly, our main manufacturing facility in Germany – which has long had key preparations including extensive stockholding in place ahead of Brexit – we believe we are well-positioned to continue our successful operation throughout Scotland, helping our customers to build on their own capabilities."