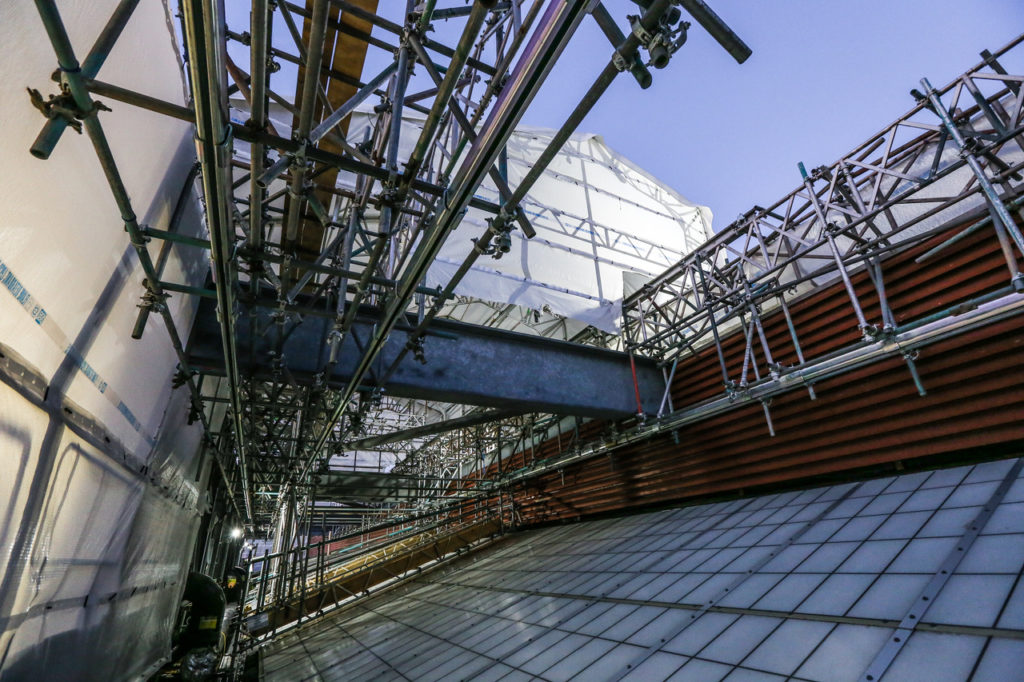 CHALLENGING work carried out by Palmers Scaffolding UK at Heathrow Airport's Terminal 4 building received recognition at the National Access and Scaffolding Confederation's (NASC) annual ball and awards dinner.
The firm was named runners-up in the Project of the Year category for its delivery of special access and scaffolding provision for main contractor Balfour Beatty's renovation of the roof lights on the famous site.
The temporary works on the roof comprised of a Palmers in-house scaffold structure, described as being developed and designed to match Balfour Beatty's exacting requirements to provide access and weather protection to enable a huge glazing replacement works to be installed.The access structure incorporated lifting solutions and a mobile temporary roof, which featured internal mobile gondolas.
Tony Mileham, divisional manager airports at Palmers Scaffolding UK said, "This outstanding Palmers airport job has been shown off by Balfour Beatty and Heathrow to many on the site, so it's great to see it being given wider recognition. 
"The project involved more than 500 tons of equipment being craned on and off the roof, from very tight, limited craning locations, for glazing replacements to be carried out. And with all works being conducted at night under a strict permit system, on a live airport with tight security restrictions in place, it was another challenging piece of temporary works and logistics for the Palmers airports division. 
"It's been a technically demanding, long-term project that first started being developed in 2016, with a design process that carried on throughout 2017. What a great way to sign it off this award recognition is."
Winner of the category was GKR Scaffolding for its work at Battersea Power Station, which involved managing the external scaffold package for the landmark project.