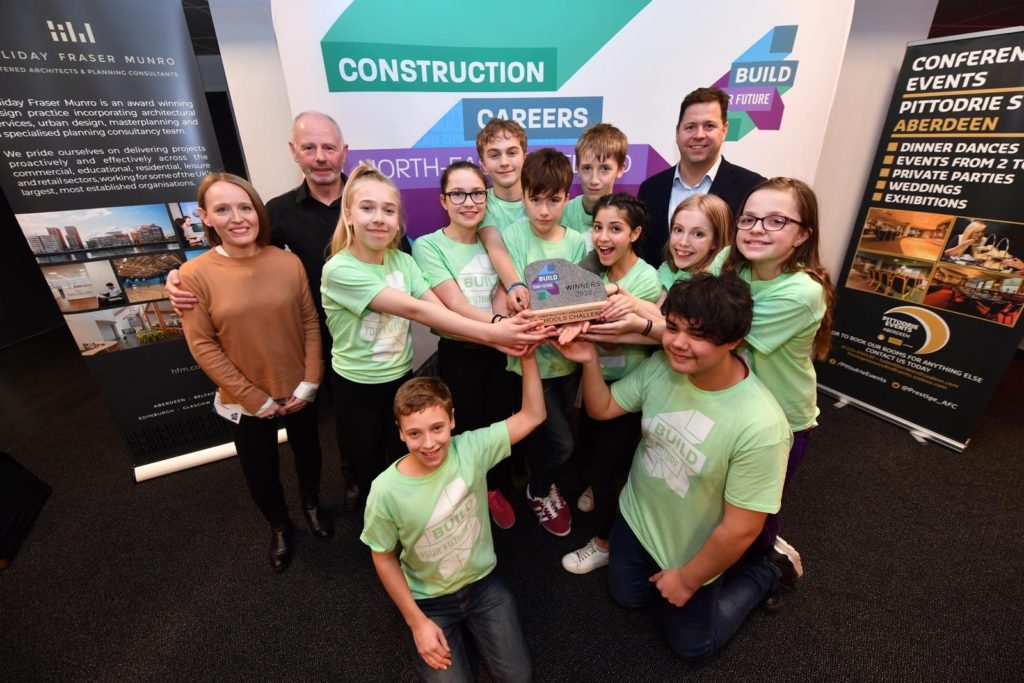 ABERDEEN Football Club has hosted the final of the Build Your Future school's construction challenge.
Almost 100 S2 pupils from across the north east travelled to the event, which was launched by Grampian Construction Training (GCT). The challenge was designed to highlight the range of career opportunities within the construction industry.
Late last year, over 200 S2 pupils took part in heats, with the ten top scoring teams then invited to take part in the final day of construction-based challenges.
A range of local businesses were also behind the initiative. Halliday Fraser Munro was welcomed as main sponsor, with Stewart Milne Group, Glulam Solutions and K R Group also committing to support the challenge in its first year.
Professionals from across the industry helped to create tasks, which included spotting health and safety hazards on a staged building site, encouraging teams to think about the environmental impact of construction, and a task set in a court room to settle a legal dispute between contractors.
The team from Banchory Academy was crowned overall winner, with second place going to Kemnay Academy and third place going to Ellon Academy.
Stewart Milne, chairman of Stewart Milne Group, was in attendance and shared some of his own construction experiences with pupils and teachers, before handing out the prizes.
Jim Buchan, chair of Grampian Construction Training said, "We are absolutely delighted at how well the first Build Your Future challenge has been received by the schools, colleges, universities and businesses of the North East. To have over 200 pupils take part in the first year is exceptional, and we are grateful to every secondary school who signed up. However, our aim is to ensure that all secondary schools in the north east enter a team in 2020/21, which would mean over 300 S2 pupils taking part, and we already well on with the plans for next year's competition."
David Halliday, MD of Halliday Fraser Munro added, "We were absolutely thrilled to be the main sponsor for this event and the highlight for us was being able to see first-hand just how enjoyable the experience was for pupils. It allowed them to gain a real understanding of the challenges those working in the construction sector face, while also developing key skills in communication, teamwork and problem solving.
"As architects, we know and appreciate the critical role that the construction industry plays in bringing to life our projects that benefit individuals, the community and the economy. Without them, our ideas would remain just that – ideas on paper. We believe we demonstrated that construction is a highly skilled, rewarding profession with lots of opportunities – and hope that we may well see some of these pupils on our building projects in the future."