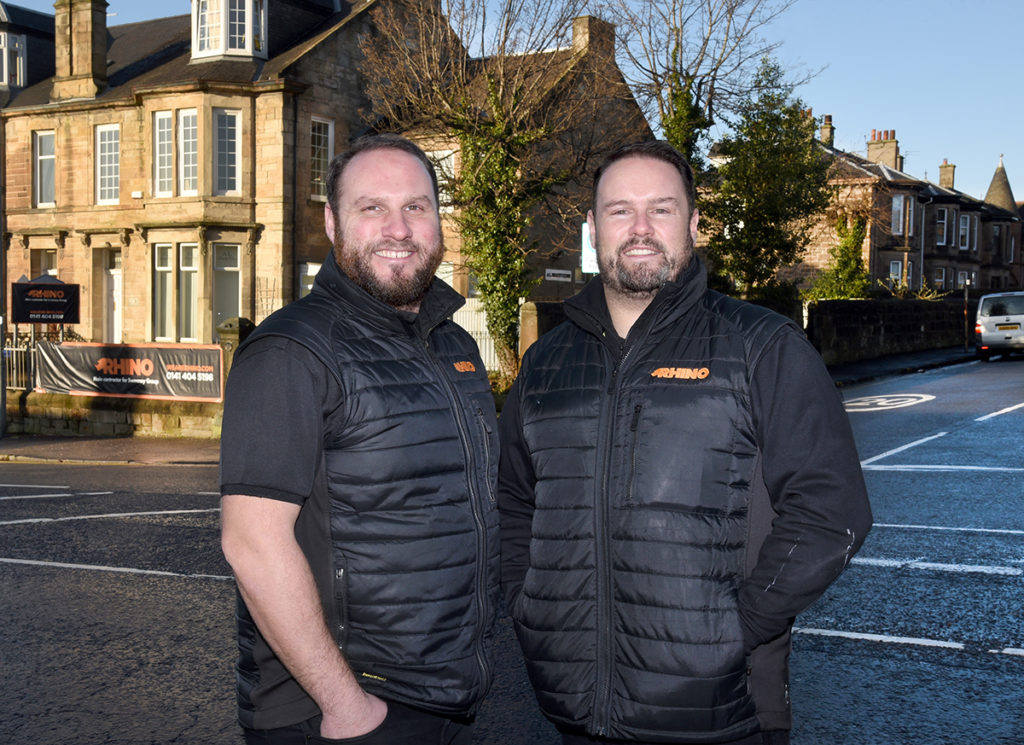 THERE can't be too many individuals operating within the Scottish construction industry who have been inducted into an actual hall of fame.
Motherwell brothers Stephen and Martin Sweeney recently gained international recognition at a ceremony in Las Vegas. They run Sweeney Group, which boasts a growing property portfolio and is also the parent company of Rhino Contracts, which provides a range of construction services including design, build, refurbishment and maintenance works.
The two brothers specialise in reviving derelict buildings, often bringing them back into practical use in the form of modern homes.
They have ambitious growth plans, with the aim of growing their property portfolio from 33 to 200 and making further inroads into the commercial property market.
And with the often talked about 'death of the high street' spawning increasing debate about what to do with town centres as more retailers shut up shop, Stephen and Martin also see huge potential in turning former shopfronts into residential properties.
Stephen said, "I started a company that was involved in fitting boilers. Martin's background was in retail. The two of us worked together and started to grow the business, moving into bathrooms, kitchens, heating systems. We then started tendering for commercial work and got involved with things like student residences."
After taking on larger volume projects, Stephen and Martin decided to invest in the buy-to-let property market and booked themselves onto a relevant financial education course to learn as much as they could.
With the Rhino Contracts team already in place to provide specialist renovation and refurbishment works, the pair felt they were uniquely positioned to benefit from buying up derelict or dilapidated buildings and giving them a new lease of life.
"We'd built up a team of all the trades," Stephen added. "All that skill we could use to go into property with a running start. We used our own cash and investors initially and started to grow a property portfolio – basically residential properties and flats. We started buying one and two properties, then three and four at one time. Then we started to look at commercial residential.
"We're regenerating run-down properties including buildings that have lay derelict for years. Same with the housing stock we're buying – properties that are down on its luck. We're providing good quality homes for people and increasing the value of the asset."
One example of the group's work was converting a former council building in Kilmarnock into five new flats. The building had been vacant for a number of years and is now once again playing its part in the community. 
Martin explained, "Over the last 9-10 months we regenerated the building. We've taken out six chimneys, knocked back walls, made it wind and watertight. All really high spec."
Martin said part of the strategy is to regenerate high streets, which have been impacted by the closure of retail outlets and bring people back to town centres. He sees increasing scope for residential developments in such areas.
"Shop fronts that are closed down could be transformed into accessible homes for people," he said. "You've got community hubs, transport links. When you think about it, they're prime positions. You've got train stations, pedestrian walkways. 
"There aren't enough homes. I think it's a ready-made environment where you could comfortably live. There are some cracking buildings. The architecture is unbelievable."
Another project Sweeney Group is currently involved in is a venture called Sweeney Rooms, which will see nine serviced apartments and rooms created in a former guest house in Motherwell. The brothers envisage typical clients will include companies using the facility to house workers temporarily stationed in the area for months at a time as it works out cheaper than putting them up in a hotel and will provide a more homely environment.
Stephen said the fact the group can use its own construction team to carry out transformation work on the properties they buy essentially makes them their own client. 
"We've flipped it on its head," he added. "We're almost like a turnkey property development company. The expertise comes from us analysing what deals work and what we can do with buildings.
"I think we've got a massive niche. We find the deals; we use our guys to do the work. We're not out there chapping doors looking for work. We're finding the land, finding the buildings. That's what our training is in."
Sweeney also has its sights set on projects to build commercial units, particularly for businesses such as dentists and chemists, which are, to an extent, Internet-proof due to the fact people still have to physically visit such places.
The hall of fame induction was granted by the Legacy Education Alliance (LEA) in response to the work Stephen and Martin have done in helping and inspiring others in property-related matters. They were among ten international inductees in the class of 2019, having been selected from hundreds of nominees from around the world.
Stephen, who attended the Vegas ceremony with his uncle, explained, "When we started classes back in 2016, you get put with a mentor – people who have done considerable stuff in property. Going into it can be quite daunting; It's a big gamble. Training is expensive. 
"We've stayed close to some of the mentors down south and every year a handful of students are picked worldwide in the countries they operate in. 
"It was a big pat on the back; we weren't expecting it. We now support new students. We'll give talks about what we do and it's putting meat on the bones because people are investing a lot of money in this. 
"Some people think they can do the training and ten properties will land on their lap. It's not like that."