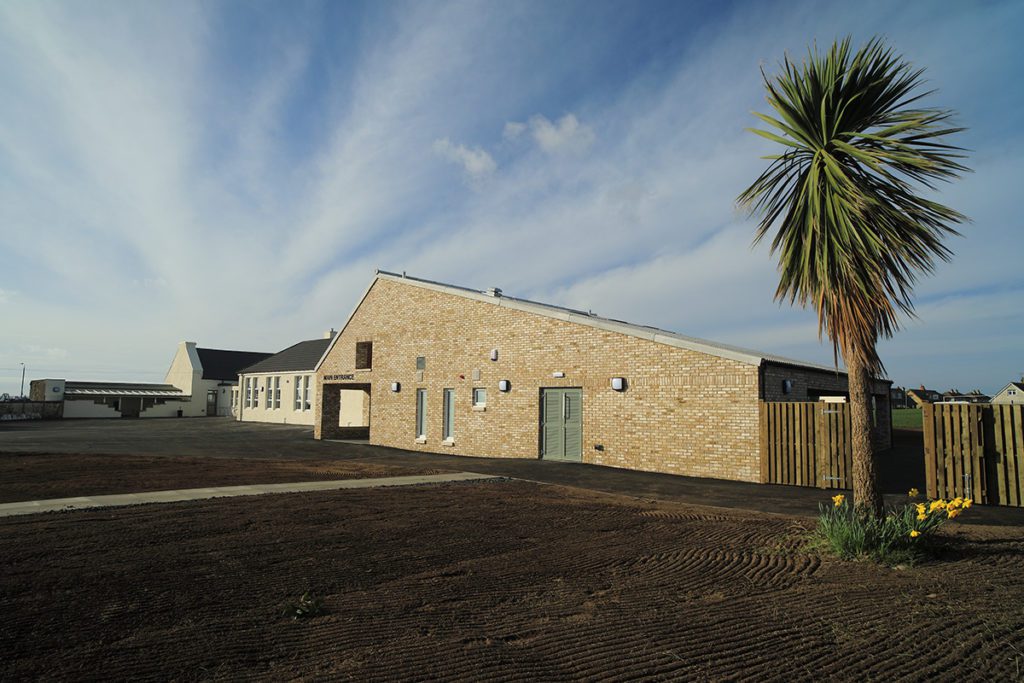 WITH over 200 education projects under the firm's belt, it's fair to say that Lenzie-based Fleming Buildings has a huge degree of expertise in the sector. That experience has been one of the key reasons behind the company's increasing work in the construction of Scotland's early years learning estate.
The Scottish Government has pledged to increase the provision of free early learning and childcare provision to 1,140 hours per year. The expansion of early learning has resulted in significant investment in facilities. Fleming's recent and ongoing early years portfolio includes projects at Sacred Heart Primary in Midlothian, Cross Arthurlie in Barrhead, Spateston in Johnstone, Renfrewshire, and Ballantrae in South Ayrshire.
The Spateston scheme is a new building, with Fleming securing a design and build contract. The other projects mentioned are being carried out at existing primary schools linked to existing buildings.
Fleming director Ronnie Burrows told Project Scotland there is a clear focus amongst local authorities to bring early years and primary school learning closer together. With nursery pupils often sharing facilities like libraries and sporting amenities with the adjoining school, it makes the transition to primary learning less of a hurdle. 
Education projects account for around 40% of Fleming's business and is very much a core sector, along with healthcare, churches, commercial and community buildings.
Ronnie said, "The projects are wide-ranging between the new builds and adaptations. As with all our projects, health and safety is of great importance and one of the challenges is working close to and within a live environment.  We work with  a client (nursery/school) community and supply chain to put appropriate measures in place for the safety of everybody, not just the workforce but the people around us."
Euan McDermott, who joined Fleming a year ago to oversee its growth strategy, said one of the key aspects to working on education projects is communication. He explained they regularly meet with headteachers to discuss what aspects of construction are coming up and also to find out what's going on around the school. For example, if a school concert is scheduled for a particular day, the firm will try to work around that.
"What brings a bit of uniqueness to our business is we manufacture, design and erect structural timber frames," Euan said. "Some of the projects have been steel frame but we've been able to present better value by using timber frame. 
"10% of people in our company are apprentices. We actually have trades people working with us, which helps us with the engagement with the schools and STEM sessions."
One of the advantages of working on education projects is the ability to potentially inspire pupils to consider careers in construction from an early age. Ronnie told a story about hosting a group of primary six and seven pupils on a site visit and being encouraged when one of the youngsters asked a probing question about the process which takes place prior to construction getting underway.
"I'm really excited about the possibilities that there are for people," he added. "We've been part of the process of the transition (for pupils) between school, college, university,  traineeships or apprenticeships. It's feeding the imagination. 
"We just did an assembly last week with primary four to seven and some of the questions were really quite interesting and provoking. If we can answer those questions and be on their journey, play a part, we're building more than bricks and mortar. We're building with the community."
One of the elements which has come out of the delivery of several early years facilities is the vast number of things you can do within a small space. Ronnie told of a kindergarten project in the centre of Glasgow which encompassed everything in a very small space, including outside play areas. 
In terms of recent changes to education facilities, Euan, who has two children of school age, cited the improvement in M&E facilities. "It's night and day," he added. "When I was at school, we'd have days off when the heating wasn't working. The school estate is fairly modern in Scotland; a lot of money has been invested. It's a better way of learning."
With so many education projects completed across Scotland over the past three decades, it's perhaps no surprise that Ronnie doesn't want to choose a favourite.
Instead, he says the thing which fills him with pride is seeing the buildings used and cared for. "If you go back after a year and it looks as good as it did in day one, that makes us happy," he explained. "To see the building thriving and being used. We're really pleased to be involved in the sector."