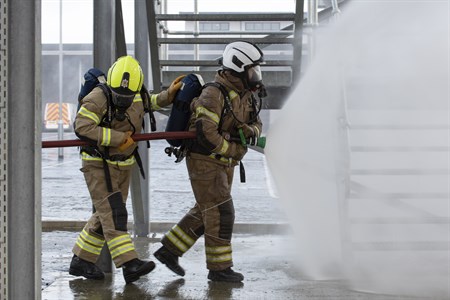 FIREFIGHTERS have staged a 'rescue' at the opening of a new multi-million-pound fire and rescue facility.
The crews showcased their technical skills, as they raced to extinguish flames at a petrochemical facility during a realistic practical scenario at the new £10.5 million facility at Newbridge in Edinburgh.
The facility becomes the second biggest of its kind in Scotland. It will provide personnel with the training required to respond to fires within domestic, industrial and commercial buildings.
Community safety minister Ash Denham said, "I was very impressed to see firefighters being put through their paces at the new training facility.
"Training is an essential component in ensuring firefighters maintain the skills and professional competencies needed to keep our communities safe. Having these fantastic facilities in the east of Scotland also allows training to be delivered closer to home, enabling firefighters to spend less time away from their core duties and their families."
Chief Officer Blunden added, "This is truly a landmark occasion for our national Service.
"This state-of-the-art training facility will ensure our firefighters receive the best training to respond to a very wide spread of emergency incidents including water rescue and urban search and rescue.
"It will also support a total of 42,000 training hours each year for those 1,600 operation personnel. It is imperative that they are equipped with the skills and the knowledge to stay safe when responding to some of the most challenging and dynamic incidents.
"This investment is therefore good news for the communities we serve and protect."
Board chair Dr Kirsty Darwent said, "It is a pleasure to be here today to mark the official opening of what is indeed a very impressive facility, and this significant investment signals our very clear commitment to both firefighter and community safety.
"This facility was delivered seamlessly, built in one single phase over just 20 months and I commend our teams who worked so hard to make this possible.
"It even includes a Smoke Cleaning unit which will ensure there are no smoke emissions, therefore minimising our environmental impact which is also to be welcomed."