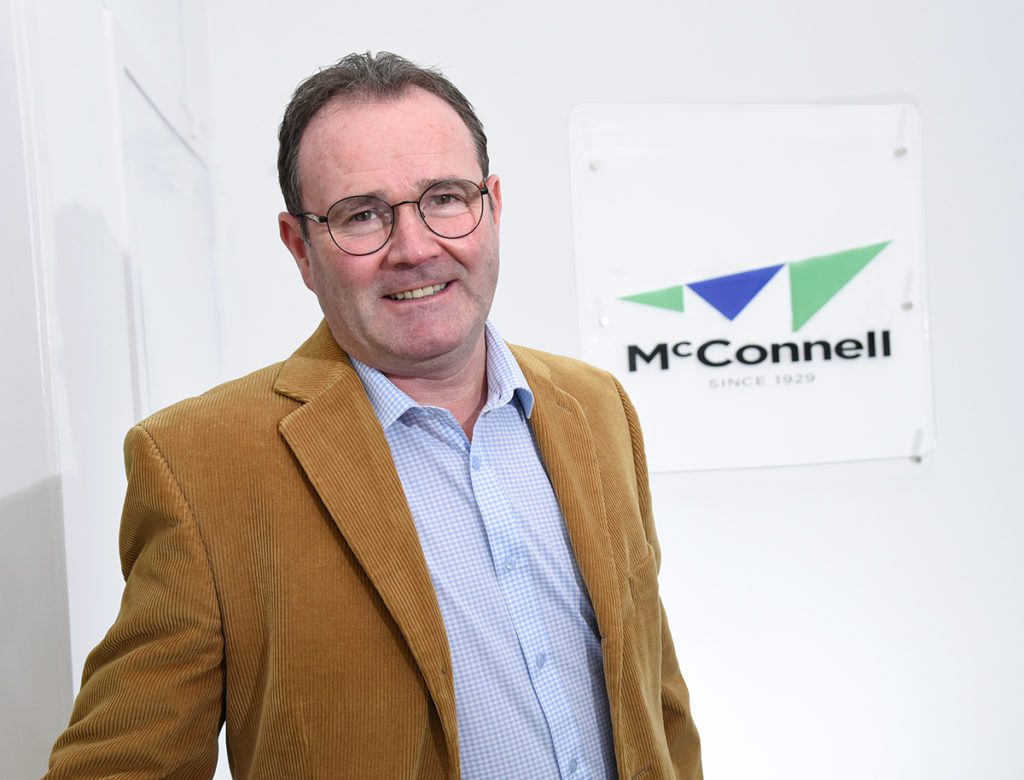 EVOLUTION, not revolution, is the approach Eamonn McGarvey has taken since becoming MD of Kilmarnock-based specialist roofing company Hugh LS McConnell in August 2018.
The business, which can trace its roots back to 1929, carries out work in a number of sectors for a range of clients including local authorities, educational facilities, estates managers, retail giants and housebuilders.
Eamonn, who previously spent ten years building up Keepmoat Regeneration in Scotland, joined McConnell when Angus Tosh decided to retire after 30 years at the helm.
"Coming into the business new, there's always a temptation to change a lot of things, but the brand stands for quality as far as I'm concerned," Eamonn told Project Scotland. "Having dealt with McConnell in a previous life, I knew exactly what we were getting into."
The McConnell business was founded 90 years ago by a local businessman and started life primarily as a painting and decorating firm. It has evolved dramatically over the past few decades and today the company carries out external refurbishment projects incorporating specialist flat roofing, sheeting & cladding and painting. In most of those projects, the business adopts the role of principal contractor.
For Eamonn, the opportunity to get involved with an SME business again was too good to resist. Having grown Keepmoat Regeneration in his role as regional MD in Scotland, that business was bought in 2017 by ENGIE.
"I had started the Scottish business from scratch and turned it into a £60 million turnover business," he explained. "We grew it organically. ENGIE bought the business in March 2017. I decided after a while it was time for me to move on. I'd achieved what I had set out to achieve. There were a lot of positives working in that business in terms of size and scale, but I was really driven by working for an SME again.
"Having 90 staff – of which about 25 are managerial and admin and 65 are directly employed roofers, painters, sheeters, cladders and joiners – appealed to me in that we could actually do the work ourselves rather than relying on subcontractors. That was one of the big attractions for me. The bigger the business became at Keepmoat, the further away I got from the actual sharp end of things in terms of engaging with clients, getting more involved in doing the work and getting a kick out of successfully delivering the contracts."
Eamonn described his first 15 months at McConnell as "fantastic".  He hasn't made wholesale changes, choosing instead to concentrate on stability and modernising certain aspects such as the business logo, IT systems and transport, including investing in 12 new vans.
"It was very important for me coming in new to the business that there was a well-established team – guys who had been with the business for a long time and clearly had a passion and an energy for doing the job," Eamonn added. "The first 12 months was very much about stabilising the business. That was phase one, which was about improving the standards in what we did, starting to build a team and making sure some of the leakage – to coin a phrase from roofing – that was happening in the business was moved on. 
"The previous owners had done a great job; they'd been here 30 years. We tried to bring the business loop forward to the next 30 years rather than looking back to the previous 30 years. The owners had done a cracking job and left us a great legacy – it was now a case of taking that onto the next stage.
"We're now into year two. We would like to grow the business. We're not turned on by growth. It would be good for all the staff to have ambitions; they'd like to see the business grow but ultimately that has to be done properly, and by properly I mean a sustainable growth. It's easy to go out into the industry and try to win work. But you need to be able to win work and deliver it. If you've not got the people and resources to do that, it becomes a problem. 
"For us it's very much about building blocks. We've brought some key people into the business over the past year for that growth, but for the stabilisation aspect of things it was about making sure we tightened up all our procedures throughout the business. That's happened and we're in a good place. The forward order book's looking pretty solid, and we have a strong pipeline of future opportunities. There's obviously a bit of uncertainty in the marketplace but we'd still like to think that there's growth opportunity for us going forward."
As well as the Kilmarnock head office, McConnell also has a base in Camberley, Surrey, which Eamonn said has enjoyed a "phenomenal" year and which is well placed to take advantage of the many opportunities which exist around London and the home counties.
North of the border, McConnell's recent projects include two initiatives for Renfrewshire Council – a £480,000 contract over two phases, for the roof renewal and refurbishment of the council head office building and a £600,000 contract at Gallowhill Primary School for works including replacement cladding, an external fabric upgrade and the installation of insulated liquid membrane systems. 
Other high profile schemes include the external refurbishment of Police Scotland's Baird Street station in Glasgow and a project for BAE Systems in Glasgow, which saw McConnell carry out roofing, cladding and external coatings work as part of a Ministry of Defence building refurbishment and maintenance programme. 
Eamonn said much of the firm's work is repeat business, which is essential in a competitive marketplace. Indeed, when he was at Keepmoat, he said that McConnell delivered "pretty much all" of their specialist roofing work over the course of a decade due to the fact they had every confidence that they were going to get a quality job delivered on time.
"A large number of the public contracts we tender for go out through the Public Contracts Scotland portal," he said. "They're tough to win. There can be tender lists with six or eight people on them – more than that in certain instances. Differentiating can be quite difficult. For us we find that we score highly in schemes where there is a quality element involved, as we can demonstrate a list of previously completed successful contracts that demonstrates and highlights our ability to complete complex projects to the Client's satisfaction. 
"Quite often there's a price and quality split in the projects now. If it's purely on price we might not be there. But in terms of our quality bid, we've got a big company mentality; we've got a full-time head of health, safety and improvements who is constantly working on processes. We've got quality management systems across ISO9001, 18001 and 45001 and we've got all of our safety accreditations in place."
In line with the firm's commitment to producing its own people, McConnell has recently taken on another roofing apprentice, bringing the total number of apprentices in the business to four. The company is also putting a trainee – who was in the administration team – through university as a quantity surveyor.
Next on the agenda is new premises, with Eamonn admitting the company has outgrown its current HQ. He hopes to have relocated within the next year, but one thing which is certain is that the new facility will still be in Kilmarnock. As one of the biggest employers in the area, there is a real sense of pride in working for a local success story – a motivation Eamonn hopes will help ensure the business is still going strong in another 90 years' time.