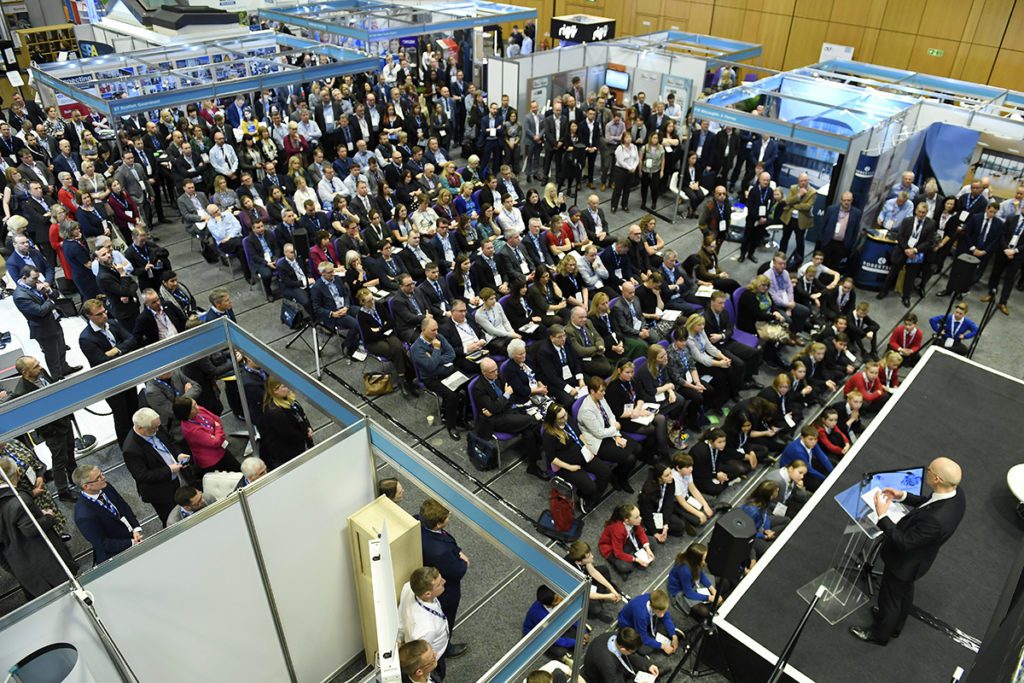 ANOTHER successful Education Buildings Scotland exhibition is in the books. 
The Edinburgh event for Scotland's learning estate brought together a wide range of professionals from the education built environment sector for two days of networking, presentations and keynote speeches, including one from Deputy First Minister and Scottish education minister John Swinney.
This year's theme was connecting people, places and learning. 
The associated awards dinner saw prizes handed out in eleven categories, including to Morrison Construction (Contractor of the Year), West Calder High School (Project of the Year), jmarchitects (Architectural Practice of the Year), and hub East Central Scotland (Consultancy of the Year). 
Graeme Milne, business development manager at exhibitor Glulam Solutions told Project Scotland, "We find that a lot of our work just now is in education, and the key players are here – it's the right type of people that are here, and that makes it interesting for us.
"Glulam is an alternative to steel or concrete, it's far more sustainable than what steel or concrete is. It's a quicker build system as well, so you're cutting down contracted times – that's really the main benefits, but the other thing is that it is aesthetically pleasing. Rather than having a structure that you cover up, you use this material and you expose the structure so it makes the building honest (as) you can see what's holding the building up."
David Stewart, MD of roofing product specialist Rubberseal, explained that the business supplies many contractors involved in the education sector. As well as providing products, the firm also offers services such as surveys and consultations. 
"We can design a system based on what the building's going to be used for, what's inside it, U-value calculations for the roof," Davud said. "If the insulation needs upgraded, we can design new insulation into it. We can specify a particular roof system for it, whether it's liquid, single ply or bitumen, depending on the requirements of the client. Then we can specify a product for it.
"A lot of school buildings historically have bitumastic roofs on them, that are coming to the end of their lifespan. They don't necessarily need to be replaced. A lot of them can be saved and overlaid, based on a proper maintenance programme. We can advise on that as well and do a full roof survey inspection."
Drone Scotland co-founders Bjorn and Michele Aaen said their firm has been involved in a number of education sector projects, offering services such as dilapidation reports.
Bjorn explained, "What we're often brought in to do is, first of all, identify or assess the condition of the building before any works are undertaken so that we can help the contractor have evidence of what the building is like before and after the work, which is almost like an insurance policy – so if there is a crack, was it there already or was it caused by the contractor?"
The business can also provide up to date information about issues such as whether site progress is on track, if sections are being constructed in the right place and to the right standard, and assist health and safety by providing live maps which can be used for induction processes.