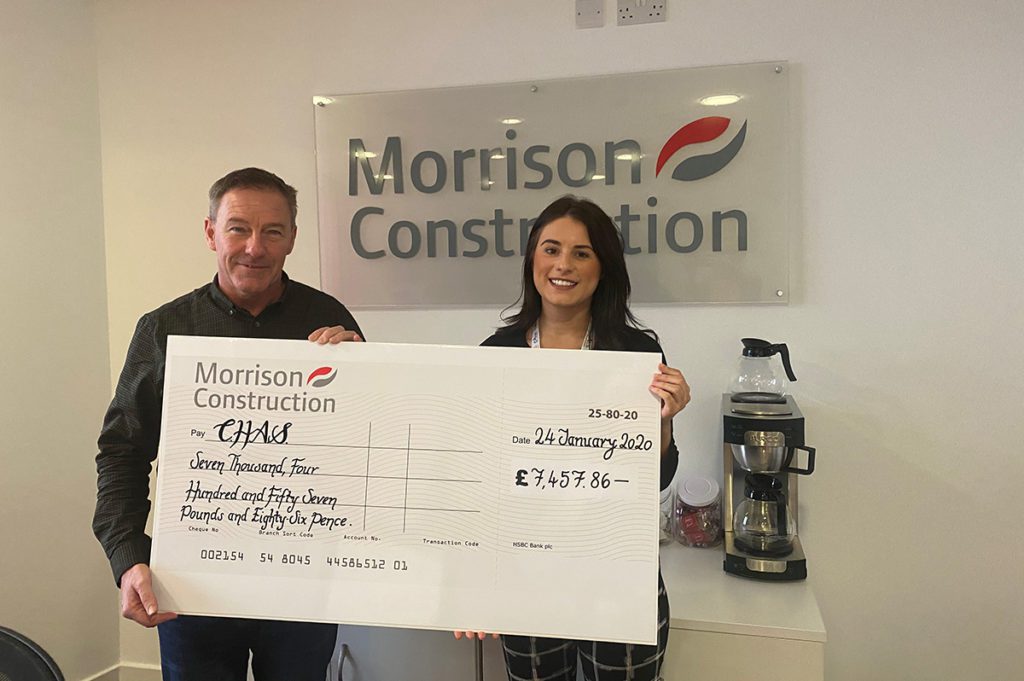 A year-long fundraising drive by Morrison Construction has raised almost £15,000 for charity.
CHAS (Children's Hospices Across Scotland) and Breast Cancer Now have both been presented with cheques for over £7,400 by Eddie Robertson, MD for Morrison Construction Building Central, after he and colleagues selected to support the charities during 2019.
The cash was raised in a variety of ways, including a one-off event with saw Morrison staff challenge themselves to row the distance of the Atlantic Ocean – 1,770 miles – during a five-day challenge.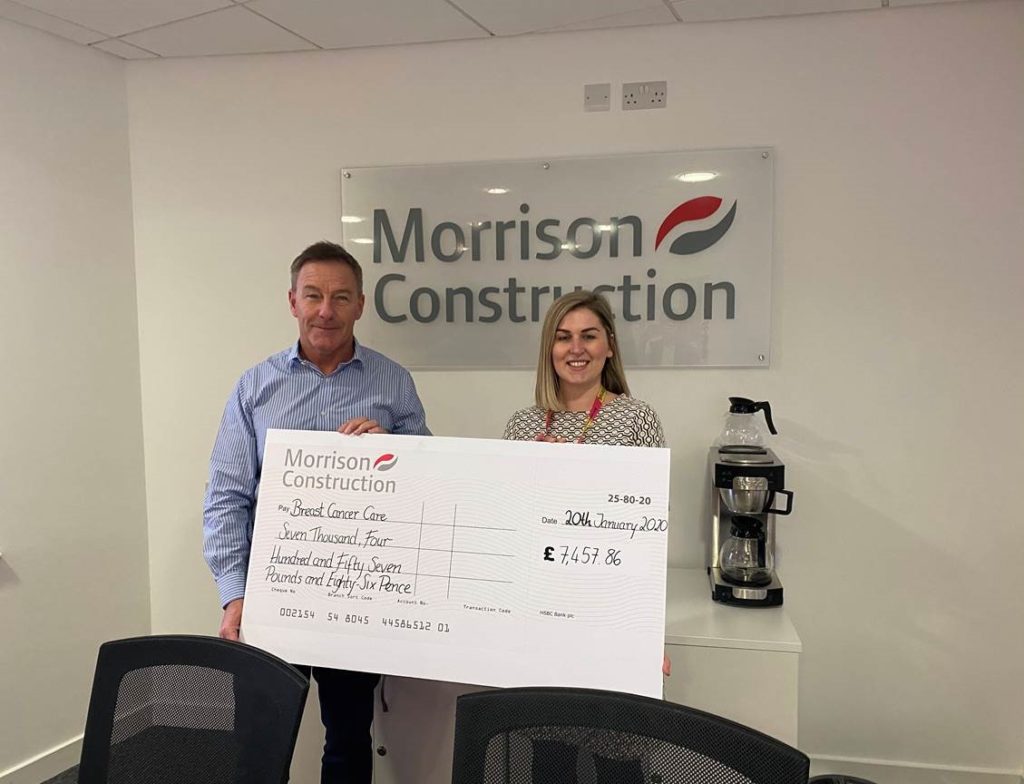 Rowing machines and donation buckets were set up at six project sites and the Glasgow office. The sites included were Barony Campus in Cumnock, Letham Mains Primary school in Haddington, AFRC for University of Strathclyde, Queensferry High School, Stirling University Sports Centre and the Royal Edinburgh Hospital Jardine refurbishment.
Megan Stobo, senior corporate partnerships executive from CHAS said, "We are very grateful to everyone at Morrison Construction for their generous donation. We rely on the generosity of supporters to raise much needed funds to help us with our mission of reaching every single baby, child and young person in Scotland with a life-shortening condition.
"We currently support over 450 families through our hospices, expanding hospital services and growing CHAS at Home Teams and are committed to making sure that no matter how little time families have together, it is filled with as much happiness and fun as possible. Support such as this from Morrison Construction enables us to continue to provide the hospice services that children and families across Scotland rely so heavily on."
Ali Macintyre, community fundraising manager from Breast Cancer Now in Scotland said "We want to send a huge thank you to everyone from Morrison Construction for their wonderful support. Right now, around 55,000 women and 370 men are diagnosed with breast cancer every year in the UK. The money our partnership has raised will help us to fund life-saving breast cancer support and life-changing support for people affect by the disease."
Eddie Robertson, MD for Morrison Construction Building Central added, "We are thrilled to have raised such a significant amount of money for CHAS and Breast Cancer Now and would like to take this opportunity to thank all our staff who have embraced the annual fundraising campaign with passion and real commitment. A note of thanks also to many of our clients and supply chain who joined us on some of the fund raising events. Unfortunately, like so many people, many of our colleagues have friends and family members who have been affected by life-limiting conditions and have really put their heart and soul into the activities we organised. We are also incredibly grateful to all the individuals and business who donated and supported our events and challenges."