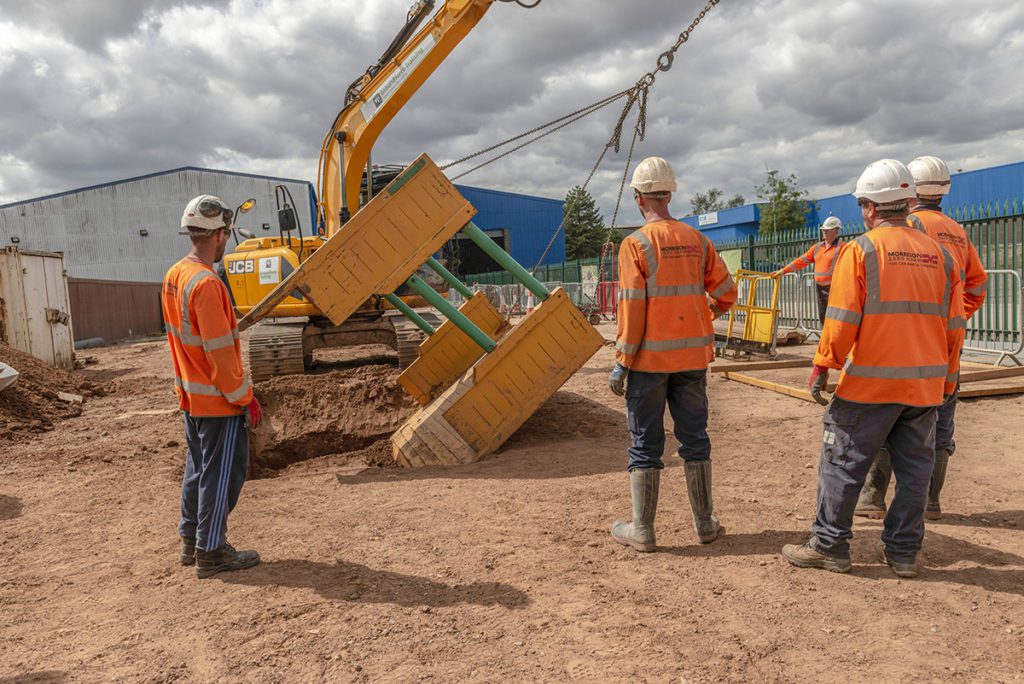 Chris Gearren, general manager (training), Groundforce, discusses the importance of companies in training staff in excavation work to minimise risk of serious injuries
THE vast majority of those working within the construction industry agree that working at height, in and around excavations, and the movement of vehicles and plant, pose the greatest physical risk of serious injury or death on-site.  
However, of these three activities, only one – working in and around excavations – has historically not been taken seriously enough to require essential, accredited training on how to minimise the risks.
Today, although many organisations are slowly coming around to the idea of accredited training to install, inspect and remove shoring systems, the industry still largely turns a blind eye to the lack of official recognition that those who are carrying out these high-risk work activities are trained. 
We estimate that of the thousands of companies regularly hiring shoring systems, only 3% of ground workers hold a recognised qualification towards competence.
While no-one can become competent by simply attending a training course, it's also important to understand that individuals lack complete competence without doing so. 
According to the HSE, "competence can be described as the combination of training, skills, experience and knowledge that a person has and their ability to apply them to perform a task safely. Other factors, such as attitude and physical ability, can also affect someone's competence".
I've found that it's fictional ideas around experience that most often leads to an attitude of indifference towards true competence within groundworks, and this ultimately puts workers at risk. 
Many business owners and senior managers within the sector started 'on the tools', ie digging holes before any formal accredited excavations training existed. Time out of the excavation ultimately meant the bottom line was impacted. Thus, many of the attitudes around shoring training prevail today. 
When consulting with customers who are genuinely exposed, I hear comments such as: "We can teach your instructors how to do it," "We would never put our guys through shoring training as we've been doing it for years," "Our client does not require us to do shoring training," or "Where in legislation does it says we must train people in excavation work?" or "We are not culturally ready for shoring training but we agree that nobody is trained."
The responsibilities of employers and workers are indeed spelled out in law. The Health and Safety at Work Act (HSWA) 1974 requires (ie legislates) them to provide whatever information, instruction, training and supervision as is necessary to ensure, so far as is reasonably practicable, the Health and Safety at work of employees. 
Not only is HSWA 1974 still in place, it is also expanded by the Management of Health and Safety at Work Regulations 1999 (MHSWR), which require employers to carry out risk assessments, make arrangements to implement necessary measures, appoint competent people and arrange for appropriate information and training.
We have further instruction within the HSE's official guidance on Health and Safety in construction (HS150) which makes it clear that the safety of workers in or near excavations must be protected and that excavation supports or battering must be inspected by a competent person. 
Sadly, many contractors and sub-contractors continue to feel strongly that they and their people are competent (despite the lack of evidence), knowingly or unknowingly break the law, and are often led by their client(s) who are also ignoring the need for task-specific specialist training.  
Despite the challenges ahead, Groundforce Training is certainly breaking new ground. This year, the business will have trained more than 2,000 delegates on the industry-recognised Energy and Utility Skills Registered (EUSR) Timber, Steel, and Proprietary Shoring Systems course (categories 3 + 4 + 5). 
• As an Approved Training Organisation (ATO), Groundforce Training can reclaim £120 per person for CITB levy payers. This  course is bookable on the Groundforce Training website.