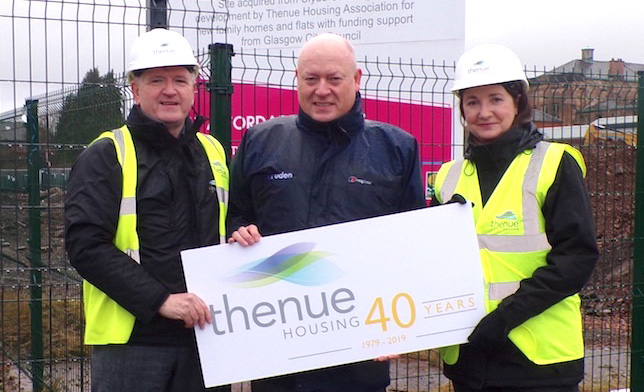 DOZENS of new properties are being built in Glasgow's east end as Thenue Housing's 40th anniversary year draws to a close.
77 properties are being built in Calton, with work underway on the Abercromby Street site, close to Thenue's London Road offices.
The £13.9 million project comprises flats and houses, which are being built by Cruden Building. Work is due to complete in August 2021.
The site was acquired from regeneration agency Clyde Gateway with grant funding from Glasgow City Council and the Scottish Government of £8.8 million. This is the second Thenue development to start this month after work began on 27 homes in nearby Bridgeton. That £4.18 million development is due for completion towards the end of 2020 and will be for tenants requiring Thenue's retirement housing service.
Charles Turner, chief executive of Thenue said, "This has been a momentous year for us filled with achievements and celebrations with our tenants at the heart of it all. Getting started on these two new developments is a fitting way to bring such a milestone to a close. Over 100 new homes for the east end of Glasgow is great news and complements our recently-finished former Monteith Hotel development overlooking Glasgow Green which created a further 49 new homes."
Eleanor Derbyshire, Thenue's head of property services added, "These new properties across two sites will undoubtedly be welcomed in the east end of Glasgow. We are continuing to deliver on our promise of new homes and acknowledge the important part played by the Scottish Government and Glasgow City Council in making this happen."
Allan Callaghan, MD of Cruden Building commented, "We are pleased to be on-site to start the build of 77 affordable and energy-efficient new homes in Glasgow's east end to meet the housing needs of local residents. This development follows on from several award-winning successful projects we have delivered for Thenue Housing and we are delighted to continue our strong working relationship.
"Together with making a positive impact to the lives of Thenue's tenants, we will support the residents of Calton and the surrounding communities by providing a range of community benefits including valuable jobs and training opportunities."