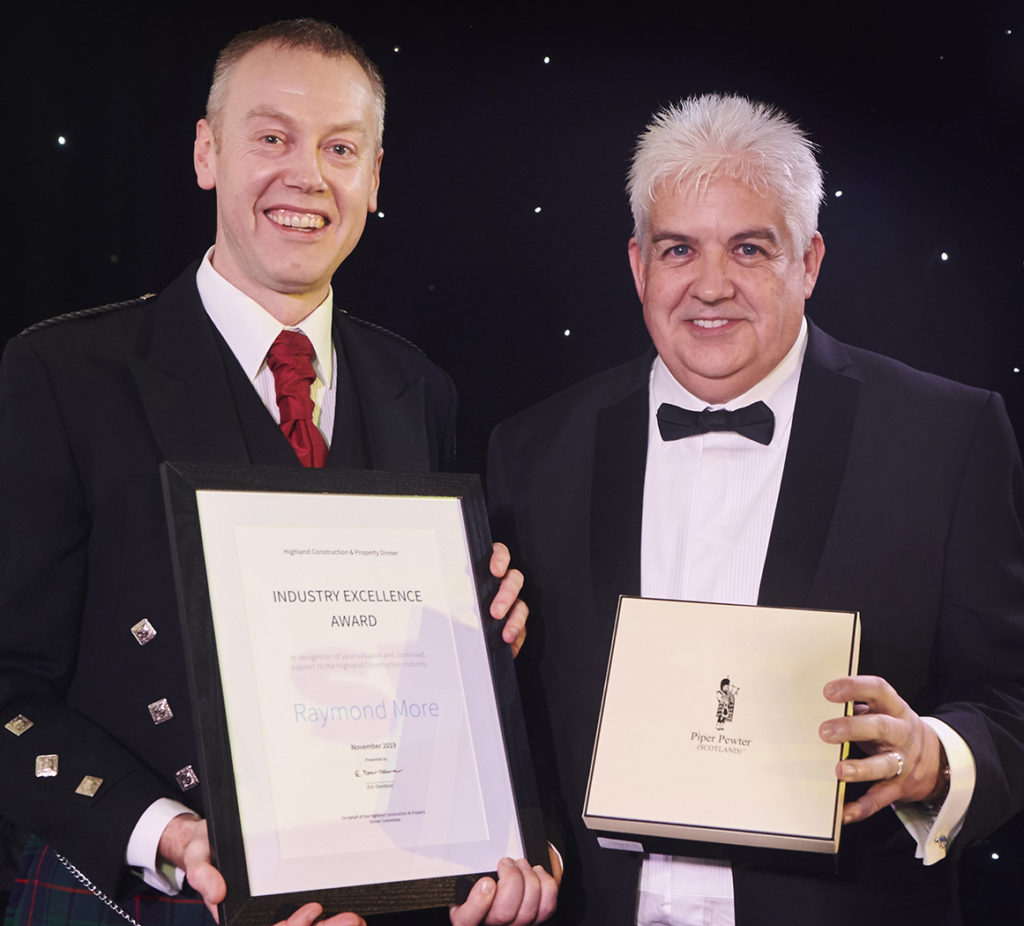 RAYMOND More, business development director for Robertson Northern, has been presented with an Industry Excellence award at the Highland Construction and Property Dinner.
Nominated for his contribution to the sector and for his involvement in charity events, Raymond has worked at Robertson for 30 years and has been involved with the Royal Institution of Chartered Surveyors (RICS), the Chartered Institute of Building (CIOB) and Scottish Building.
Through his work with the RICS volunteer committee, he has helped run events which have raised over £130,000 for charity. And as a founder volunteer committee member for the Highland Construction and Property Dinner, he has helped raise more than £70,000 over the last seven years.
Eric Davidson, associate at KLM Partnership, who handed over the award on behalf of the organising committee said, "The committee is delighted that Raymond has accepted this award in recognition of his significant input to Highland Construction industry over a number of years. It's important to stress that he continues to be a significant driving force in a number of areas of our industry not least in developing our future workforce. Raymond was the committee's overwhelming choice and that is testament to his commitment and dedication to the industry and we congratulate him on this richly deserved award."
Raymond has worked closely with both the Inverness College and the University of the Highlands and Islands Construction Advisory Board. He has sat on the Developing the Young Workforce board for Moray and has been a STEM ambassador for a number of initiatives across the Highlands. Raymond has also been a director of Inverness, Lochaber and Caithess Chambers of Commerce representing the construction and property sector.
Raymond said, "It's a privilege to be a recipient of the Industry Excellence award. The construction sector plays an incredibly important role in the Highlands, as both an employer and through its positive impact on local communities. It's an innovative, dynamic and rewarding industry and I have always tried to contribute and give something back to the professions and industry that provide me with my livelihood."
Raymond stepped down from the committee last year. Jade O'Hara, regional engagement coordinator at Robertson Northern, has taken his place on the Highland Construction and Property Dinner's volunteer committee, with their latest dinner raising £10,000 for Moray Firth Radio's Cash for Kids Appeal.
Frank Reid, MD of Robertson Northern added, "On behalf of the whole team at Robertson I'd like to congratulate Raymond on this fantastic achievement. Not only is Raymond a highly valued and dedicated employee, he is committed to ensuring a positive future for the construction industry in the Highlands. He has done some incredible work in partnership with numerous partners across the north of Scotland to inspire the next generation of construction workers and address the skills gap facing the industry, as well as providing much needed support to charities who undertake vital work in our local communities."