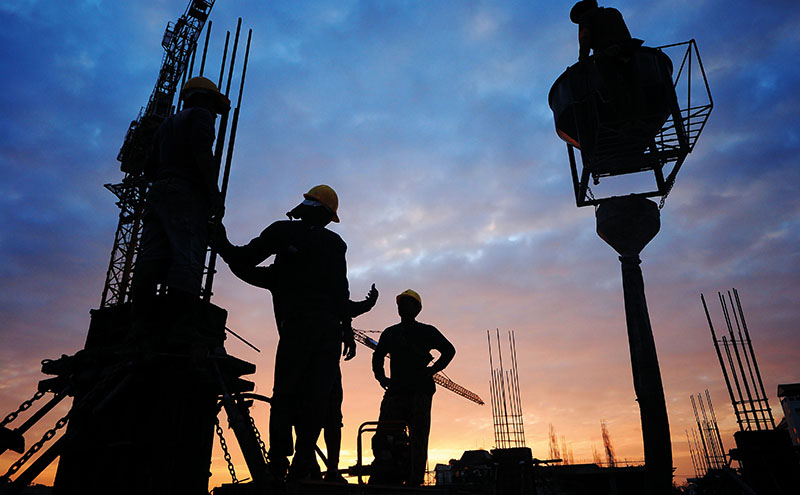 CONSTRUCTION output fell by 2.3% in October 2019 – the largest monthly fall since January 2018 when it fell by 2.6%, according to the latest figures from the Office for National Statistics.
The decrease was largely attributed to a 3.1% fall in new work, with repair and maintenance also decreasing by 0.6%.
Output decreased by 0.3% in the three months to October 2019, compared with the previous three-month period, driven by a fall of 1.4% in repair and maintenance.
In more positive news, new orders grew by 0.3% in Quarter 3 2019 following a fall of 14.5% in Quarter 2. This was driven by an 8.2% increase in new housing but offset by a 3.5% fall in all other work.
Mark Robinson, Scape Group chief executive said, "October marked another dreary month for the construction industry as it experienced the largest monthly fall in growth in almost two years and total output fell by a very significant £309 million.
"The industry has been spiralling towards a recession since the Brexit vote and it can only take so much more bad news. A lack of clarity over immigration and trade policies, as well as ongoing economic uncertainty, has forced construction bosses across the country to pause existing projects and hold off on making decisions on new work, which is evident through the large falls in repairs and maintenance, infrastructure projects and private housebuilding revealed today.
"However, the General Election outcome does have the potential to create a bounce back in activity in the New Year, so the industry will be holding its breath for a new government which has a clear mandate to implement a fiscal strategy and one that can make clear and concise decisions that will provide clients and construction firms with the confidence to press ahead with projects. However, on the flip side, a hung parliament could send the industry into further instability and disarray."
Allan Callaghan, MD of Cruden Building, said the fall in output activity doesn't reflect what it is being experience at Cruden Building, with the firm having recently been awarded contracts to deliver in the region of 1,000 units. He explained, "This will go some way to addressing the shortage of housing and we are making good progress in delivering a range of mixed tenure homes for rental and affordable private sale. In fact, across the Cruden Group, we have set ambitious targets to further expand activities and boost housing delivery by 25% over the coming year and already have a healthy pipeline going in to 2020."