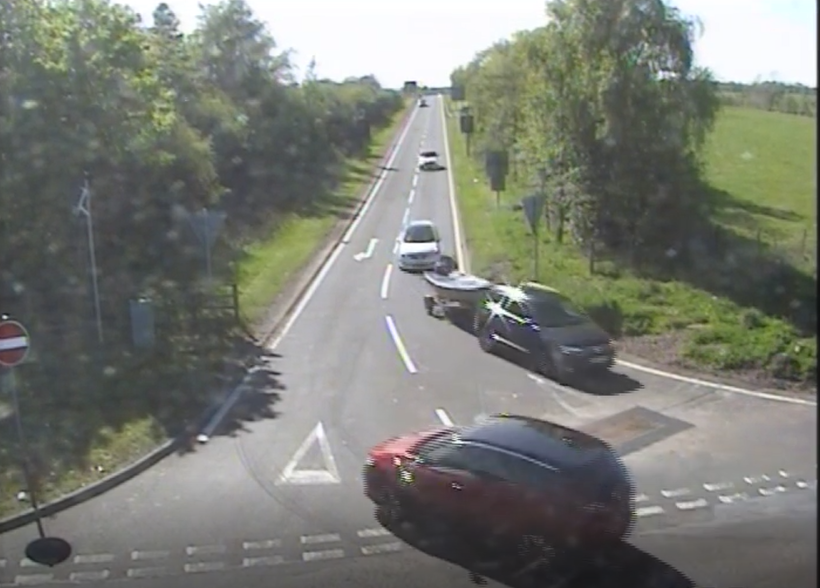 ANALYSIS of accident records has found that traffic accidents caused by vehicles entering and travelling the wrong way along slip roads are a cause of concern on Scotland's trunk roads network. Not only is there the terrible loss of life or injury arising from these accidents, but this type of dangerous driving behaviour is estimated to cost the Scottish economy up to £2.2 million in the event of a fatality occurring.
To tackle this problem, Transport Scotland tasked Amey – the company responsible for managing and maintaining the Scottish South-East Trunk Roads network – to develop a solution at two sites, which had been the location of fatal accidents in recent years as a result of drivers travelling the 'wrong way' up slip roads. 
The Amey Strategic Road Safety Team undertook an extensive study of potential mitigation schemes, including those being used by other road agencies around the world. An initiative in Texas, USA, led to the idea of using Vehicle Activated Signs (VAS) to alert drivers of their error at an early stage. 
The study revealed a gap in methods of prevention, and it was decided to pursue a novel mitigation method to tackle this problem.
Amey partnered with Clearview Intelligence to develop a Wrong Way Detection system that used a combination of detection sensors, warning signs, and alerts to prevent drivers continuing along the slip roads incorrectly.
The system required Clearview Intelligence to adapt an existing model of vehicle detection system that was currently in use for regular VAS. In researching a solution to this dangerous situation, Amey explained that it was clear there were no existing standards or technologies that would provide what was needed.
Discussions were held with Transport Scotland to propose solutions and it was agreed there could be an application made for Non-Prescribed signage to be used, allowing for a relaxation of the typical VAS regulations.
Several tests were undertaken to highlight any potential gaps in the system. It was found that large HGVs travelling in the correct direction could trigger the system when changing lane. Further adaptations were then made to the system before the fully operational wrong way system was deployed.
The biggest challenge was designing the system to ensure drivers would see the signs early enough, without driving past them before they sprang into life. 
An optimum distance of 70m was derived, allowing the detection studs to be placed at the beginning of the slip road followed by enough distance for the signs to activate and give full effect to the driver heading in the wrong direction. This also meant that the driver should not get more than 70-100m along the slip road, drastically reducing both the likelihood and severity of a high-speed collision.
The slip roads were over 400m in length each, with vehicle speeds dropping as drivers approached the junction at the end. This was considered in the design of the detection system, meaning vehicles leaving the mainline had over 300m of visibility to react and slow down when a 'wrong way' manoeuvre occurred in front of them.
Between 2015 and 2018 seven fatalities occurred across Scotland due to road users accessing a slip road incorrectly. Earlier this year, the wrong way detection system went live and no fatalities to date are attributed to this type of incident in the two locations. The technology used also provides constant on-site monitoring, with live data being readily available for stakeholders to share.
Going forward, Amey said this technology is to be developed and refined further, with the plan being to use similar equipment elsewhere on the Scottish Trunk Road Network where traditional engineering approaches of fixed traffic signs and road markings have proven ineffective at preventing 'wrong way' driving. The system will be linked to the Traffic Scotland Control centre, which could allow the use of existing VMS on the mainlines to warn of a potential errant vehicle travelling the wrong way and to make other road users aware.
A second generation of signs will soon be rolled out with added technology. This will include a camera which will be able to record when the sign is triggered and gather details of the errant vehicle. It will also have a live trigger to Police Scotland to respond where necessary.