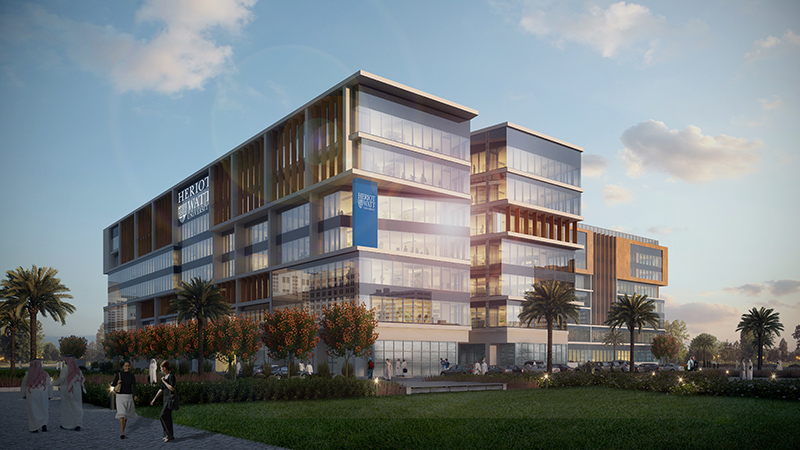 EDINBURGH'S Heriot-Watt University has unveiled plans for a new campus in United Arab Emirates.
Some 4000 of the university's students currently study in Dubai. The new campus is expected to open in 2021, coinciding with the 200 year anniversary of the founding of the university.
Provost and vice-principal of Heriot-Watt Dubai, Professor Ammar Kaka, said, "This announcement marks a historic milestone for Heriot-Watt and ensures our students will enjoy the benefits of an enriched learning experience and outstanding graduate outcomes for many years to come.
"Since our launch in 2005, the University has grown considerably in Dubai and I'm delighted to say our agreement with Dubai Knowledge Park means we will continue to make a significant impact, delivering long-term benefits to the Dubai and UAE economy and local community.
"This move is a key part of delivering Heriot-Watt's ambitious six-year strategy for the University and demonstrates our commitment to the region and growth plans for the future."
The modern campus will be built in Dubai's Knowledge Park, and will include a dedicated student hub, central student services centre, enhanced library and social learning spaces. Great emphasis will be put on the delivery of a digitally enabled learning environment, with a wide range of digitally enhanced classrooms, seminar rooms, studios, laboratories anda digital in-house recording studio.
Dr. Abdulla Al Karam, chairman of the board of directors and director general of the KHDA, the body responsible for the growth and quality of private education in the country, said, "Dubai is home to the largest number of international branch campuses in the world. The opening of a new Heriot-Watt campus in 2021 further strengthens Dubai's position as a leading international study destination and builds on the wide-range of education choices available for students. This important milestone aligns with Dubai's future aspirations and works towards creating new opportunities for delivering high-quality education."
The Dubai Knowledge Park sits adjacent to the Dubai Media City as well as the Dubai Internet City and boasts excellent transport links such as the Dubai Metro and Tramway. It holds more than 500 businesses and has established itself as a centre of excellence for higher education and professional development.
Mohammad Abdullah, Managing Director of Dubai Knowledge Park, said: "This partnership, which is in line with the UAE's growing knowledge economy, is an important addition to Dubai's robust academic scene. By supporting our partners within our vibrant education community, we enable them to offer world-class academic programmes. We value our longstanding partnership with the university and their investment in developing talent in line with the needs of the future economy."