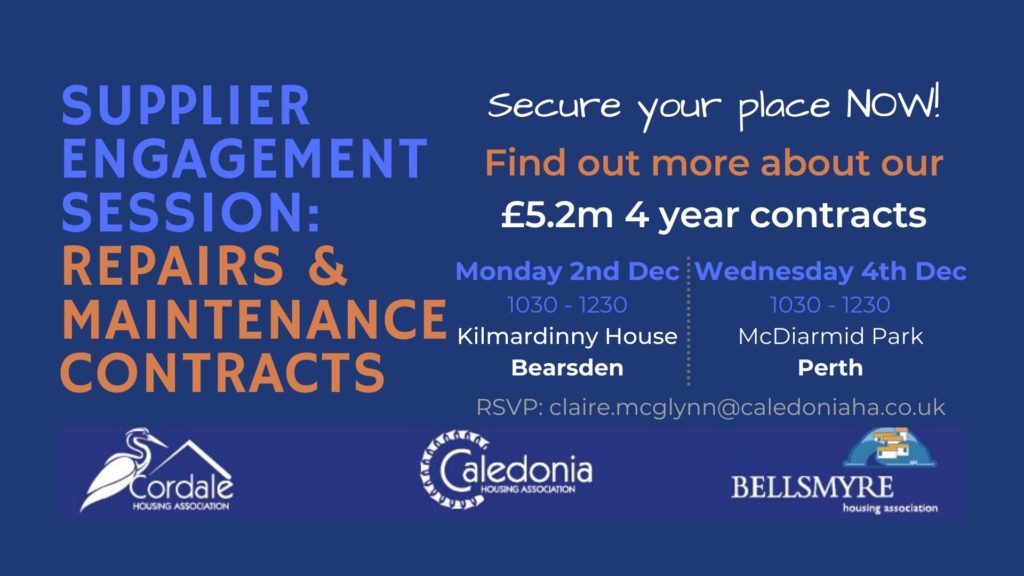 CALEDONIA Housing Association, with subsidiaries Bellsmyre Housing Association and Cordale Housing Association, will two supplier engagement sessions ahead of releasing the tender documents in December for their £5.2 million repairs and maintenance contracts.
The events, at Kilmardinny House in Bearsden on Monday December 2 and at McDiarmid Park in Perth on Wednesday December 4 will provide contractors with an overview of the contract requirements and the procurement process.
The repairs and maintenance contracts covers the three housing associations'  trade requirements including joinery, plumbing, electrical, plasterwork and painting & decorating.
The tender will be split into 3 lots with tenderers invited to apply for one or all of the lots.
Lot 1 – West:  East Dunbartonshire, North Lanarkshire and West Dunbartonshire
Lot 2 – Central: Perthshire
Lot 3 – East: Dundee City, Fife and Angus
The duration of the contract is four years with the opportunity to extend for a further two twelve month periods. The overall value of the contract per annum is £1.3 million.
Andrew Kilpatrick, director of assets for the three housing associations said, "The repairs and maintenance contracts provide an essential and important service to our tenants. We are keen to engage with suppliers to ensure that we can give them a full understanding of our requirements to allow them to work collaboratively with us to provide a high quality repairs service that makes life better for our tenants throughout Scotland."
To register an interest in attending the event, email Claire McGlynn at claire.mcglynn@Caledoniaha.co.uk