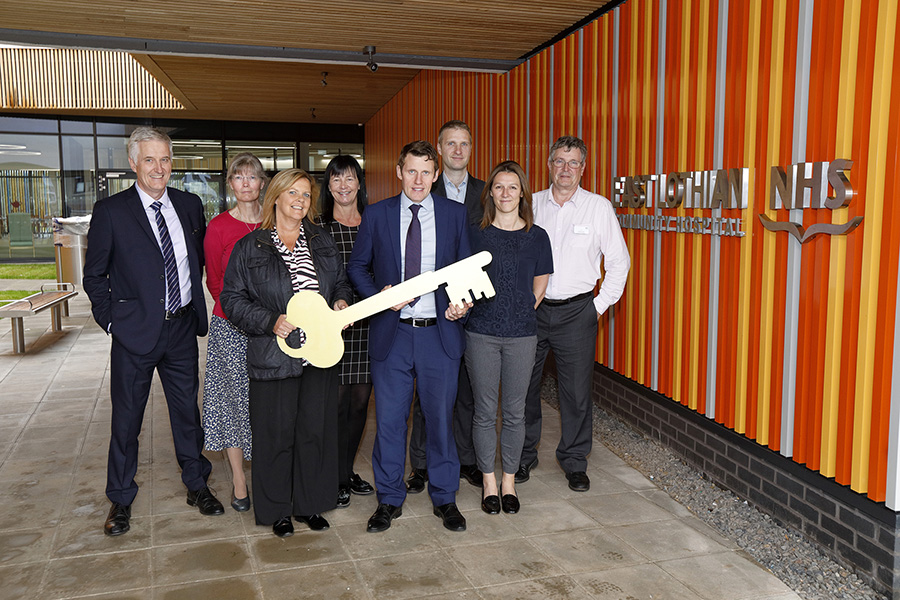 NHS Lothian and East Lothian Health and Social Care Partnership have been given the keys for the remainder of the newly completed East Lothian Community Hospital Building.
The handover marks the completion of the penultimate phase of construction, following on from the handover of the outpatients department which has been in operation since March 2018.
The completion of the three-storey hospital building in Haddington means that patients and staff will have access to mental health services, IV treatment and an increase in inpatient beds.
Alison MacDonald, chief officer at East Lothian Health and Social Care Partnership, said, "This hospital has been highly anticipated and will bring huge benefits for patients and carers in East Lothian. In particular, it will enable people to have a range of procedures in a brand new, purpose-built hospital for which they previously had to travel to Edinburgh or further afield.
"It is also a real asset to the community, with public rooms available to local groups, local radio providing hospital broadcasting and the hospital's grounds open to all.  I would really like to take this opportunity to thank our project team, our staff, our local artists and the community for their collaboration and support for the new East Lothian Community Hospital. They have done a fantastic job."
The redevelopment of the hospital site is being undertaken in partnership with Hub South East, with Morrison Construction the main contractor.
Richard Park, operations director at Hub South East, said, "Having been involved in this project since the early stages, as Hub South East helped drive plans for the redevelopment, I'm incredibly proud to have reached this major milestone and know that local patients will soon be benefiting from the use of this fantastic new facility.
"This is our largest project to begin construction, and the biggest Hub deal signed so far in Scotland. It has been a great example of positive partnership working with NHS Lothian and we look forward to completing the development in 2020."
Philip Galbraith, project director for Morrison Construction, added, "We're delighted to hand over the keys to this fantastic new building and look forward to watching as the NHS Lothian team transform it into an operational healthcare facility serving the local community.
"This phase of the project was delivered within a live hospital campus and a true collaborative approach with the client led to the delivery of the new facility with minimal impact on the ongoing healthcare provision on site. The thousands of hours of work by our team and the supply chain will leave a positive lasting legacy for East Lothian and the surrounding area."