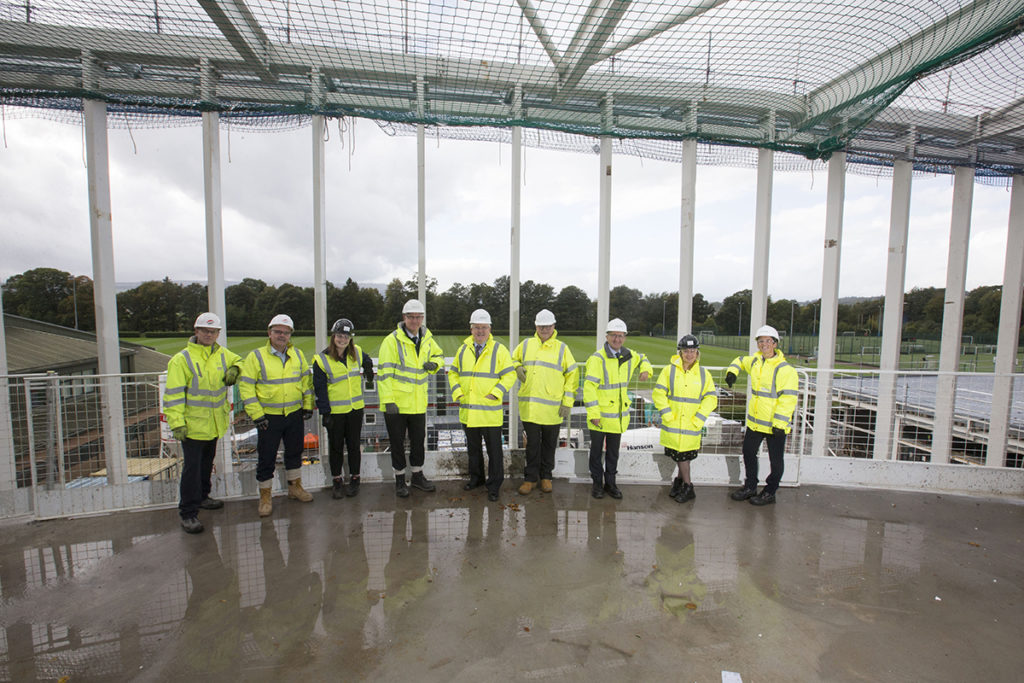 WORK on the University of Stirling's £20 million sports facilities redevelopment has reached its highest point.
Currently being delivered by Morrison Construction, the facility now has nearly 5000 cubic metres of concrete and 260 tonnes of steel in place, with all three levels of the new building now poised for the installation of a glass-based exterior envelope.
Linking all facilities under one roof, the new building, which is due to open next year, will include purpose-built studios, a fitness suite, three-court sports hall, indoor cycling studio, strength and conditioning area, and a new high performance suite. Other features include enhanced changing facilities and communal spaces.
The National Swimming Academy, National Tennis Academy, sports hall and squash courts will all remain in their current form.
Allan Cunningham, Morrison Construction operations director said, "It is wonderful to be here today to celebrate this key project milestone and welcome University of Stirling representatives to site. Our experienced team have made excellent progress on this fantastic redevelopment. The completed 260-tonne steel frame has created an outline of the project, allowing the community to appreciate how the sports centre will fit into the campus once successfully delivered, and the internal works are now progressing."
Cathy Gallagher, University of Stirling director of sport added, "This is fantastic moment for the project and, following the Sports University of the Year accolade, a tremendous time for sport, health and wellbeing at the University of Stirling. The new facilities are beginning to take shape and we're now in a position to visualise how the finished product is going to look. It's all adding to a real sense of anticipation amongst staff, students and our community members and I'm extremely excited by the possibilities the redevelopment is going to bring in 2020 and beyond."