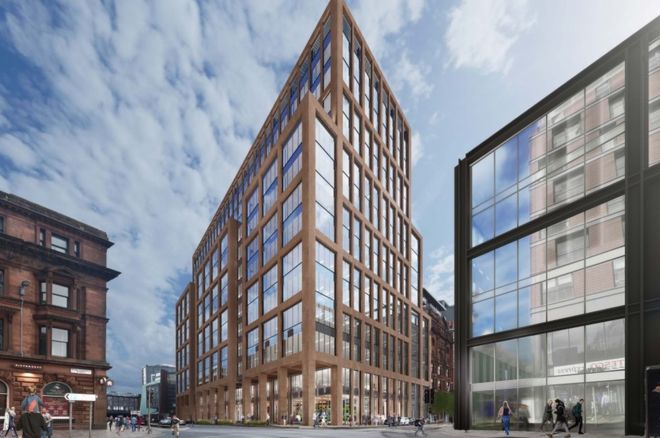 JPMORGAN Chase has unveiled plans for a new 'state-of-the-art technology' office in Glasgow.
To be located on Argyle Street in the city centre, the company say there will be space for up to 2,700 employees in the building scheduled to open in 2022.
The 270,000 square foot development will contain open plan office floors across 13 storeys and will aim to achieve BREEAM Excellent certification – which would fit in line with JPMorgan Chase's global commitment to source renewable energy for 100% of its global power needs by 2020.
To achieve the certification, the building will become one of the first to be constructed under planning policy CDP 5 (resource efficiency) of the Glasgow City Development Plan. Focus will be put on responsibly sourced materials, minimised water consumption and the inclusion of efficient LED lights. There will be over 350 bike spaces and just 12 car parking spaces.
Lori Beer, global chief information officer at JPMorgan Chase & Co, said, "This investment is just the next step in our unwavering commitment to the city of Glasgow. We have enjoyed 20 years of success in the city and this has helped build our global reputation of technology innovation for our clients. JPMorgan Chase is proud to have a site as dynamic as Glasgow, which is testament to the expertise and hard work of our employees there."
First minister Nicola Sturgeon said, "I welcome JPMorgan Chase's continued investment in Scotland through the building of these new and sustainable Glasgow headquarters. With a focus on renewable energy and active travel, the company's plans are an example to other businesses of how we can move towards a cleaner, greener economy. This commitment sends a strong message that even in these uncertain times, we remain open for business and shows great confidence in Scotland as a centre of excellence for financial services."