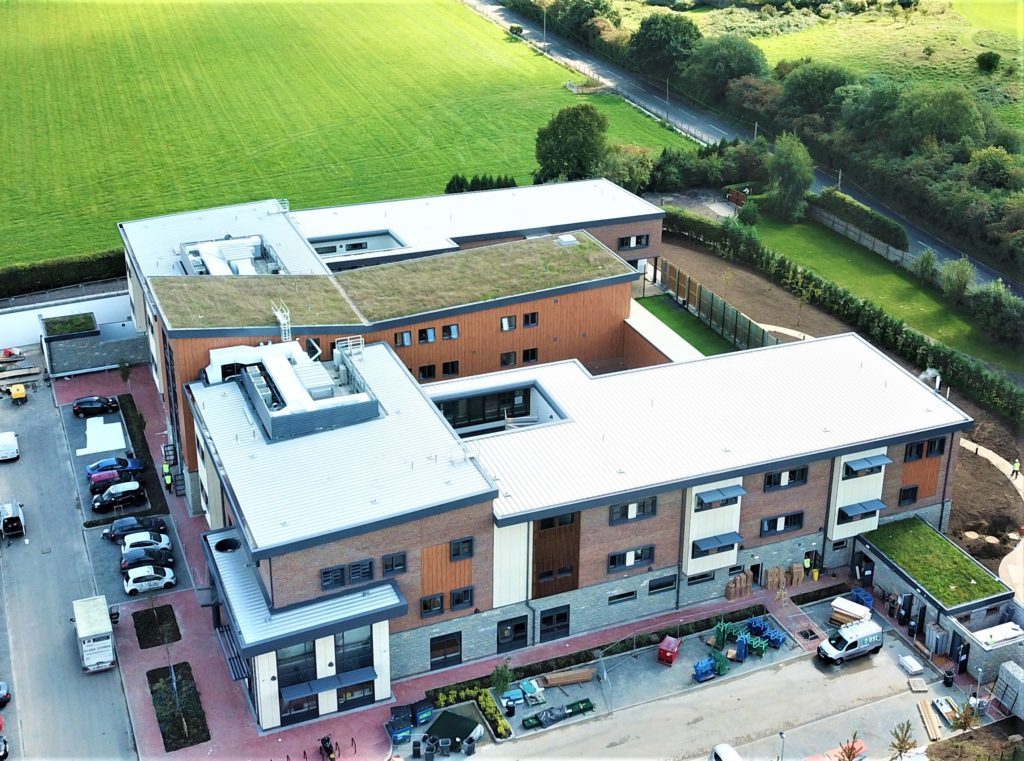 Green roofs can play their part in helping urban environments fight the impact of global warming. Flat roofs have become an untapped resource for vegetation but what are the challenges for specifiers wanting to create a green roof structure? Justin Pitman of Proteus Waterproofing explains how the Cold Melt waterproofing system has become the waterproof membrane of choice for those who want to convert an existing flat roof into a green roof
BUILDING development is creating a world where natural green spaces are being lost. The city of Coventry, for example, lost more than half of its green belt land in the 12 months before March 2018, according to government data. With our green spaces shrinking, green roofs can provide the answer. 
These future ecosystems can enhance biodiversity, reduce the risk of flooding (by absorbing rainfall), improve a building's thermal performance whilst mitigating the 'urban heat island effect' and the loss of outdoor spaces. They can provide a simple way to reduce energy costs and transform unused roof space into functional, usable space.
There is a sustainable link between ecology and economics. Green roofs are also cost effective, as one of the many benefits is the fact that the roof structure is protected from temperature differentials and the resulting expansion and contraction that would normally shorten the lifespan of a roof. A green roof also acts as an insulate, protecting buildings from the cold in winter and keeping the heat out in summer, resulting in lower heating and air conditioning bills.
Extensive or intensive 
Green roofs can be intensive, with gardens on rooftops, with shrubs, climbers, perennials, bedding and even small trees. These are usually container or raised bed gardens. They need at least 30cm (1ft) depth of growing medium, much of which needs to be organic matter. Alternatively they can be extensive, with green carpets of low maintenance creeping plants. Extensive green roofs generally require an 8-15cm depth of growing medium that can consist mainly of lightweight inorganic materials such as perlite, leca, sand, rockwool and crushed tiles or concrete. FLL Guidelines (2008) and the GRO Code (2014) are of paramount importance when constructing any living roof.
The typical layers of an extensive green roof include waterproofing and insulation layers, a root barrier membrane, a drainage/reservoir layer, a filter layer and then the growing medium above. It may be necessary to incorporate drains into the system, which should be boxed in to prevent them clogging up types of green roofs.
Inverted green roofs
Whilst traditional mastic asphalt and hot-melt modified bitumen systems are the most common waterproofing for inverted roofs, a cold-applied, two-part elastomeric polyurethane waterproofing system provides seamless protection and is particularly suited to inverted green roof applications. Offering fast, value-for-money installation, it is installed in a similar way to hot-melt systems and mastic asphalt applications, offering the same seamless advantages without the use of molten material or naked flame at roof level. BBA certified to last for the lifetime of the structure once covered, this system is one of the greenest membranes in the world.
Quick, simple and safe to apply, this cold-applied membrane incorporates recycled rubber crumb, castor oil and other organically grown products to provide seamless roof protection. Exhibiting virtually no odour, it can easily be applied in urban or built up areas without risk of disruption or annoyance to building users.
The cold-applied system can incorporate innovative, hi-bred roof insulation and, with or without insulation, can be designed as a paved, decked, ballasted, green or brown roof. Furthermore, the membrane does not become brittle with age and, when protected from UV exposure, it is certified to last the life of the structure. It can be used on a range of decks including concrete, asphalt, timber/plywood and metal balconies and roofs.
In light of recent climate change warnings, green roofs have potential to contribute to the sustainability of a building and their urban locations.  Typically the same size as the building's footprint, the roof surface can easily be transformed into a useable space whilst at the same time benefiting the planet.  When you consider how a cold applied system offers so many advantages to green roof construction, isn't it time that all building owners saw the long-term benefits of green roofs and transformed their unloved and under-utilised roof spaces?