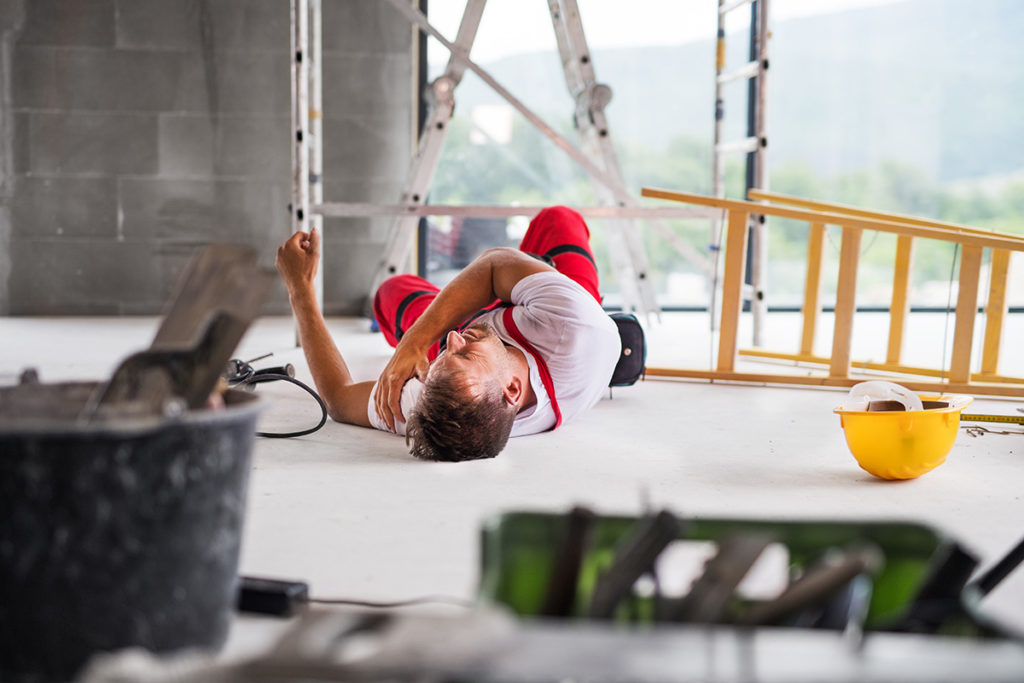 CONSTRUCTION workers operating alone can benefit from a safety app which sends out alerts if it detects something potentially unusual – such as a fall or failure to check in at a designated time – has occurred.
The Stay Safe mobile application was the idea of Graham Mills, who owns a surveying business alongside the StaySafe corporation. Graham realised a pressing need for further security measures for lone workers, after technological advances in the surveying industry meant his staff were often left on site alone with thousands of pounds worth of equipment. 
Although it was standard practice to be equipped with panic buttons, these were often left uncharged or forgotten about.
"A lot of construction companies think they don't need a lone worker solution because they've got thousands of people on site," explained Don Cameron, CEO of StaySafe. "The reality though, is that there are times you don't always have thousands of people on site; when you're doing the original survey or the tidying up work after, for example. Even when you do have hundreds of people on site, you still have areas where there's no visibility." 
The application, which has won a Construction Health and Safety Group award, is used in 45 different countries worldwide, and is being utilised by companies such as Kier, Balfour Beatty and Skanska.
"We've got some large construction companies using the app just because their site is so massive," Don added. "You could easily lose someone in parts of the site, should they have a heart attack, have something fall on them or if they fall into a trench – you wouldn't know about it until a family member rang up asking where they are. So, it's recognising where you have that lone working risk, then if you do have it, we're just a very easy quick solution to roll out. 
"The key thing is, because it's easy to use, you get less resistance from the guys on site having to use the app."
The premise of the application is an alert system – which will first send a notification to security firm Sercuritas, who will try to diagnose the cause of the alert. Providing it was not a panic button alert, the individual can be contacted via an automatically answered loud speaker call through the app. Sercuritas can then feed this information, alongside a GPS location, back to a designated person on site to go and investigate the incident.
"If the worker stops moving it can trigger an alert," Don said. "Equally, if it detects a rapid deceleration the app recognises it as a fall, and this will also trigger an alert. So, if you fall into a trench, when you hit the bottom you're going to rapidly decelerate, and the app will pick that up as a fall and trigger an alert. 
"You can also trigger an alert yourself – so in summer weather, if you develop nausea and headaches it's probably because you're coming down with heat stroke, so you press the panic button and it sends out an alert for you. You can also utilise a time check in, whereby you ask your guys to check in every hour, and if they miss it an alert is sent."
In its development stage, StaySafe was conscious over how the application may be received by workers. Various issues presented themselves, such as it being viewed as a tool for management to spy on workers they suspect of slacking, or for it to be a minefield for workers less tech-savvy. In order to combat this, the application was simplified to a point where Don says that it takes less than five seconds to activate a lone working session. Activating such a session also enables the GPS tracking setting – of which management have no control over turning on and off, allowing for workers to turn it off during break periods, or when working in safe environments.
Another problem was the issue of poor to no signal, which was raised by a client. An SMS system was implemented to combat the issue of working in areas with poor connection levels – meaning alerts were sent via texts, as oppose to using mobile data. Don says that such a system gives their application 15-20% more coverage in the UK than it would have, had it solely operated on mobile data.  
Similarly, those working underground had no access to SMS or mobile data, so a notes feature was implemented – whereby workers could leave a note on the app saying that they will miss their check in as they're working underground but are safe.
Asked on what he'd say to those in the industry without adequate lone worker security measures, Don said, "You have a combination of both a legal and moral duty of care for lone workers. The HSE guidelines say reasonable provision should be made to look after lone workers. Reasonable is one of those lovely wishy-washy words – if the HSE come in and find that you have lone workers, and all you have in place is a whiteboard on site with a check in and out schedule, then that's really not fit for purpose.  
"The other thing that is commonly used is a buddy system, where I'd be expected to call you at the end of the day to say 'I'm OK'. That's fine, but only if the person remembers at 5pm on a Friday afternoon that they haven't heard from me, and you might be in the pub by then! Even if you do remember that I haven't checked in, frankly, what are you going to do? You have a vague idea of where I am supposed to be, but you don't actually know where I am. So again, it's not really fit for purpose. So, they've got to have some sort of automated solution to meet that requirement."