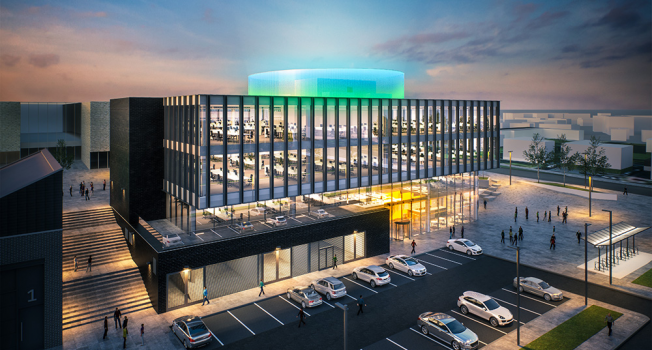 MORRISON Construction has been announced as the main contractor for the development of the HALO enterprise and innovation hub in Kilmarnock.
The multi-million pound contract will see the contractor start work on the HALO site by the end of this month (September) – with HALO expecting the 45,635 square foot to be completed by January 2021, with approximately 700 construction workers on site during the build.
Formerly the home of a Johnnie Walker distillery, the development on the 23-acre site is part of a £63 million brownfield urban regeneration project. HALO say that the building will provide a sustainable community approach to a low carbon mixed-use development providing jobs, economic growth, skills development, access to employment opportunities, clean energy and housing.
The hub will feature cutting edge technology, suites for the purpose of allowing entrepreneurs to collaborate and office space available for 'established companies'.
Drew Macklin, project director at the HALO Urban Regeneration Company, said, "Today marks a huge milestone for the HALO as we announce Morrison Construction as the main construction contractor to deliver the Enterprise and Innovation Hub in Kilmarnock and start preparations for them to begin construction on site by the end of September.
"The Enterprise and Innovation Hub will form part of the HALO's dynamic commercial, educational, cultural, leisure and lifestyle quarter where people can live, work, learn and play.
"With a strong track record of delivering major projects on time and within budget I look forward to Morrison Construction starting work on our exciting project."
Eddie Robertson, managing director at Morrison Construction, added:''We are delighted to be appointed the main contractor to build the Enterprise and Innovation Hub, a development that will revitalise the town centre and support the wider Ayrshire economy.
''We look forward to working with our new client, The HALO Urban Regeneration Company, to successfully deliver this project that will drive growth in Kilmarnock and the surrounding areas.
''Our experienced project team will soon establish site and begin works. During construction, we will engage with all stakeholders and provide education and employment opportunities as part of our progressive social value programme.''