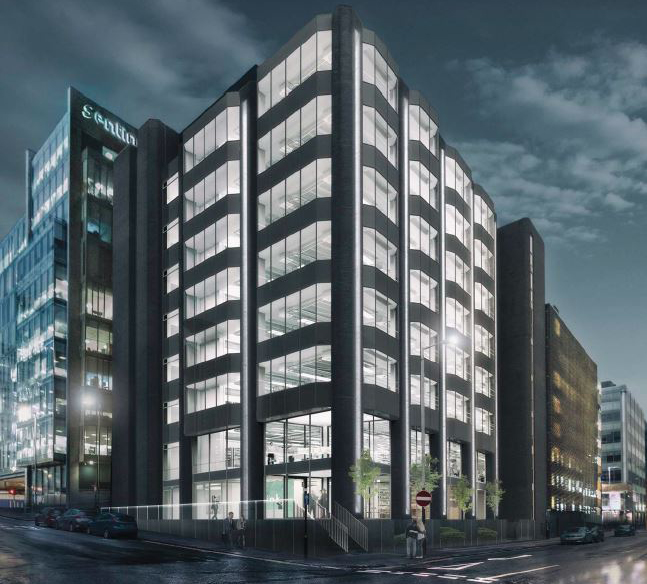 A refurbishment project on Glasgow's The Ink Building is underway.
Work on the eight-storey office block, formerly known as Hanover House, is expected to complete in March next year. The building is being transformed into Grade A office accommodation offering around 35,000 square feet of space.
The building was purchased by Ambassador Holdings in 2018 and is the firm's third Glasgow City Centre office alongside Granite House and The Forsyth Building.
The refurbishment project includes upgrades to the roof, installation of a new curtain walling window system with extended glazing to the front elevations, and M&E services. A 'revitalised' exterior will be decorated with 'breathable' black mineral paint. The works will also include digital infrastructure upgrades, while heating and cooling will be provided by an air source heat pump system.
Chris Richardson, investment director at Ambassador Group said, "We are excited to begin refurbishment work at The Ink Building. Once completed the building will be transformed into a modern, high tech and high quality office space, delivering much needed Grade A space to Glasgow. This has been a very interesting project so far and was made possible by the work undertaken by our design team Stallan Brand, PMP, Butler Consulting, Blyth and Blyth and our agents and marketing team Savills, LSH and P4P. We are also very happy to have appointed Thomas Johnstone to undertake the refurbishment works."
Savills is the joint agent, along with Lambert Smith Hampton. Colin McGhee, associate director in the office agency team at Savills in Glasgow said, "There is no shortage of demand for high quality office space in the city centre. Employment growth is forecasted at 12% over the next five years translating to roughly 4,000 new jobs in Glasgow. Combined with severe under-supply of Grade A offices, it is clear the Glasgow market is desperately in need of high quality office space, especially in the city centre. The Ink Building will offer occupiers a unique product within the heart of the city centre core."