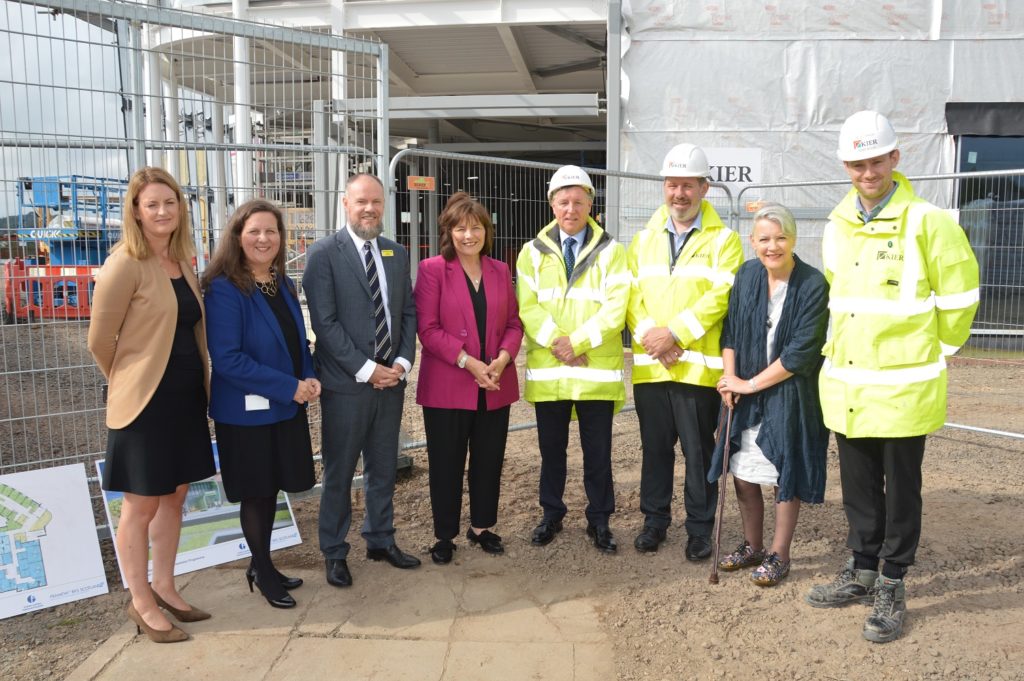 THE site of the new Jubilee Eye Centre in Clydebank was visited by Scottish health secretary Jeane Freeman earlier this week, in preparation for its opening in the summer of 2020.
Part of the Scottish Elective Centres' Programme, the development is the first phase of NHS Golden Jubilee's expansion plans. Currently being constructed by Kier Regional Building Scotland, upon opening, the centre will have six theatres and an integrated outpatient department – with the capacity to carry out up to 21,000 cataract procedures per year.
Jann Gardner, chief executive of NHS Golden Jubilee, said, "We were delighted to welcome Health Secretary Jeane Freeman to the Golden Jubilee Eye Centre construction site to show how the building is taking shape. At a time where we need to meet the needs of a growing and increasingly elderly population, by combining our new facility with our evidenced improved patient experience, we will be able to provide sustainable services in this high demand specialty. This means even more patients will be treated faster, providing an improved quality of life for thousands of people every year."
A second phase of development is due to be complete by the end of 2021, which will see a further five laminar flow orthopaedic theatres, three endoscopy rooms, two general theatres, a surgical admission and discharge unit and a central sterilisation department.
Brian McQuade, managing director of Kier Regional Building Scotland, said, "The construction of the eye centre is progressing well and complements the strong portfolio of healthcare projects that we are delivering throughout the country. As well as providing new facilities for thousands of patients at the Golden Jubilee National Hospital, Kier is creating a range of valuable employment and learning opportunities throughout this project for local residents of Clydebank and the surrounding areas to benefit from for years to come."
Health secretary, Jeane Freeman, commented, "The Golden Jubilee Eye Centre forms part of one of the elective and diagnostic centres that are being established across Scotland. The network will allow people to be treated more quickly for planned surgery, taking pressure off the other parts of the system that deal with unplanned and emergency treatment.  This fantastic new facility will make a real difference to patients across Scotland when it opens next year."