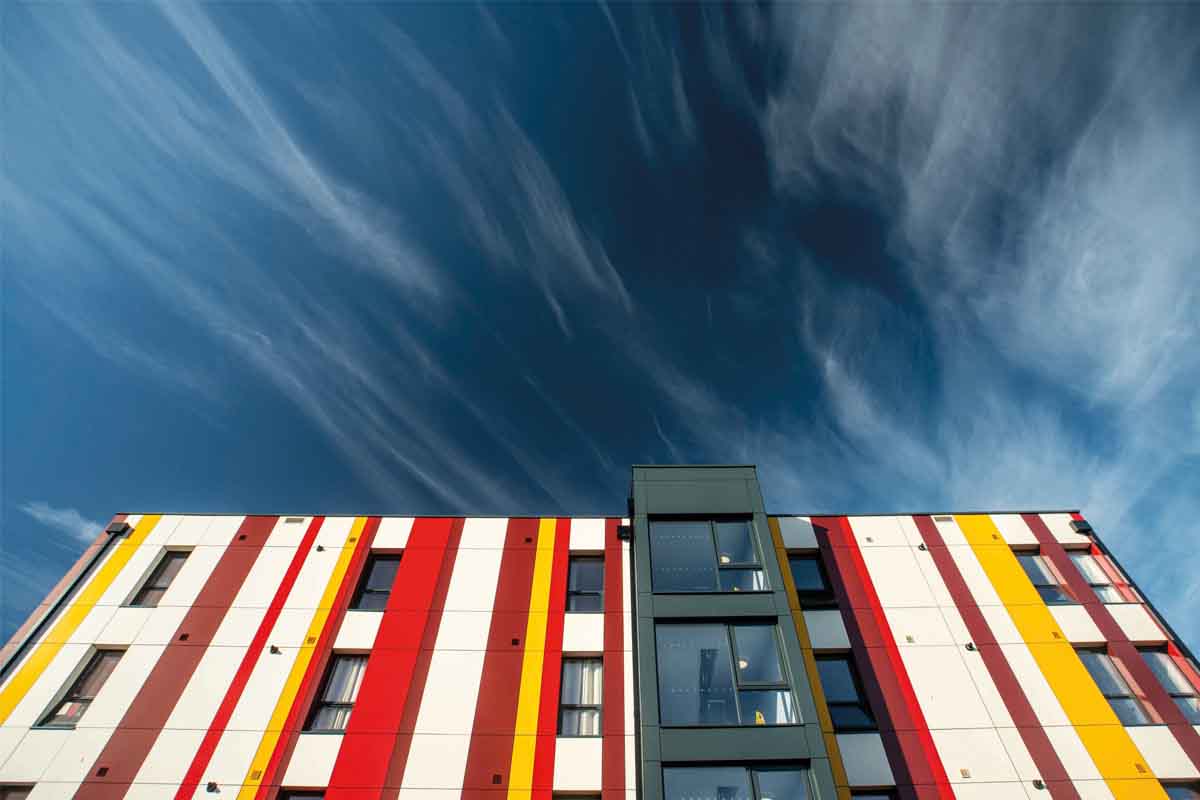 Aluminium scores highly when it comes to sustainability and now thanks to advances in powder coating technologies, the metal is so much more than just a 'green' building material. Kenny McMenemy, architectural advisor from aluminium fenestration manufacturer Senior Architectural Systems, looks at how good design can start with a choice of finishes
FROM its ability to be endlessly recycled to its intrinsic strength and durability, aluminium is a popular choice of building material and a perfect framing solution for fenestration systems. Aluminium not only performs well but can also looks fantastic and through the use of powder coating, the design possibilities are endless.
Colourful thinking
Rather than a liquid paint, powder coating is just that – a dry powder that is essentially 'baked' onto prepared aluminium profiles. At Senior's own in-house facility, the process involves the bars being secured on a line, where they are pre-treated, degreased, acid etched and covered in a barrier layer to protect the material from corrosion. The bars are then taken into a drying oven which reaches 90 degrees before being transported on the line to a powder booth where charged powder particles cover the prepared aluminium profiles. Following this, the powder coating is baked onto the profile at 185 degrees for about 30 minutes.
With the ability to create the full range of standard RAL colours or specific colours for a more bespoke solution, powder coated aluminium frames can make a real design statement. This is particularly useful in the retail and commercial sectors where there is often a desire to create strong brand identities and match corporate colours. Dual colour options to create a different look for the exterior and interior surface of the frames are also very effective. As well as adding aesthetic value to the exterior facades, the use of contrasting colours internally can play a vital role in assisting wayfinding around buildings, which is an important consideration for many new education and healthcare projects. 
But the design flexibility that powder coating offers stretches to more than just colour choices. A range of different finishes can also be achieved from a high gloss to a mid-sheen satin or flat matt. Textured and bespoke decorative finishes are also available.  
Decoration with protection
Powder coated aluminium has great aesthetic appeal but there is also substance in its style.  
Aluminium is naturally robust and highly durable but these performance characteristics dramatically increase through the use of powder coating, which can provide a thicker and stronger finish than traditional paint. As well as being hardwearing, a powder coated finish is also flexible and so is less likely to chip, flake or crack. Unlike a solvent paint finish, the powder will yield to the aluminium as it bends and flexes and so will retain its attractive appearance for longer. 
Fenestration systems play a key role in the overall building envelope and by their very nature, need to be able to withstand weathering. This is an important consideration for most projects owing to our wet and windy climate but particularly vital when working on schemes located in the more exposed parts of the country. Powder coating can give aluminium fenestration systems extra protection from the elements and increased resistance from fading and corrosion. 
A sustainable style
Although the use of colour can transform aluminium fenestration systems, the process needn't compromise the exceptional environmental benefits that the material offers. With many contractors increasingly looking to reduce the embodied carbon of a project, the supply chain has an important role to play. For our part, Senior's in-house powder coating facility can reduce the associated transportation costs and carbon emissions and thanks to a new waste reducing powder coating line, less product is being sent to landfill every year. 
So whatever colour you choose, you can be sure that aluminium remains the greenest choice for fenestration systems.