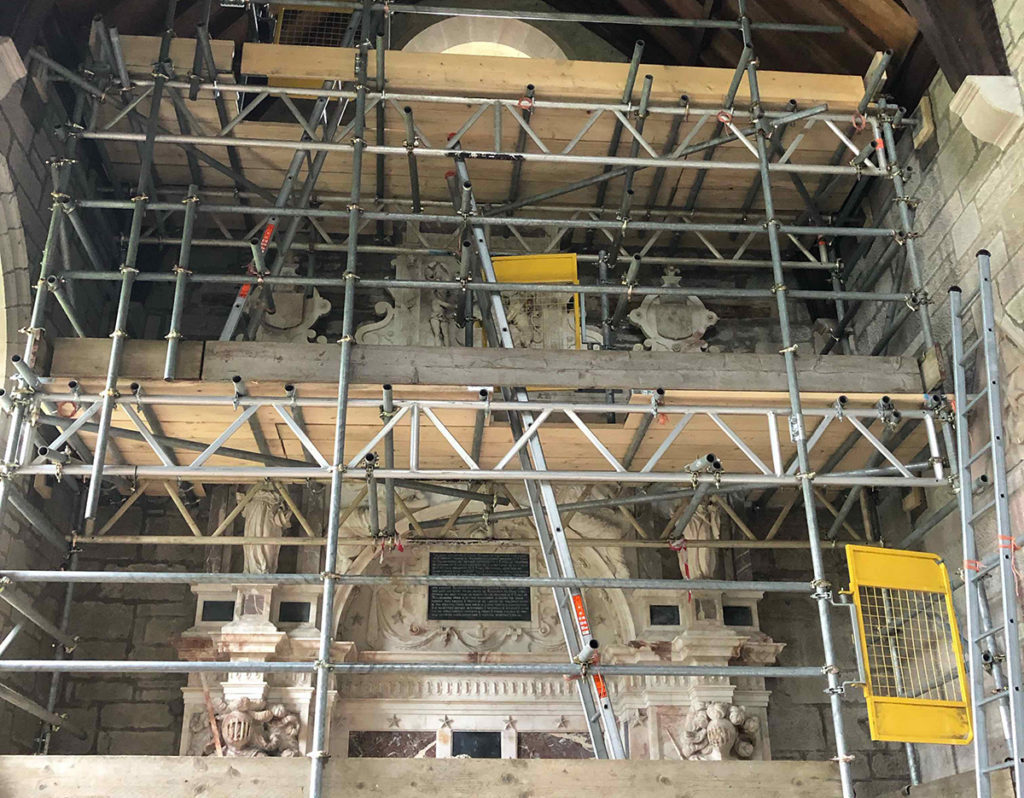 A four-week project to restore the historic alabaster monument in Scone Palace's gothic chapel has been completed.
The scheme represented the first time the monument has undergone renovation work in almost 100 years. The work was scheduled after a conservation architect identified a number of areas requiring attention.
The Italian alabaster monument depicts David Murray, the 1st Viscount Stormont, kneeling in prayer between the Marquis of Tullibardine and the Earl Marischal, who he brought together in friendship after a long feud. It was created by sculptor Maximilian Colt in 1618.
The recent renovation project included a range of cleaning and repair work to maintain the monument. Carried out by mason Ian Russell from G Brown Stone Mason Ltd, the entire monument was cleaned using a ¼ inch paintbrush and specialist dust extractors. Corroded dowels were replaced where possible, broken off elements re-attached and missing elements sympathetically re-created.
The sword on the 1st Viscount Stormont has also been fixed and strengthened, while the shield was restored by Graciela Ainsworth Sculpture Conservation in Edinburgh and re-attached.
The project was overseen by Scone Palace's estate surveyor, Guy Hopson. He said, "The alabaster monument inside our little chapel is a stunning work of art to admire and we are delighted to have been able to restore it to its original glory. The specialist work by Ian Russell from G Brown Stone Mason has been carried out with great care and finesse. We hope visitors will continue to enjoy viewing the monument and the story of Scone Palace's 1st Viscount, David Murray."