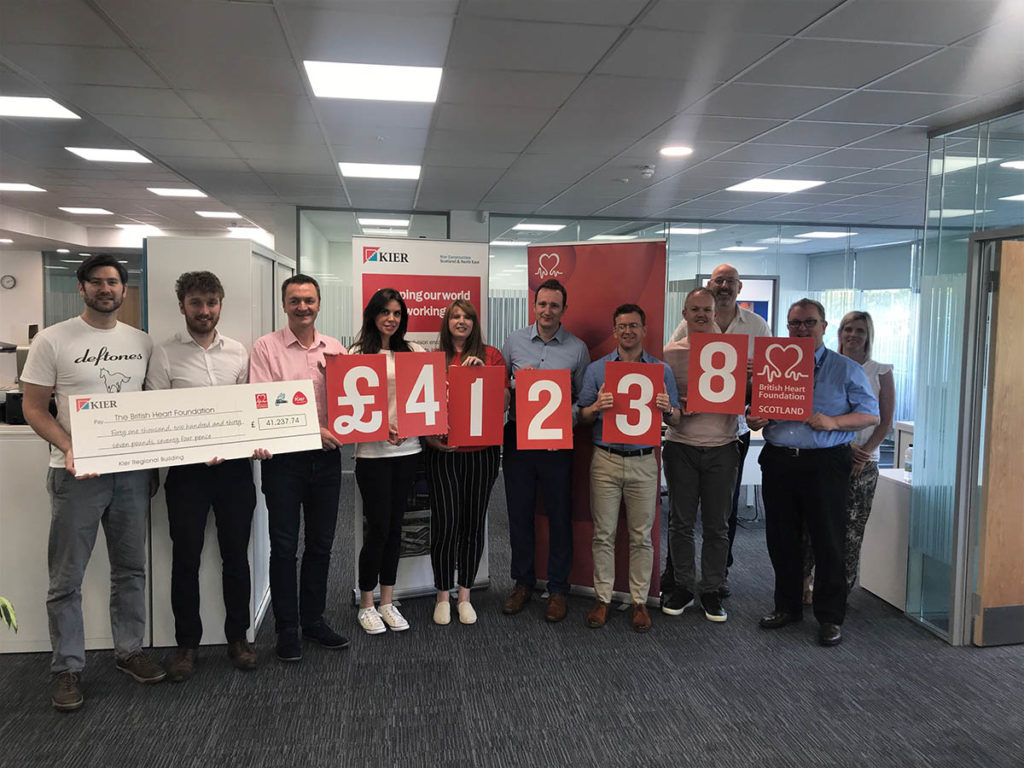 KIER employees have raised over £41,000 for the British Heart Foundation (BHF) after carrying out a number of fundraising activities.
Local MSP Fulton MacGregor presented the charity with a cheque for £41,237 on behalf of the contractor at its office in Stepps.
The money was raised via initiatives including the Boots on for Buildings challenge – which saw Kier Regional Building Scotland staff and supply chain partners take part in challenges such as walking 1,600,000 steps, climbing 75,000 feet and holding an office boot camp.
Donations came from partners and suppliers of Kier, employees and their family and friends with additional support from independent charity The Kier Foundation.
In Scotland, Kier Regional Building has trained almost 50% of its workforce in CPR. The firm also runs workshops to train supply chain partners in the vital lifesaving skill.
Fulton MacGregor MSP for Coatbridge and Chryston said, "It's a privilege to make this presentation today to such an important charity. I'm equally pleased to hear that Kier has invested in training such a large percentage of its workforce in potentially lifesaving CPR skills."
Sean O'Callaghan, an operations director with Kier Regional Building – Scotland added, "Kier has a long-established charity fundraising record and we are delighted to be able to make a significant donation to the British Heart Foundation, which will go towards lifesaving research."
Lisa Robertson, fundraising area manager for British Heart Foundation commented, "This is yet another example of the incredible support that our friends at Kier have provided to BHF.  It's so humbling to see how committed they are in support of our research. It will help us to develop new treatments and together we will Beat Heartbreak Forever."