CMS Window Systems' decision to open a dedicated factory in East Kilbride to service trade customers has prompted positive early feedback and helped to provide a clear separation between different aspects of the overall business.
That's the view of CEO David Ritchie, who told Project Scotland the decision to launch a specialist trade division and factory was partly driven by a desire to avoid a potential 'oil and water' scenario of mixing and matching the trade side of the business with the firm's work in the social and new build housing sectors.
CMS, which is involved in the design, manufacture and installation of PVCu and aluminium windows, doors and curtain walling systems, already operated facilities in Castlecary, North Lanarkshire, and Kirkcaldy, Fife, but it was decided East Kilbride was the ideal location to supply products and services to the company's growing trade market.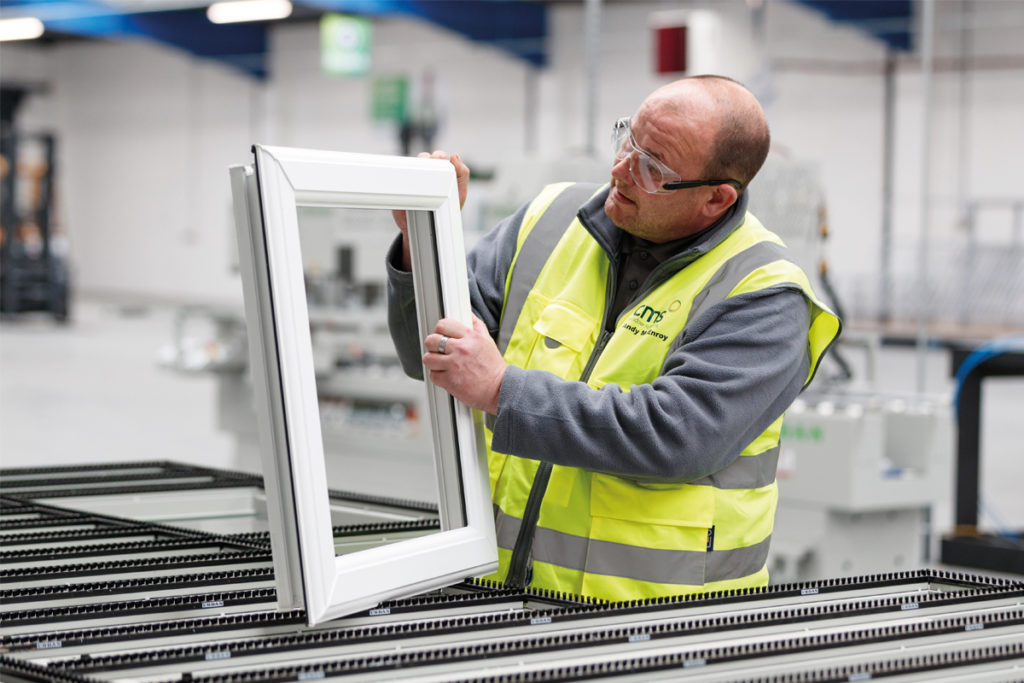 "We wanted to move close to our trade customers and it's been live since April this year," David said. "Feedback I'm getting from customers is that the product is to the highest standard; we're making the right products for them. 
"We've picked suppliers that are most suited to the trade business. The products we've chosen for here in Castlecary are the ones for the social/new build market. The ones we've picked for the trade market are definitely working. Those are the reasons why we invested in a separate facility to serve a different customer base."
The East Kilbride factory provides a range of PVCu windows and doors tailored to the needs of the Scottish trade market. The division – which is called CMS Trade – is operating from a 25,000 square foot space and is headed up by industry stalwart Stuart Glen. The portfolio is based on the Eurocell and REHAU profile systems, with the division providing builders and installers with the opportunity to work with a local manufacturer on a range of products.
The opening of a new factory highlights the growth CMS has experienced in recent years, with David revealing the firm has increased employee numbers from around 250 to 320 in the last year alone. 
"We're operating in various sectors and each of these sectors shows growth," he added. "The macro drivers are very clear to me. There is obviously a housing demand, not just in Scotland but throughout the UK. There's also a demand to upgrade existing housing stock, both in terms of local authorities and also private homes. There is a steady demand coming from that market, which means that we can target that. We've positioned ourselves in different sectors which all show signs of growth."
With environmental challenges becoming more important throughout the whole construction industry, CMS is ahead of the curve in respect of recycling initiatives and a circular economy approach.
The company established in-house waste recycling facilities over a decade ago with the aim of transforming all waste material back into new products. 
In the 2018-19 reporting period, the firm announced it had received 2,806 tonnes of post-use windows and doors which were dismantled and separated, along with its manufacturing waste, by specialist recyclers. Some of the recycled materials are used in the fabrication of new windows and doors by CMS, while a partnership with Saint-Gobain allows new double-glazed units to feature recycled glass.
When buying new products from the East Kilbride-based trade division, installers can take advantage of a free recycling service for their old windows and doors that are removed as part of replacement projects.
"Over the last two years we have not put one kilogram of waste back into landfill," David said. "We've managed to recycle all our products, what's called post-consumer waste – all that material has been recycled back into the supply chain, so it comes back as a recycled product. That's good for our CSR. 
"If we go to a project and remove the existing window or door, it's brought back to the factory where we spend a lot of time and effort breaking down the product into six or seven components. 
"We then break it down further and segregate the waste into environmental skips."
Acutely aware of the skills shortages currently engulfing the construction sector, CMS currently runs an apprentice programme to attract new recruits into the industry. The business was recently awarded the Best Employment Initiative for Young People at the hub South West Skills and Training Academy Awards for its work in providing employment opportunities.
More than 100 modern apprenticeship qualifications have been attained since CMS was formed in 2006.
"Various people have told me that the average age of a tradesperson in the UK is 55," David said. "As a business, but also as an industry, we have to try to address that. In December last year we employed 12 new apprentices, who are currently going through a training programme. We'll probably do the same again this year. I'm not sure of the numbers yet – that's something we'll agree in due course – but as a principle, we'll look to employ more apprentices this year again.
"As well as apprenticeships, we also have people returning to work who were unemployed for a long time. What we do is give them a chance to have a 12-week contract; they can come in and work in the recycling area.
Diversity is clearly an important topic at CMS, along with innovation and offering new products to the marketplace. At the time of interview, David was excited about a new fire door which has been tested to over 70 minutes.
"We've also got a factory in Kirkcaldy where we make composite and PVC doors," he added. "We're trying to expand that range now by having different colours and styles. 
"At our factories in East Kilbride and Castlecary we can make windows from four different suppliers. We can also install and manufacture two different types of Metal Technology systems. We've got Metal Tech and Kawneer, which are high-end curtain walling systems. We've got a wide range of products to offer to the market."
Despite having no premises south of the border, CMS is increasingly landing jobs in the lucrative English market – particularly in the north of England – including a project to deliver curtain walling, doors and windows on behalf of McLaughlin and Harvey at Liverpool Football Club's new training ground.
With housing a key focus for both the UK and Scottish Governments, David thinks the biggest challenge – as well as the biggest opportunity – will be keeping up with demand.