SCOTLAND'S largest underground surface water drainage system has been installed by water infrastructure specialist SDS as part of a £23 million civil engineering programme to extend Edinburgh Airport.
SDS said careful design considerations, combined with the skills of a specialist installer, were 'essential' to ensure a 'timely and problem-free' build programme for the vast underground storage – 72m long, 32m wide and 3.25 metres deep – without disruption to the extensive construction work underway at the airport.
Expansion to accommodate increases in passenger numbers, increased freight traffic and long-haul air routes, is continuing at the airport as part of its 2040 development masterplan. 
The Edinburgh Airport Stands Development is being overseen by main contractor Careys Civil Engineering and will create 13 new aircraft parking places and associated taxiways. 
SDS said that during heavy rainfall, it's vital that stormwater drains as quickly as possible from the new 75,000sq metre concrete pavement area created as part of the Stands Development. Passengers will be transported to the stands by coach so drainage is crucial to create a safe environment. With aircraft operations, service vehicles and passengers on foot, effective flood-free drainage across the entire pavement area is described as imperative to ensure the airport can continue to operate 'efficiently and without interruption'. 
Surface water, predicted to run off the newly-created impermeable surface at flows of up to 3,000 l/s, must be discharged in a controlled manner to protect the natural water bodies surrounding the airport from environmental damage or flooding.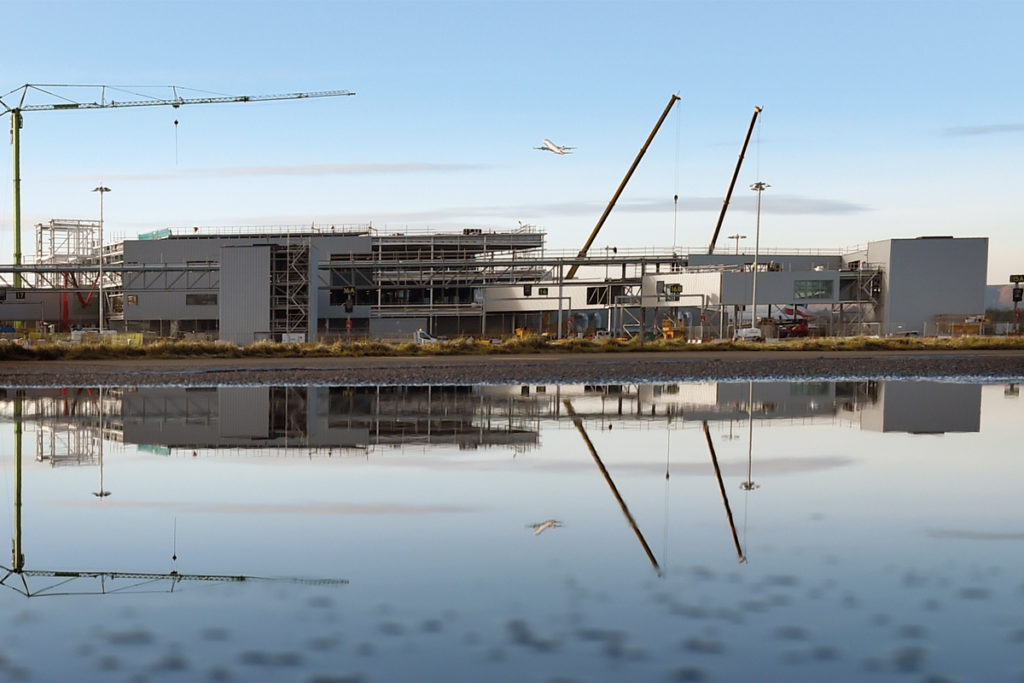 The surface water is therefore collected via a gravity network of heavy-duty slot drains and a 660m-long run of 1,500mm diameter pipes, before being fed, via a single 1500mm pipe, to the SDS GEOlight attenuation system. 
Installed approximately 20 metres to the south of the new stands area, SDS said the system is designed to hold back almost 7,000m3 of surface water during heavy storms.  
The amount of water leaving the GEOlight storage tank is controlled by a pumping station, so that it can be discharged into the Edinburgh Airport network. 
Selecting the right design for a tank of such large proportions was the first challenge to overcome. Careys preference was for modular crate storage, explained senior project manager Allan Crozier.
"Given the size, the only potential solutions were either a concrete tank or modular crate storage," he said. "Installing a concrete tank would have posed significant civil engineering challenges. With a tight programme, specifying SDS modular storage offered the advantage of both buildability and speed." 
SDS worked on the system's design with consulting engineers Amey to optimise its strength and durability during its design life. Made from 100% recycled PVC, SDS GEOlight is described as featuring a 'unique honeycomb structure' said to offer both design flexibility and high compressive strength so that water storage capacity can be maximised in a minimum space, and therefore at a minimum cost.  
With good ground conditions of sandy clay, Careys was able to prepare a huge open cut excavation, measuring nearly 100m x 50m at ground level, ready for SDS to install the tank. 
Allan Crozier added, "We only needed to prepare the groundworks for the tank to be installed, and then provided backfilling as required, as SDS constructed the tank in stages," he said. "The SDS guys were very engaging and cooperative and worked just as if they were part of our team. They met daily with the project engineer for that section and co-ordinated whatever they needed between them.
"Deliveries were scheduled to be just-in-time, almost to the day's work, sometimes involving several deliveries a day.  So, the amount of space needed for storage of materials on site was minimal and SDS planned deliveries according to the capability of the team to install on site that day."
A number of oil interceptors are positioned along the gravity network to clean the water before it enters the GEOlight tank.  By surrounding the 1,500mm pipe feeding the tank with clean stones, the tank is self-cleansing. 
In time for winter 2019 and any freezing weather conditions, Careys will construct a system to hold surface water collected in the SDS GEOlight tank if a sensor detects that it is contaminated with Glycol anti-freeze. The polluted water will then be diverted into specially-designed storage tanks, where it will be collected and correctly disposed of.  
The GEOlight system is located in an unused grassy area on the landside of the airport. However, there is potential for the area to be used for car parking in future. SDS has been working to install a smaller tank as part of plans to extend the car parking facilities in a different part of the airport. 
As well as installing the 13 new aircraft stands, the Careys team is carrying out multi-million pound works to complete excavation, lay capping and sub-base, install service ducts, pits and drainage runs, as well as laying the pavement-quality concrete for the aircraft stands and taxiways.  The project also encompasses landscaping, lighting and line-marking.  The work on Phase 2A and 2B is scheduled for completion by July.