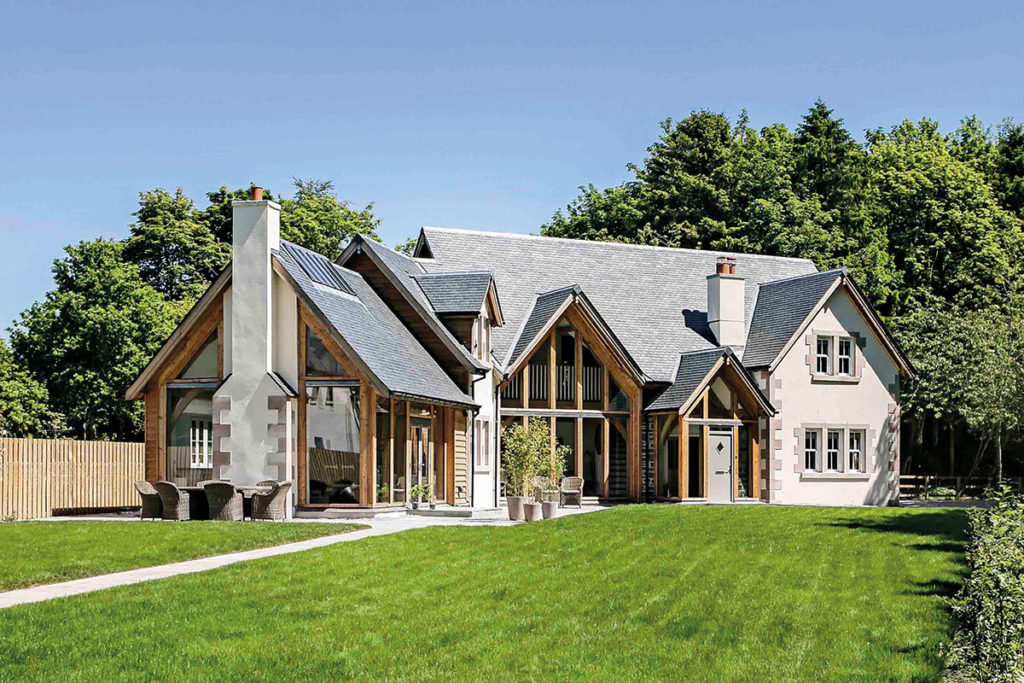 MARLEY Alutec has revealed its Evolve Deepflow aluminium rainwater system, with custom manufactured components, has been used to achieve a 'traditional look and superior durability' for Carmichael House, a design and build carried out by oak frame specialist Oakwrights Scotland in the Fife village of Elie.
Carmichael House is a 380 square metre custom-build property designed and constructed to the exacting specifications of the homeowners. Designed to reflect traditional Scottish building styles and materials, the property utilises slate roofing and natural stone, both in the external wall finish and for the areas around the windows.
This traditional aesthetic was continued throughout the exterior design including the rainwater systems. However, because of the cost and long-term maintenance demands of cast iron, Marley Alutec explained that aluminium was chosen for the guttering due to its 'long lifespan and minimal maintenance requirements'. This was especially important due to Elie's coastal location where corrosion of exposed metal can be higher. 
Following a consultation with merchant Wolseley and Alutec sales manager, Drummond McKenzie, Oakwrights Scotland recommended the aluminium specialist's products.
Marley Alutec said its products are manufactured from marine grade aluminium and finished in an architectural grade polyester powder coat (PPC) paint. 
As such, the systems are described as being 65% lighter than cast iron and have a life expectancy of 50 years or more. The Evolve range can be installed in similar way to PVC systems. 
Following a review of the building plans, the Deepflow system in Heritage Black (Cast 98) was chosen to both match the desired look and meet the higher capacity required for the large property. Evolve Deepflow can achieve flow rates of up to 4.9 litres per second (l/s) and serve up to 232m2 of roof area per downpipe, Marley Alutec revealed. The traditional look was continued with the selection of the firm's circular Tudor downpipes. 
The design of the property also includes a rounded, tower feature at one corner of the house. For this steep, circular roof a bespoke guttering solution was required. In collaboration with Oakwrights, Marley Alutec designed and manufactured a sectioned radius system that would conform to the shape of the building. 
Iain Hendry, Oakwrights Scotland's team leader said, "Carmichael House was a project very much lead by the clients, who had a clear idea of what they wanted to achieve. Having worked with Marley Alutec on smaller projects we were confident in using the products on this build. 
"The bespoke elements required for the tower meant we needed a partner that could offer complete design and manufacture of customised sections. The service we received from Marley Alutec has been excellent and since the completion of this project we have worked with them on subsequent builds including our new Scottish show home."
Drummond McKenzie, sales manager at Marley Alutec added, "Aluminium systems are an increasingly popular choice on projects such as this where longevity and quality are key parts of the homeowners' specification. 
"We are delighted to have been involved on Carmichael House and pleased to continue our work with Oakwrights Scotland."