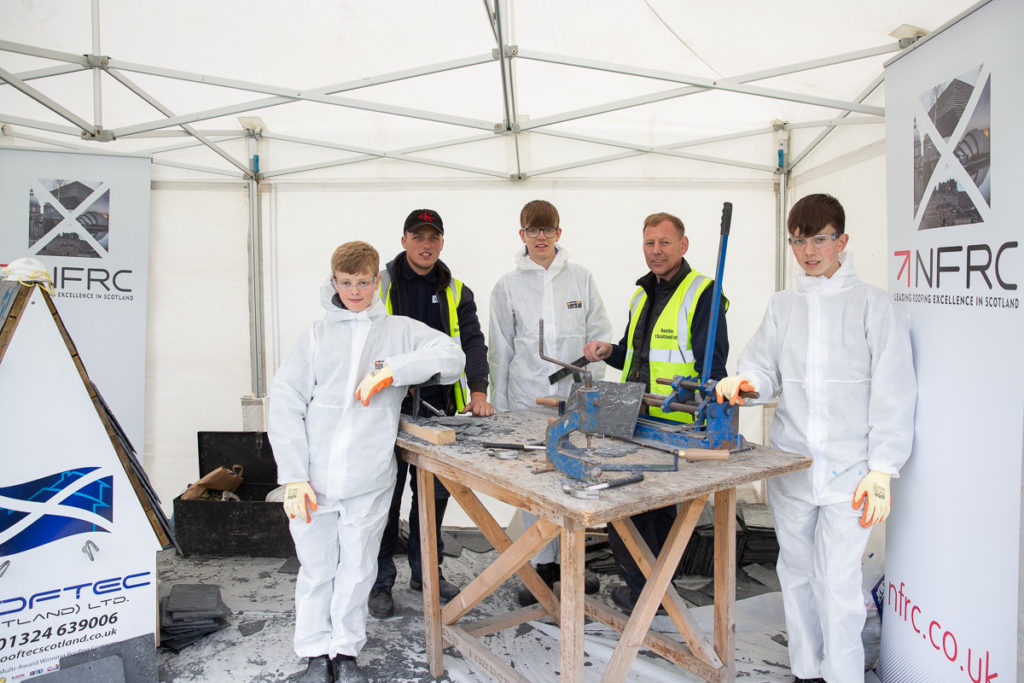 SECONDARY school pupils got to sample traditional building skills recently at a special event outside the Scottish Parliament.
The event – part of Construction Scotland's Inspiring Construction programme – featured demonstrations of activities including roof slating, stonemasonry, decorative plastering, infrared scanning and painting and decorating.
Sponsored by MSPs Gordon Lindhurst, Sandra White and Elaine Smith, the sessions were attended by pupils from Firhill High, Glasgow Gaelic School, Braes High and Inverkeithing High.
Contractor Rooftec (Scotland) represented the National Federation of Roofing Contractors (NFRC) in delivering mini-masterclasses in roof slating. Rooftec has been involved in similar events before, including this year's STEM at The Helix and they will also be representing the NFRC at this year's Royal Highland Show.
The stonemasonry classes were carried out by Edinburgh College and Stone Federation GB, while City of Glasgow College organised the decorative plastering demonstrations. Dundee & Angus College presided over painting and decorating, while the infrared scanning classes were hosted by the University of Edinburgh.
The purpose of the two-day event was to highlight the importance of encouraging traditional building skills. The Scottish Traditional Building Forum (STBF) is keen to raise the profile in order to address the condition of Scotland's traditional buildings.
Ian Hughes from CITB Scotland said, "What better way to encourage young people to consider a career in the traditional skills side of construction than to invite them to give it a go for themselves? With the Scottish Parliament as the backdrop to this event, I hope the school children feel truly inspired to think of construction as a varied and exciting career choice."
Ken Gillespie, chair of Construction Scotland added, "These traditional building skills events are part of our Inspiring Construction programme, which aims to attract more school leavers to the sector by informing young people and their parents, teachers and career advisors about the huge and diverse range of careers available in construction, and importantly, how to access them. From professions like architecture, engineering and surveying to the more traditional trades like joinery and stonemasonry, this industry has something to suit everyone."