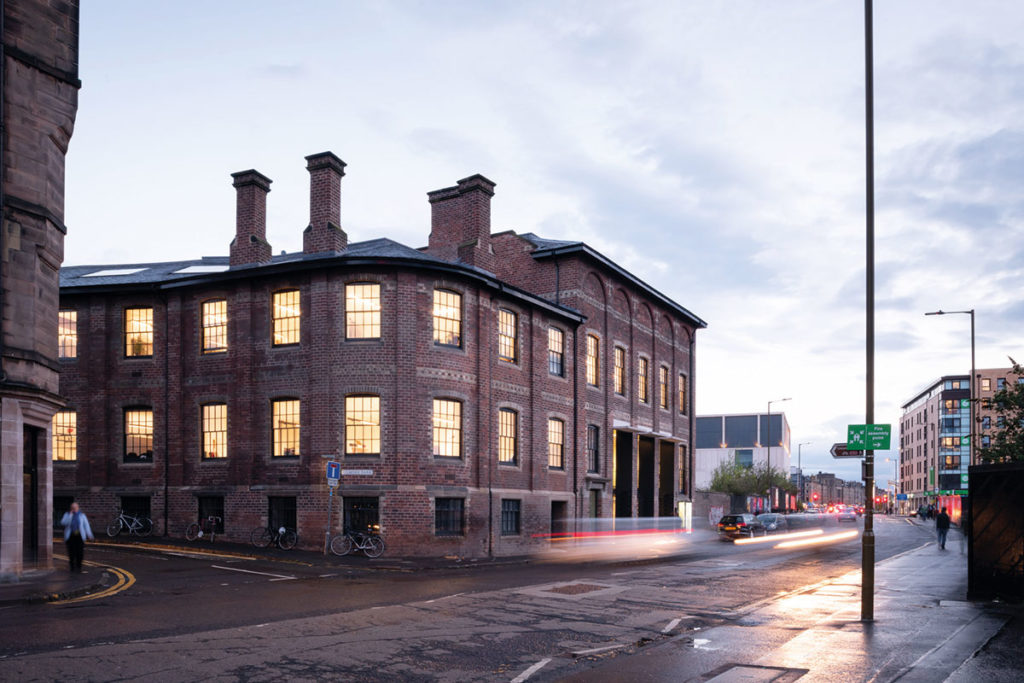 THE only surviving structure from the 19th century Castle Mills industrial complex in Edinburgh has been brought back to life following a lengthy restoration project, led by Page\Park Architects.
Once home to the North British Rubber Company (NBRC), the long derelict building on Dundee Street in the Foutainbridge area of the capital once employed some 3,000 people and produced all variety of rubber products. Now, it has been completely transformed into Edinburgh Printmakers – a multi-use arts complex with a focus on printmaking production.
The renovated building will serve as the new headquarters for Edinburgh Printmakers. The artist-run organisation had outgrown its previous base, a former Georgian washhouse on the city's Union Street, so took on the derelict Dundee Street site, which had lain empty for a decade. It was on the Buildings at Risk Register, riddled with wet and dry rot and had been vandalised.
 "It was in a very, very sorry state," said Suzy O'Leary, lead architect on the project, acknowledging how 'ambitious' Edinburgh Printmakers' vision was. "They drew up a brief which included quite a large expansion of their business, so the print studio is now 50% bigger than the previous one, but now they've also got two big gallery spaces, a café, a shop, education space, proper archives, creative industry studios and so on."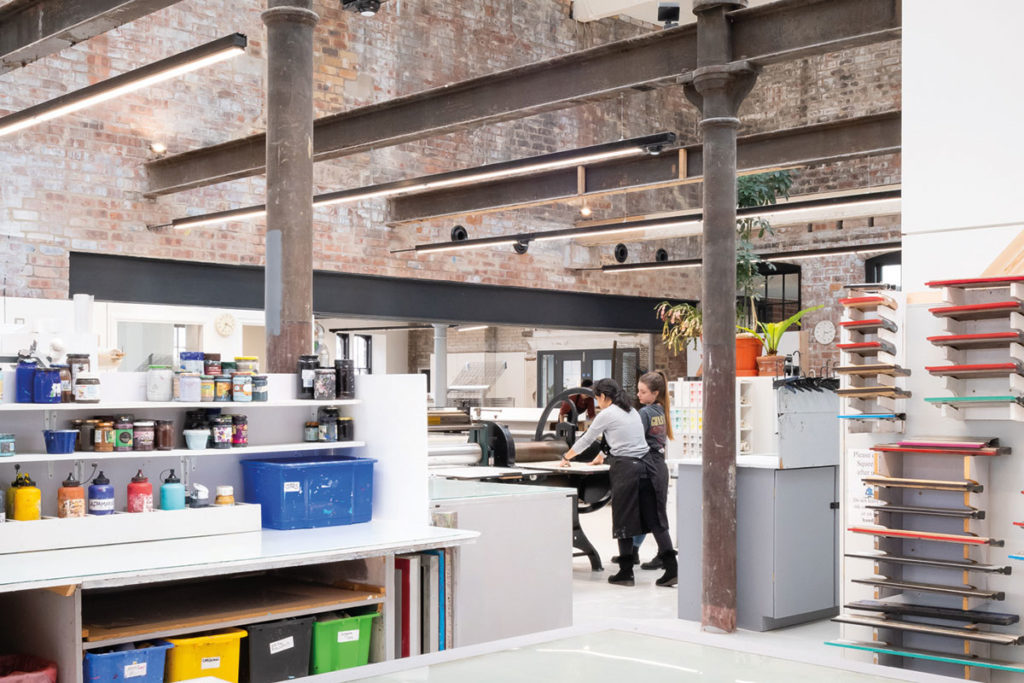 When Page\Park came onboard in 2014, Suzy said the team was immediately struck by the building's 'fascinating heritage' and at a time when Fountainbridge was experiencing a lot of redevelopment, it seemed important to maintain this 'little gem from the past'.
"Socially and historically, it's quite significant," she mused. "It's one of those places where if you mention to anybody in the area that you're working on it, they all have a connection to it. Lots of people's mums worked there and that kind of thing. It was quite important for us to maintain that story and that history, while still allowing the Printmakers to move in and expand it."
However, the sorry state of the existing building proved to be the project's biggest challenge. 
"There was dry rot everywhere and unfortunately, we lost all the existing floors. They are all timber and at the start of the project it wasn't really safe to go into the building because it was all so rotten, so we lost all the floors but we were keen to keep as much of that existing fabric as possible, so we did a lot of repair work to the existing roof trusses which are now quite a big feature in the print studio," Suzy said.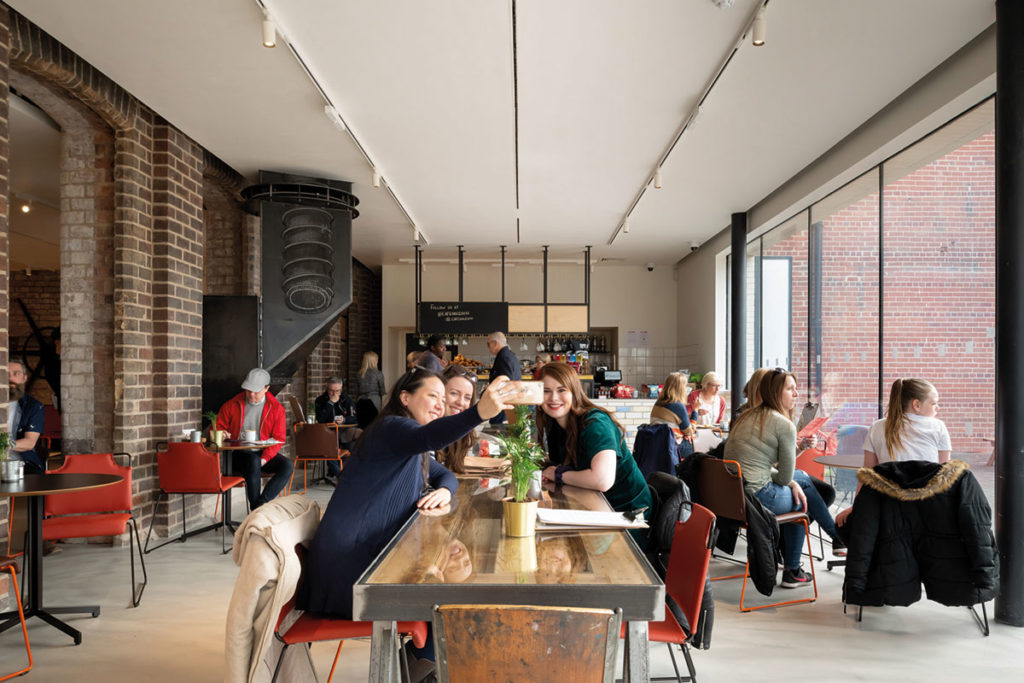 "The second challenge was the brick. It was painted in brown all over, so we needed to remove that paint and we didn't know what was underneath before we started work. So, I personally spent many, many weeks walking up and down scaffolding looking at the brick as the paint was gradually, carefully stripped, identifying what was the minimum we could do because we didn't want to lose that character and texture, but obviously we needed to make it watertight and suitable for use and robust and so on."
Ensuring the multi-level building was fully accessible to all of Edinburgh Printmakers' members was also key to the design brief, "so that it could really be a proper community resource, both in the area but also more nationally, as a centre for printmaking for Scotland," Suzy explained.
"We were keen to use lots of rubber in the building because it was a rubber company," Suzy continued. The material was used for flooring and counter surfaces, while one of the building's permanent artworks, designed by Page\Park, was also clad in rubber.
"It's a giant periscope that gives you a view up into the print studio, two storeys high," Suzy explained. "It's quite fun. It's a kind of hybrid periscope/kaleidoscope, so the kaleidoscope element of it is a series of images of products being made in the Rubber Company, which sit within the depth of that periscope and create this pattern of hot water bottles and rubber wellie boots and things, overlaid on the view of the print studio."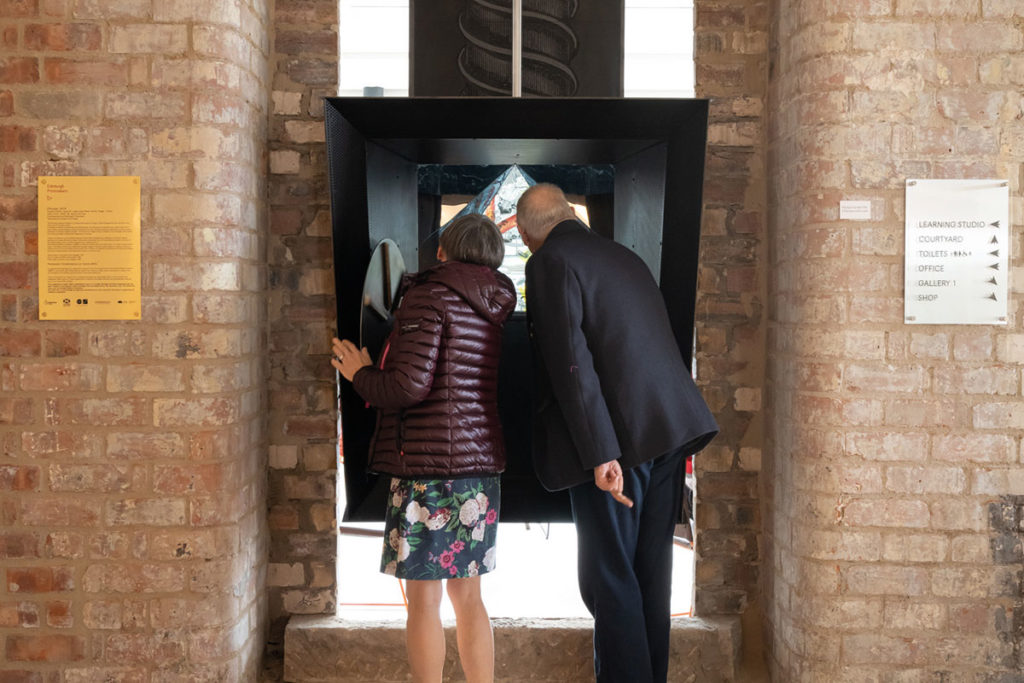 When it comes to restoring a building, how does one strike the balance between the past and the future? "It's really difficult," Suzy admitted. "With this project I spent a huge amount of time onsite… I really needed to look at everything and think about it onsite very carefully and work with the contractor to make sure we didn't lose any of that character and texture and patina.
"There's all sorts of remnants of old paint and old interior schemes that we just left as part of that character. We don't want to whitewash it away; we don't want to clean it too much. It's not stripped back too much; it's about responding to what we saw day-to-day, rather than sitting in the studio, drawing things, deciding what to do from here (in the studio). It was about being there and reacting to the building."
Five years in the making, Edinburgh Printmakers opened its doors at the end of April. 
"It was a journey," Suzy added, reflecting on the project. "We started in 2014 and it was hard, it was tough onsite because there were lots of surprises. So, now that it's finished, it's kind of extraordinary.
"We were given the opportunity to really go for it and really think about how to deal with our built heritage in a way that's sensitive and sustainable, and incorporating the existing history, as well as the future to come, into that architecture has been really great for us."
Interserve Construction was main contractor on the project, while Advance Construction Scotland took on the role of landscape contractor. Doig and Smith were appointed as both cost consultant and principal designer.