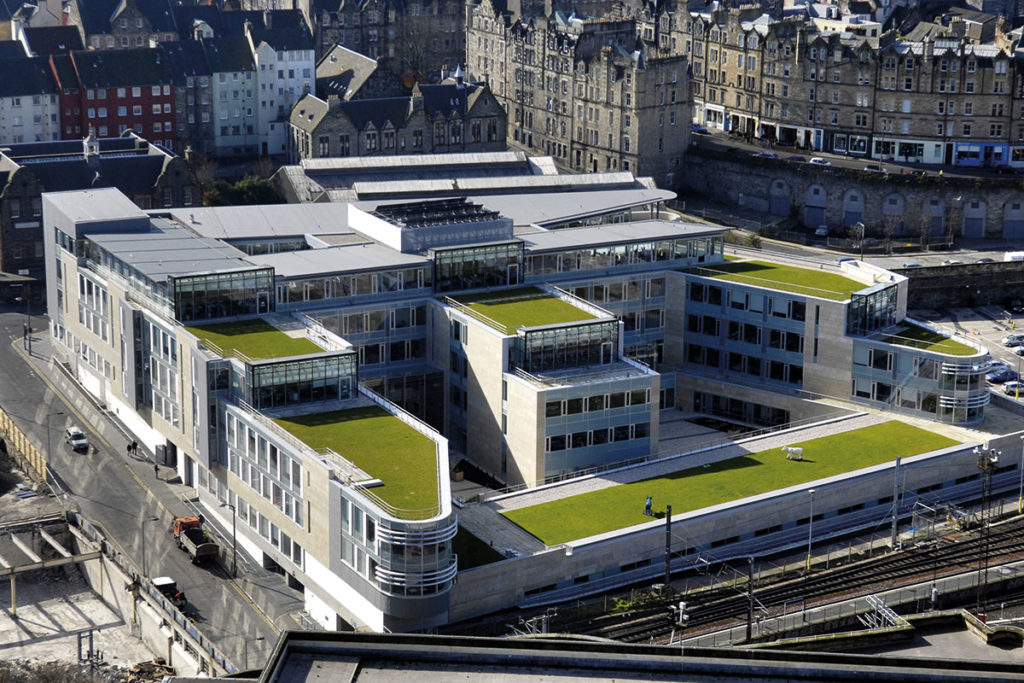 By Janice Tyler, environmental and supply chain manager at BriggsAmasco
EACH year, poor design and site management leads to approximately 13% of all solid materials delivered to construction sites – an estimated 10 million tonnes – being unused. Inadequate storage and protection often leads to production-related wastage on construction sites, but lack of training in sustainable building practice is another crucial factor. It's an issue that needs addressing to eliminate waste and sending to landfill sites. 
Lesson
At BriggsAmasco, it is our policy to ensure each roofing project is as notable for its environmentally-responsible detail, as it is the quality of the installation itself. Educating our employees in the ways and wherefores of sustainable working is a vital first step to reducing the company's carbon footprint across all of its activities. We believe that being sustainable means embracing the three pillars of sustainability: social, environmental and economic. We feel that adopting a sustainable practice keeps us in the real world and maintains the business's viability.
Personal assessment   
Promotion of our sustainability culture begins at our two-day new starter induction each month. As well as covering crucial aspects such as health and safety, it provides an interactive and realistic introduction to sustainability issues. The first task is for each individual to calculate their own ecological footprint – this helps to focus on why sustainability is important – followed by what constitutes a sustainable company, and specifics such as legal require-ments, waste management, timber, spillages, aspect/impact assessments. The focus of the induction is tailored to attendees' particular needs, whilst sustainability information and updates are regularly circulated, via bulletins, throughout the company.
Green materials 
In regards to sustainable roof materials we use, hot-melt scores highly. The system can be reheated, which means there is no waste and no packaging to dispose of. It also makes for an ideal green roof specification. It's very durable and extremely resistant to impact, which gives it a long-life expectancy. It means it doesn't need to be renewed as quickly as other roof types. The IKO roof system contains an impressive amount of recycled content (45%). 
Another sustainable innovation in this sphere is the use of electric meters, rather than LPG to heat melters. This method not only saves crane hook time, it reduces CO2 emissions by about 65%. Mastic asphalt is another roofing material with environmental benefits and is carbon zero. BriggsAmasco has a finisher machine which allows the asphalt to be laid to a pre-cision thickness at much lower temperatures than traditional laying. Therefore, instead of applying a heating temperature of 210°C to employ it, it is operable at 160°C degrees. 
Initiatives 
Initiatives such as the mastic asphalt finisher, coupled with in-house training given to staff in order to raise their sustainable awareness, have contributed to our environmental performance. The company sets a number of sustainable targets as part of its KPIs. For example, in 2014 we set an objective to reduce CO2 emissions from company vehicles by 5% over three years. This was achieved by December 2017, instigating the need for another three-year target. In 2015, we also set a three-year target to reduce our energy consumption by 5% across nine branches. We have managed to reduce our gas and electricity combined by 10%, meaning we're ahead of that particular target. In terms of waste, on average we divert approximately 91% of our non-hazardous waste away from landfill to recycle or recovery sites. A DEFRA report on UK Statistics for Waste showed that the construction and demolition industry's average recovery for non-hazardous waste is 89.9%; far above the govern-ment target for 70% by 2020.
Clean collaboration  
Working sustainably and sourcing renewable materials is de rigueur for many construction-based companies. But the commitment to 'cleaner' working must prevail in order to sustain environmental progress. BriggsAmasco has been a gold member of the Supply Chain Sus-tainability School since its inception in 2012. The school is a collaboration between clients, contractors and first-tier suppliers to help build, maintain and operate more sustainable buildings, infrastructure and homes. The scheme not only requires regular assessment and action plans, it involves interaction with the school. We attend various workshops and supplier days; have a case study and video interview on the website, and attend personal invitation workshops – including identifying school values and its future development.   
Programmes such as this prove its participants are paying more than lip service to bolster their green credentials. It's my opinion that the construction industry should focus on setting sustainable standards for other sectors to follow. Together, we can build this.