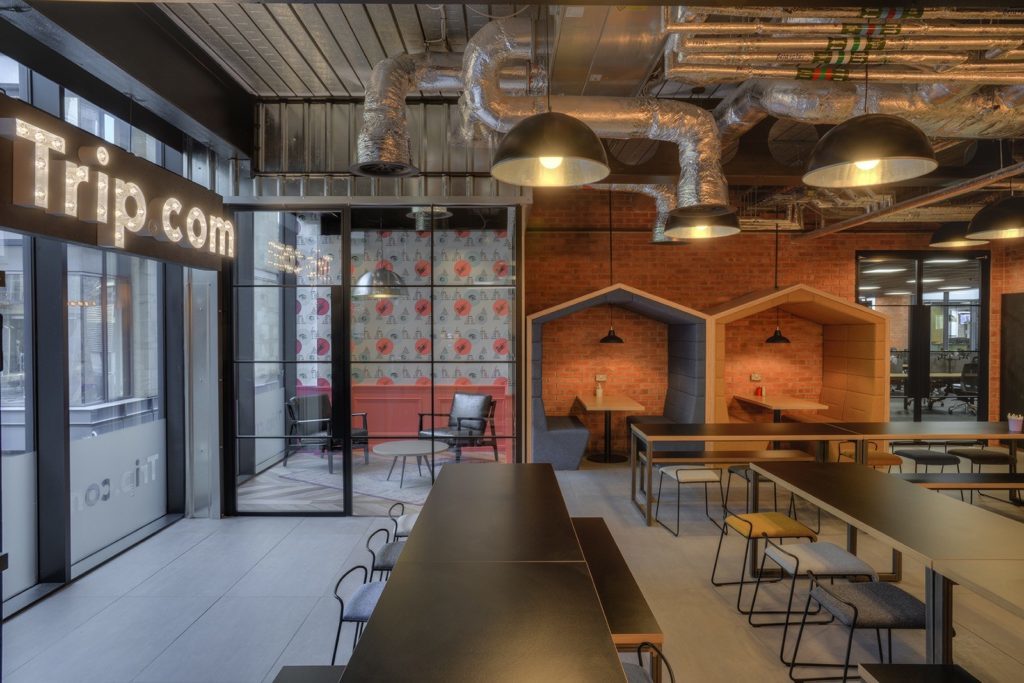 EAST Kilbride-based Scotwood Interiors is celebrating after the firm's collaboration with HK Surveying and Design won a top national prize for the fit-out of online travel agent, Trip.com's offices in Edinburgh.
The fit-out of the 13,000 square feet space was awarded Gold in the category of Interior Fit-out under £1 million at the Finishes and Interiors Sector (FIS) Awards.
Chinese-owned Trip.com opened its first UK office in Edinburgh in April last year.
HK Surveying and Design partner Jordan McCaffery, who was lead designer on the project, said, "Being the company's first flagship office in the UK, we wanted to break the mould of the typical call centre environment by creating a fun and exciting workplace. With the war for talent becoming increasingly challenging, office design plays a crucial role in gaining a competitive advantage. Thus, Trip.com's revolutionary call centre environment would allow the company to attract and retain the industry's very best talent. Furthermore, bringing a residential feel, comfort and warmth to the design was instrumental in achieving the desired people-centred office space.
"While the raw industrial style has dominated the contemporary workplace in recent years, we wanted to challenge the traditional approach by adding a twist. From taxidermy that lines the training rooms' walls to large rotating propeller blades and playful wallpapers, there isn't a single corner of this office space that hasn't been thoroughly considered. While the moustache and galactical themed meeting rooms contribute to the desired fun and exciting atmosphere of the office, incorporating biophilic design into the built environment aims to reduce stress-related illness and redress the diminished connection to nature.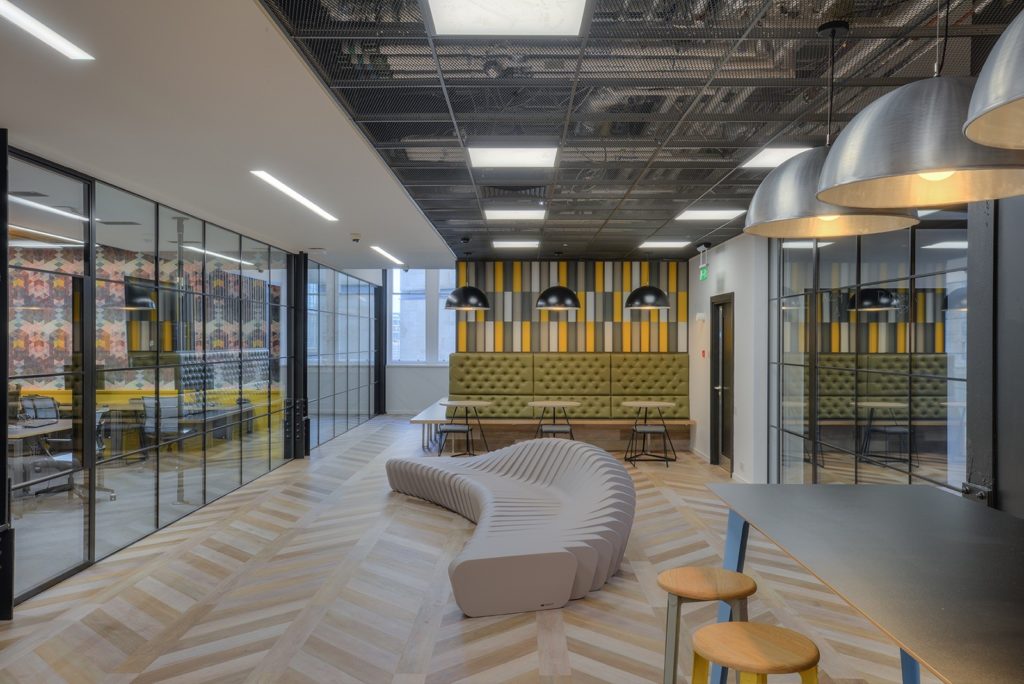 "We tasked Scotwood with an aggressive three-month programme which involved testing their expertise to the limit. Once again, they have shown their willingness to go the extra mile in order to help create a truly inspiring and unique space."
Jim Scott, joint MD of Scotwood Interiors added, "From the moment Jordan shared his design with us, we knew the project was going to be both exciting and challenging. So many aspects of it introduced a fun twist on tradition including a huge variety of unusual wall and floor coverings. From breakout areas to the meeting and training rooms to the open plan space, every room and area is different, with quirky features telling you that you are not in a conventional work environment.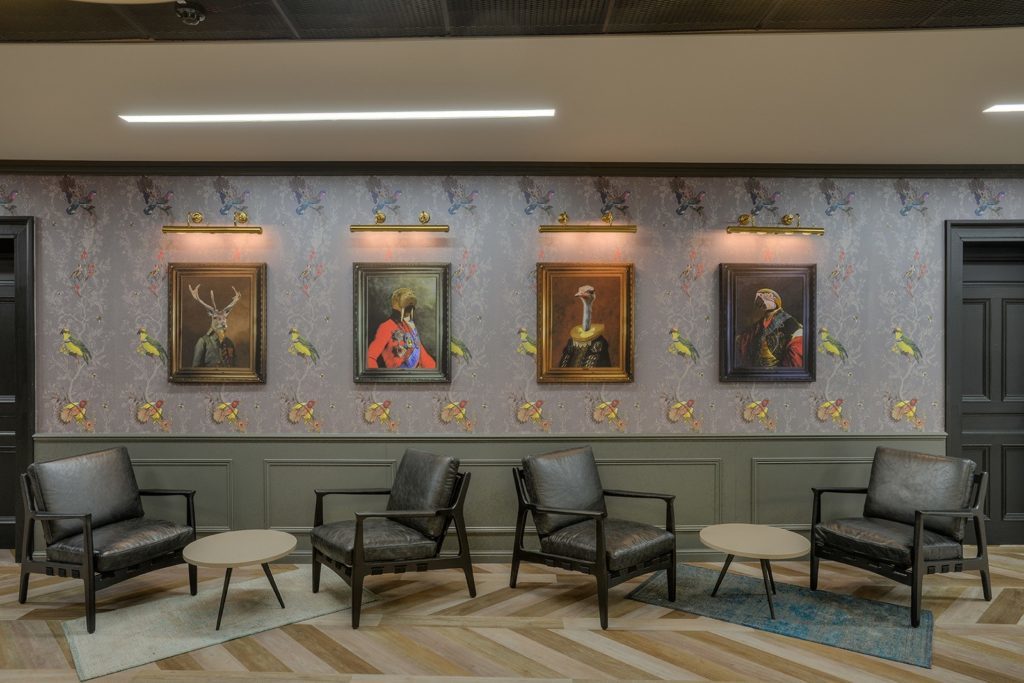 "A biophilic design approach was adopted throughout and one feature of this posed us a unique challenge – an overhead planting feature designed to create an engaging environment and reduce stress-related illness and improve employee well-being. We had to design and construct bespoke floating ceiling rafts to house the 600 plants."
Other features included bespoke kitchen units and worktops, Spacestor storage units, railway carriage units and palisade features.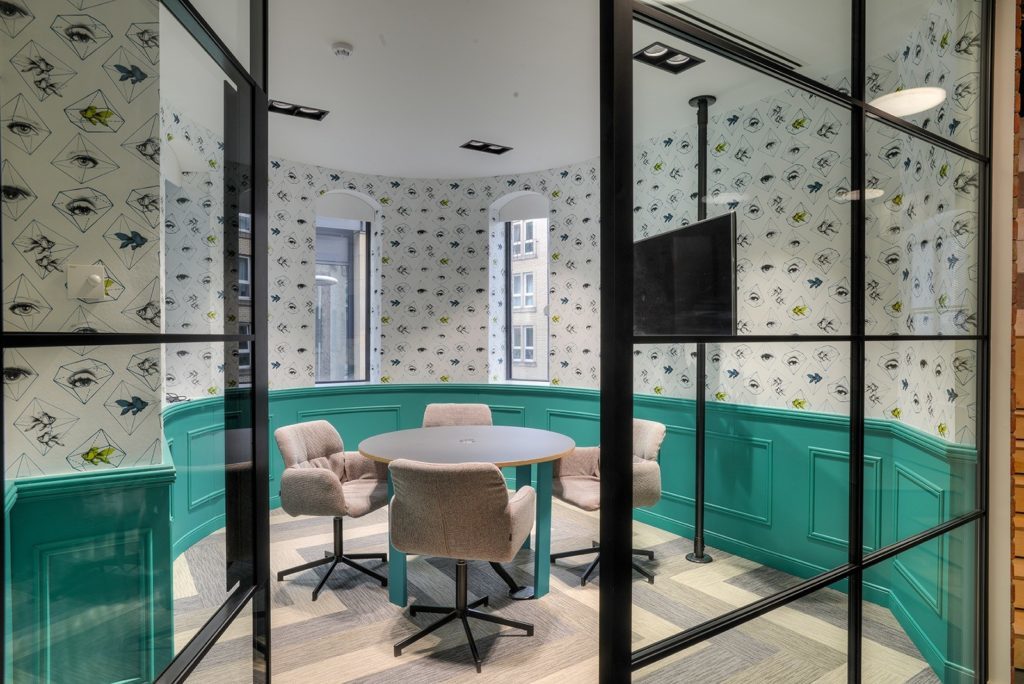 Furniture was supplied by Edinburgh firm, Bureau. Desking solutions with ply-edge details and graphite tops were introduced as well as black leather lounge chairs. A lactation and wellness room is equipped with soft seating to support employees moving back into work after maternity leave.
Jim Scott added, "It was a truly exciting project to be involved in, with a challenging design, which we had to help realise in very tight timescales but I'm glad to say we rose to the challenge and I believe everyone involved is proud of the result. This award is testament to why it's worth going the extra mile."