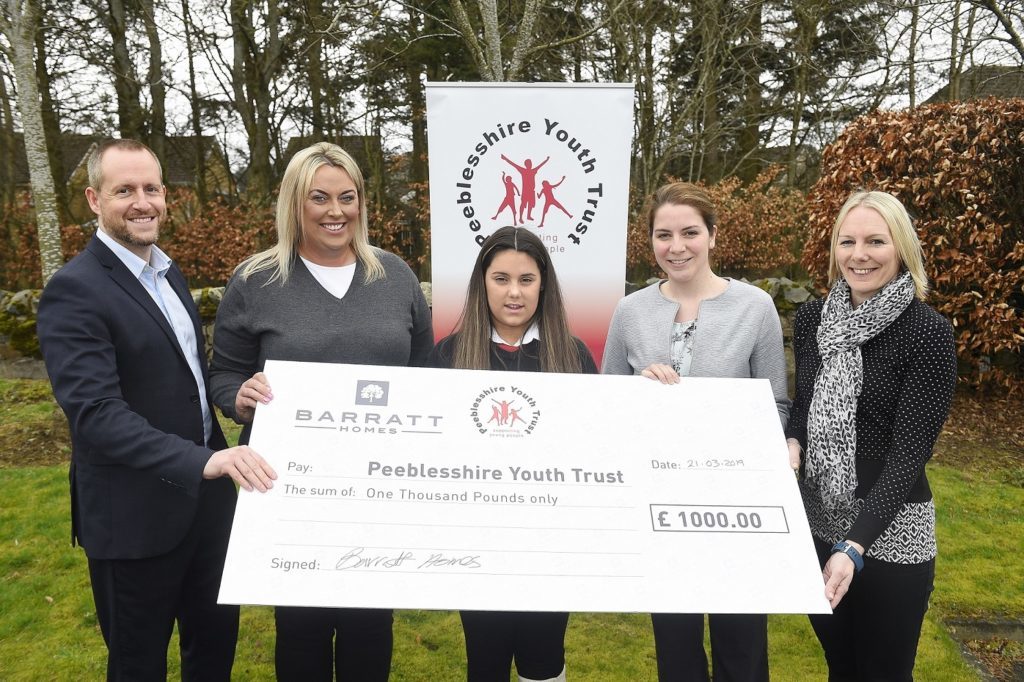 BARRATT East Scotland has chosen the Peeblesshire Youth Trust as the second organisation to benefit from its 2019 community fund.
The housebuilder has committed to supporting a different charity every month throughout the year. Peeblesshire Youth Trust helps to grow the confidence and self-esteem of primary age children in order for them to reach their full potential as they transition to secondary school. The charity engages with nine primary schools in the local area and Peebles High School.
Barratt made a £1,000 donation, which will be used to support young people and their families in Peeblesshire.
Alison Condie, MD of Barratt Homes East Scotland said, "The work that Peeblesshire Youth Trust and its passionate volunteers do is so important to the local community. We all remember moving from primary school to secondary school and how daunting that can be. Supporting young children to become more confident in their abilities is something Barratt Homes East Scotland is proud to be a part of."
Sarah Keen, programme manager of Peeblesshire Youth Trust added, "We're delighted with Barratt Homes East's generous donation which will be put to good use in supporting many young people across Tweeddale through a sometimes difficult period of transition up to high school. This time can trigger anxiety and stress; our programmes will give young people the best start possible to make the transition smooth, whilst increasing self-esteem, confidence and resilience. This donation will enable us to offer support to greater numbers of children, helping to meet the demand for our services."