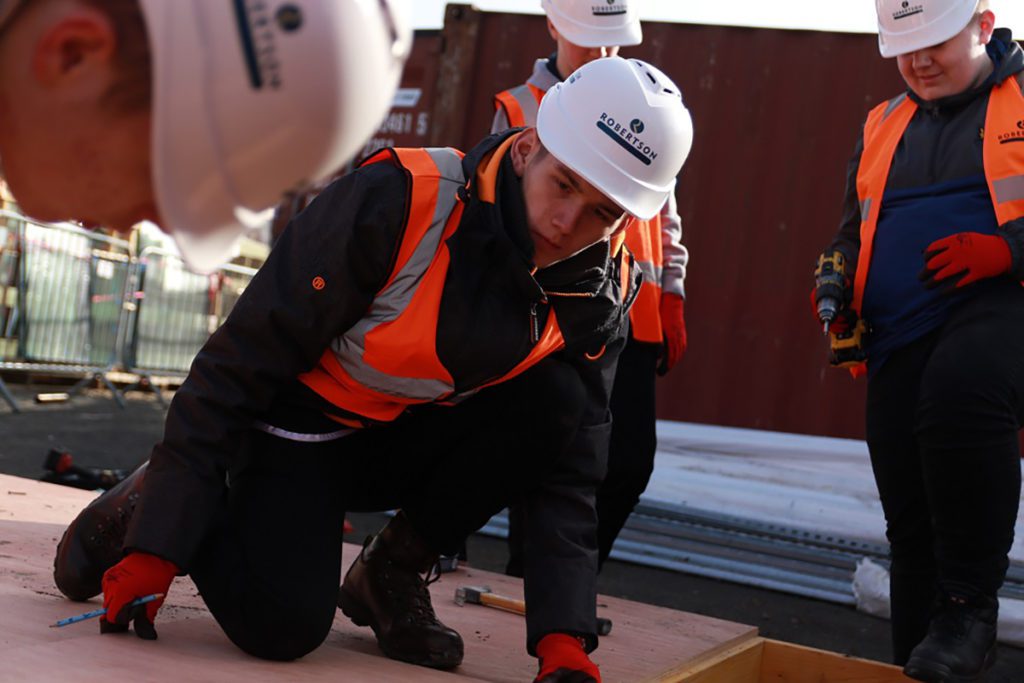 SECONDARY pupils from across Clackmannanshire have played their part in the construction of the £15 million Tullibody South Campus project by completing a programme run by main contractor Robertson.
Twelve S4-S6 pupils from Lornshill, Alva and Alloa Academies followed the 'Introduction to Construction' programme over six sessions, which included a series of careers, skills and employability sessions, as well as a live project which saw the creation of a hut that will be used by future Campus pupils.
Robertson also provided workshops on social media and digital footprints, a presentation on the professions and trades in the industry and a tour of the live project site. Following completion of the programme, four work placements are on offer.
Gemma Gourlay, director of social sustainability at Robertson said, "There's a real need for industry and academia to engage as early as possible, especially for industries like construction which are experiencing a growing skills shortage.
"We can't progress until we do more to overcome outdated opinions of the industry being passed down to the next generation, so it's brilliant to have such a budding team of young constructors on board.
"The finished structure will be enjoyed by the new pupils for years to come and is a great example of the local community coming together to play their part in what is an important project for the area."
The Tullibody Campus will see Robertson incorporate facilities for both Abercromby Primary School and St Bernadette's RC Primary School, including a gym hall, dance studio, meeting spaces and an immersive room, as well as an Early Years nursery and a new public library.
The project is being delivered by hub East Central Scotland in partnership with Clackmannanshire Council, and is being part funded by the Scottish Government's Schools for the Future and Early Years programme and by the Council.
Construction is due to be completed by August 2019.
Councillor Graham Lindsay, spokesperson for education commented, "This exciting project is delivering a state-of-the-art campus for our young people, and is an important development for the whole community. Our schools have been working very closely with the contractor to involve young people with the building, taking advantage of opportunities to bring career and skills events to pupils and local businesses.
"I'm delighted that this programme has been so successful, and pupils have been given the opportunity to learn about the construction industry and compete for a work placement that helps them to prepare for the world of further training, education and work."