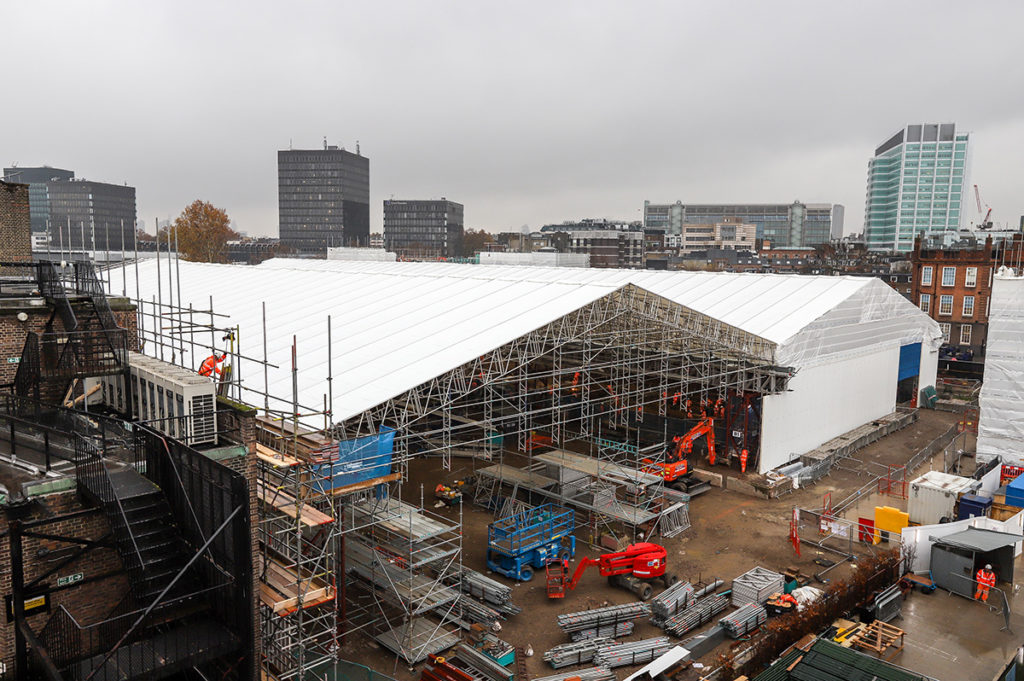 PALMERS Scaffolding UK has announced it has won a CSJV (Costain Skanska Joint Venture) subcontractor award for its role at St James's Gardens, Euston Station HS2 enabling works.
The Palmers teams received the highest scores of all of the subcontractors on the 10,000m2 site. 
As reported in Project Scotland earlier this year, Palmers has been providing large-scale access solutions and scaffolding for the project. 
The scaffolding comprises of a 10,000m2 temporary roof, supported below by 15 towers and 300m of special access spine beam. A large privacy screen has been installed to house an archaeology programme to carry out a number of operations in a cemetery buried underneath the park.
A spokesman for CSJV said, "Palmers have been great on site. They collaborated with us to great effect following design changes to deliver a first-class solution. They have a fantastic safety culture, with a very good understanding of the system."
Palmers MD Donald Morrison added, "I attended a supplier conference with CSJV regarding St James's Gardens at Euston. 
"Unbeknown to me at the time, there were awards for the suppliers of the year for 2018. I am delighted that Palmers won the subcontractor of the year for 2018. 
"Well done to Paul Duggan and all the team that are delivering the works. 
"The whole Palmers management are thrilled that our HS2 teams working on this outstanding project have been recognised for the incredibly high standards – of safety and scaffolding – that are being set on this project."
Paul Duggan, operations director for special access at Palmers commented, "The design has involved months of planning and constructing demonstration rigs for the client at our base in Chester, prior to installation on site. 
"We are all proud of the works. We believe Palmers are unique at producing something with a design this innovative, and this award is a fantastic recognition of the efforts of many Palmers staff, on site and behind the scenes."