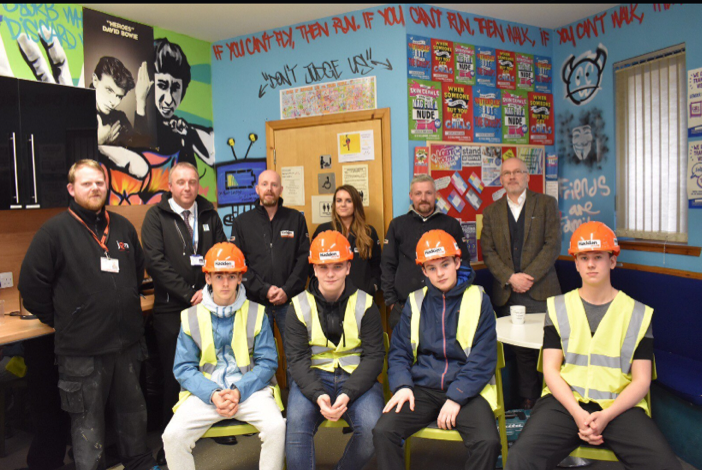 PERTHSHIRE-based contractor Hadden Group has delivered a twelve-week employability programme to help local youngsters build bright futures for themselves.
The Route into: Construction programme was designed for the @ScottStreet initiative, run by Perth and Kinross Council. The aim of was to provide information and support to young people to enable them to make informed choices and overcome barriers to personal development.
The programme was created and run by Hadden Group's HR manager Amanda Cramb, who worked with council officers to give the young people at the @ScottStreet initiative the opportunity to pursue a career in construction.
The participants received an introduction into the industry, health and safety awareness training, site visits, practical life skills demonstration, and a range of employability skills. Individuals were put through their CSCS card and an externally recognised health and safety course.
Hadden Group extended work placements to all the young people to provide them with continued knowledge and experience of the construction industry.
Amanda Cramb commented, "I have watched them grow in confidence from their very first site visit, to now having practical site-based experience and increased knowledge of the construction sector. I am in awe of the dedication, commitment and drive that each and every participant has put into the programme."
Scott Hadden, Hadden Group chairman added, "This initiative is proof that anyone from any background can pursue a career in construction if given the opportunity. I am proud that Hadden Group has been the source of that opportunity for the guys at @ScottStreet. We would like to thank our subcontractors who helped us in facilitating this programme, and with special thanks to JGM who delivered a life skills workshop during one of our very first sessions."
Scott Nicol, business support manager at Perth & Kinross Council added, "The work that Amanda and her colleagues at Hadden Group have undertaken with this group of young people over the past months has been inspirational. This proves that true social value can be derived from a close working relationship between the council and key suppliers."
Participant Mark Smullen said, "I have really enjoyed working with Hadden Group on this programme as it has taught me so much about construction. I would recommend the programme to others as I now have a full-time job because of it."