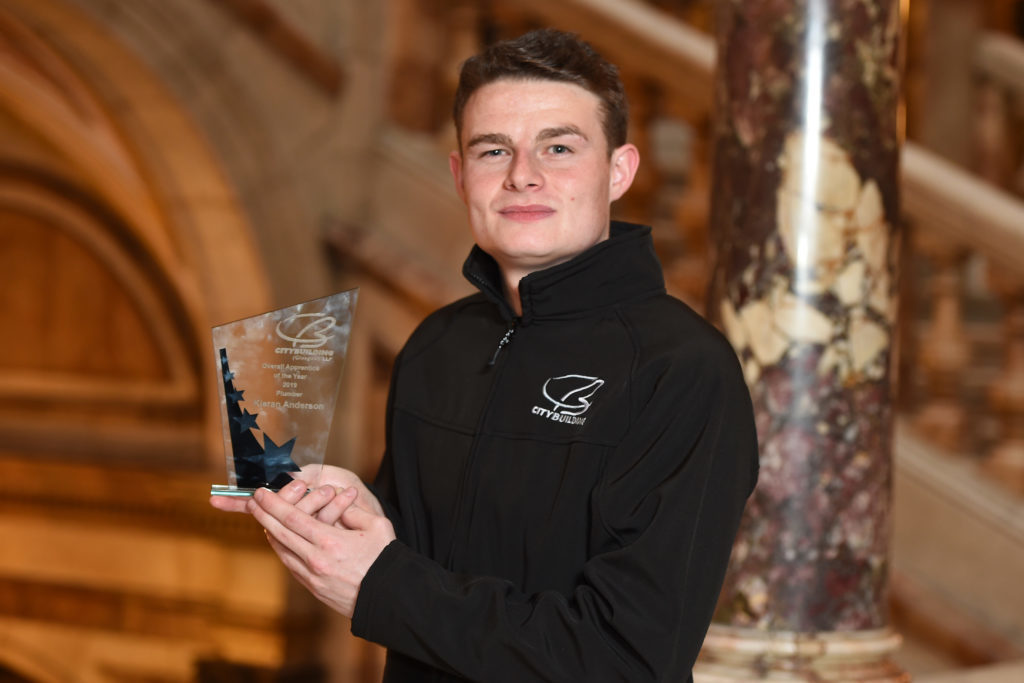 CITY Building apprentices were honoured at the Glasgow firm's annual Apprentice Awards ceremony, held in the City Chambers.
More than 80 apprentices were shortlisted across a number of trades including joinery, painting and decorating, gas engineering and administration.
The Apprentice of the Year Award was won by 22-year-old plumber Kieran Anderson, who became the first person in the firm's history to be named top in class for four consecutive years. Having previously scooped the Plumbing Apprentice of the Year prize in his first, second and third years, this was the first time he had won the Overall Apprentice of the Year Award.
Kieran, who has been offered a full-time role at City Building, said, "I've had such a fantastic experience with City Building over the past four years, but to be named Apprentice of the Year is a definite highlight. It's been an incredible journey so far, and I'm looking forward to starting my career as a fully-qualified plumber with City Building later this year."
City Building said it is currently training 245 individuals across various trades. Since 2006 the firm has provided 1,102 apprenticeships in Glasgow, with 70% going on to retain full-time employment within the business.
Councillor Allan Casey, chair of City Building commented, "I am extremely proud of the calibre of our apprentices. We have some very talented young people coming through our ranks, and our annual ceremony allows us to recognise the hard work they achieved throughout the year. Kieran in particular has shown so much potential as an apprentice. His attitude to work is second to none, and even early on in his apprenticeship he showed the skillset of a fully qualified tradesperson.
"As Scotland's largest employer of apprentices, its encouraging to see those coming through our training programme do so well. With many of our apprentices choosing to stay at the firm once their studies are complete, the future is looking bright for City Building."
21 other winners were also recognised at the ceremony, including siblings Brooke and Cameron Moir. 17-year-old Brooke was awarded the first-year administration prize while her brother, 20-year-old Cameron, picked up the third-year carpentry and joinery award.
Special recognition awards were also presented to adult apprentices Gareth Nzelwa and Stephen Stewart, both from Royal Strathclyde Blindcraft Industry (RSBi).