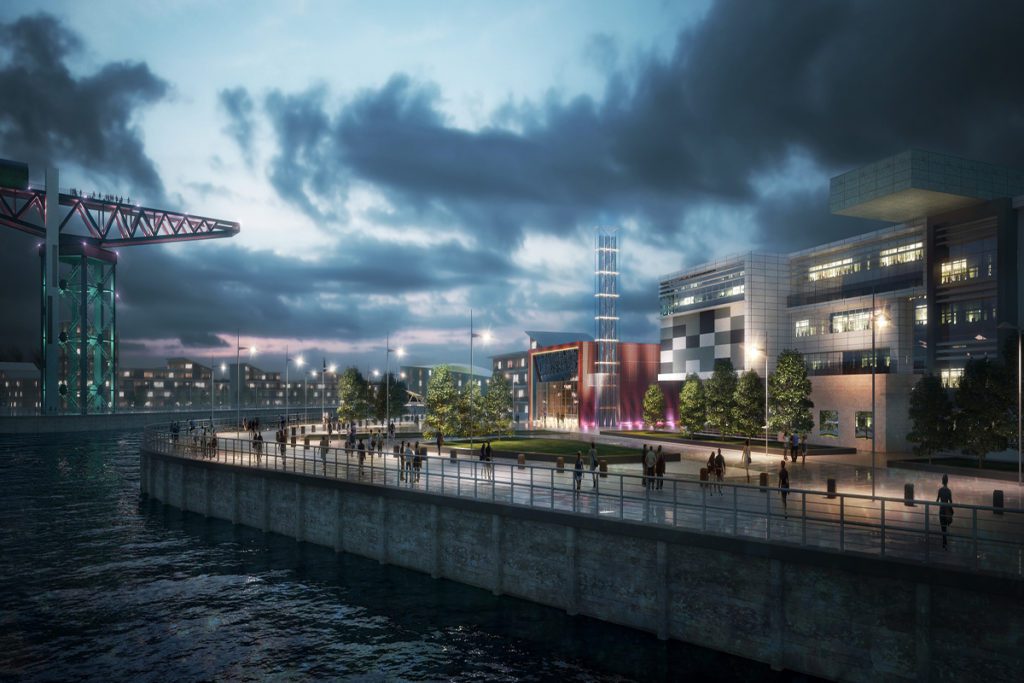 A new district heating network, which aims to transform Clydebank into 'Scotland's greenest town', is being showcased at an energy exhibition in Glasgow this week.
The Energy Centre is part of the £250 million mixed-use Queens Quay regeneration project on the site of the former John Brown's shipyard. Described as the 'first large-scale water source heat pump scheme of its kind in Scotland', the Energy Centre is set to feature at renewable and low carbon energy exhibition and conference, All-Energy.
All-Energy, co-located with inaugural Dcarbonise – which is focused on energy efficiency and low carbon heat and transport – takes place at Glasgow's SEC on Wednesday 15 and Thursday 16 May.
The Queens Quay Energy Centre and district heating network will serve the entire 80-acre Queen's Quay residential-led mixed-use development, which will feature a range of properties including 1,400 homes, 500,000 sq. ft of commercial space, a state-of-the-art £19 million health centre, a £10 million care home and a hotel.
Using heat pumps to extract water from the River Clyde, the Energy Centre will generate heat which will be pumped through 2.5km of district heating pipes connecting local housing, businesses and public buildings.
The '100% carbon-free' system has been designed on a modular basis, enabling future expansion and the capability to add connectivity to the nearby Golden Jubilee Hospital and wider Clydebank area. Additional piping will be located in the wider area to facilitate connections to new homes, as well as public buildings such as Clydebank College and Leisure Centre, and into the town centre.
The Energy Centre will also accommodate gas boilers, pressurisation units and distribution pumps as a means of resilience, with a building control and management system to operate and monitor operations which are said to be generally controlled remotely, with no requirement for permanent staff.
The Queens Quay site is owned by Clydeside Regeneration Limited (CRL) and the regeneration project is being part-funded by West Dunbartonshire Council, which will own and run the district heating network. The Scottish Government has invested £6 million of funding towards the system via its Low Carbon Infrastructure Transition Programme, with West Dunbartonshire Council contributing the remaining £6 million.
CRL and development partner Dawn Urban Regeneration Ltd are working in partnership with the local authority to deliver the Energy Centre in association with Vital Energi, Atkins and Star Renewable Energy. Civil engineering contractor I & H Brown is undertaking the groundworks onsite and Muir Construction commenced construction of the Energy Centre in November 2018.  The facility is due for completion in Spring 2020.
Paul O'Donnell of Urban Regeneration Limited commented, "The Energy Centre at Queens Quay will harness the sustainable energy of the River Clyde to create a district heating network which will help reduce greenhouse gas emissions and provide cost-effective energy solutions.
"This is the first time an ambitious system like this is being installed in Scotland so we're very excited about realising our vision for it in order to benefit the residents and businesses of Clydebank and beyond for generations to come."