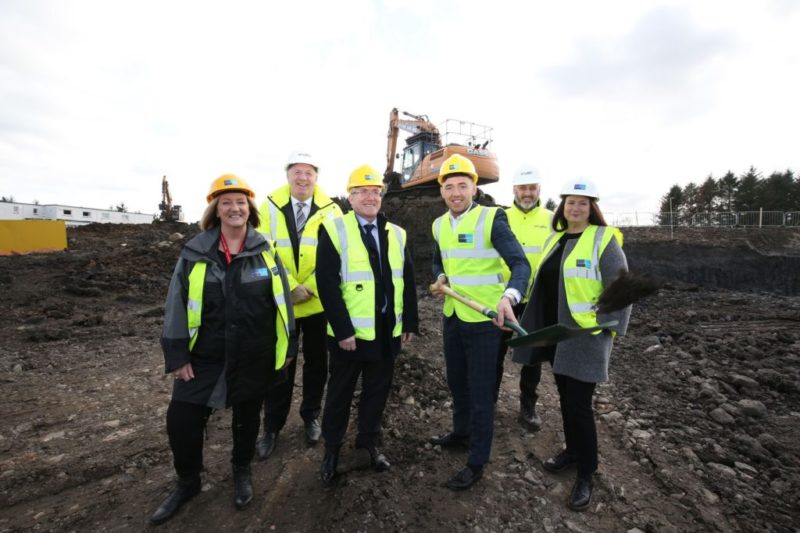 NEW council housing is being constructed on the site of the former St Leonard's Primary School in East Kilbride.
60 homes will be built to meet local housing needs as well as a requirement for amenity homes and those that will be adapted to meet particular requirements. The development is expected to complete late next year, and will comprise a mix of houses, apartments, cottage flats and bungalows.
The development will be constructed by Cruden Building and Renewals. Gordon Lee, partnering and procurement director for Cruden Building said, "We are pleased to see work getting underway on another project with South Lanarkshire Council and look forward to delivering this important housing development at St Leonards. All of the homes will be eco-friendly, ensuring residents benefit from warmer homes that have fewer carbon emissions and are more economical to run.
"As with all of our developments, we will work closely with local companies and bring a number of benefits to this community. Throughout this project we will provide jobs to local people and create a number of work placements, as well as modern apprenticeship and training opportunities for young people."
Councillor Josh Wilson, chair of housing and technical resources at South Lanarkshire Council, carried out the cutting of the first sod at the site. He said, "I am delighted to officially mark the start of construction work on this latest development. Improving the quality and range of housing suitable for meeting a wider range of needs is a key strand of South Lanarkshire Council's Local Housing Strategy, and the council's Homes+ new-build programme provides a great opportunity to help to also address the needs of older residents and people with particular needs.
"This project is typical of many empty sites that have been used by the council to help meet the pressing shortage of affordable housing across South Lanarkshire. Like this one, these sites are in great locations, putting affordable housing where it's needed in the heart of established communities.
"The council's Homes+ programme, supported by Scottish Government affordable housing grant subsidy, continues to make good progress in delivering new homes to tenants throughout South Lanarkshire. With 256 new homes complete to date, we are well on our way to delivering our target of 1000 additional council homes across South Lanarkshire by 2021."