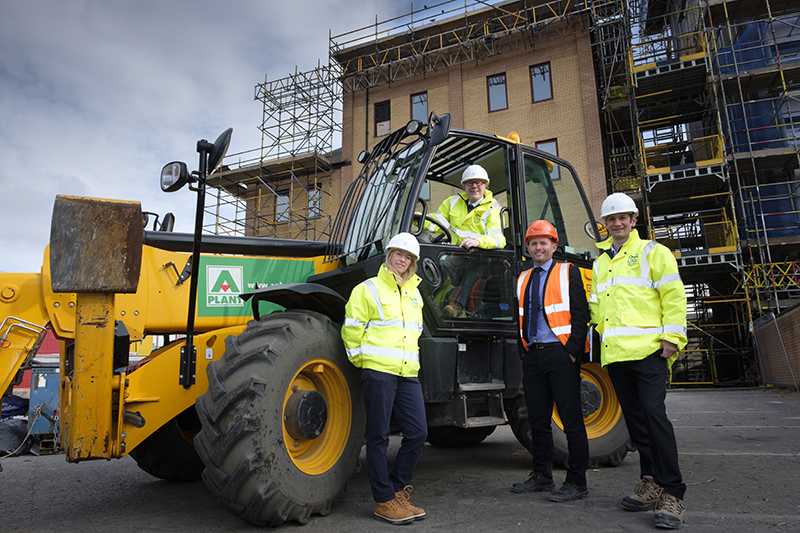 SCOTLAND'S housing minister Kevin Stewart MSP has made a fact-finding visit to LAR Housing Trust's multi-million pound development at Westwood House in Edinburgh.
The project was the housing charity's first commercial to residential conversion since launching in 2015 and will provide 47 mid-market rental flats when it opens to tenants this summer.
Westwood House, which is being converted for LAR by Clark Contracts, comprises 18 one-bed, 27 two-bed and two three-bed flats. The project is one of 24 LAR sites across Scotland
LAR chief executive Ann Leslie said, "We have made excellent progress in the last couple of years and currently have over 600 homes occupied, under construction or in the planning process so far. Our aim is to provide as many good quality homes as possible and we are well ahead of our original targets. We have had unstinting support from the Scottish Government and the various local authorities and contractors with whom we have worked and I'm very grateful that the minister has come to visit this important development for us, our first in Edinburgh. He has been taking a very active interest in our progress and has been a regular visitor to a number of our sites."
Mr Stewart said, "I am pleased that the Scottish Government's initial £55 million loan means LAR Housing Trust can undertake a broad range of developments that contribute to the supply of new, affordable homes across Scotland. Working innovatively with partners like LAR is an example of how we are delivering our target of 50,000 affordable homes in this parliamentary term, while also increasing the supply of housing options so everyone in Scotland has access to affordable, good quality homes that meet their needs."
Michael Scanlan, director Clark Contracts commented, "It was fantastic to be able to provide an update on our works here at Westwood House and we are thrilled to be working with LAR Housing Trust to help them achieve their target of providing good quality, affordable homes across Scotland."
LAR has also purchased 40 homes in a second former office block in the area, Chesser House, with tenants also expected to move in by late summer.