AARSLEFF Group's 'One Company' philosophy is paying dividends for clients, staff and the different divisions and companies operating within its network.
That's the view of Kevin Hague, managing director of Aarsleff Ground Engineering UK. He explained that collaboration between different entities within the group has resulted in a number of successful projects and brought about efficiencies for clients.
Aarsleff is headquartered in Denmark but has extended its reach across many different countries via acquisitions and establishing subsidiaries. As a result, intercompany projects where individual firms within the group each bring their own expertise and specialisms to a scheme, have become commonplace.
"The One Company approach within the Aarsleff group represents a coming together of skills, intelligence and experience to deliver a multidiscipline contract," Kevin told Project Scotland. "I've worked in companies before who have tried a similar approach, but they've been a bit too big and remained siloed. What we are trying to achieve, and are achieving, is the opposite. We're small enough and at the same time big enough to be able to handle many disciplines on the same project because we communicate. We have a very good internal communication network."
The aim of the One Company vision is to share resources and knowledge. Kevin said there are commercial advantages for clients in placing just one order with one company, and also makes life more interesting for staff as it gives them exposure to a variety of disciplines and avoids the risk of them being "pigeonholed" in one area.
One of the most prestigious One Company initiatives Aarsleff has undertaken was the Karla Tower project in Gothenburg, where the business was tasked with providing foundation work for a 250-metre high, 73-storey skyscraper. Works involved the execution of 57 bored piles of a diameter of DN2000 millimetres. 
From ground level, there was approximately 55-75 metres down to bedrock; and in between, the underground consisted mainly of Gothenburg clay characterised by low strength and high sensitivity. There was also a layer of frictional materials above the rock and a general risk of encountering large stones.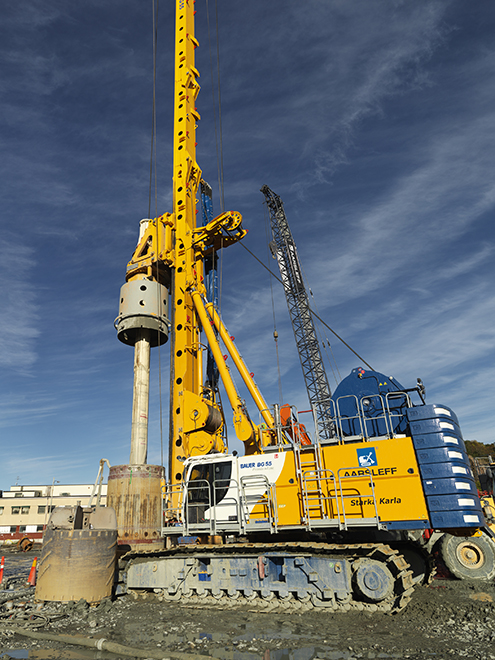 "That was a joint venture between Aarsleff in Sweden and Denmark, while the UK had a part to play as well on the plant side and some of the technicalities on the project," Kevin explained. "Throughout last year it was widely discussed as one of the most challenging projects in the world. Subsequently we've been shortlisted for International Project of the Year in the 2019 Ground Engineering and Construction News Awards."
Another One Company project was successfully completed ahead of schedule in Reykjavik, Iceland, with huge involvement from Aarsleff's UK operations. Aarsleff subsidiary Istak was the contractor for a multi-storey residential development, which required the driving of both vertical and raked piles. A Junttan PMx22 rig was transported from the UK to assist.
Kevin said, "We were contracted as a One Company project to install circa 270 No. precast concrete piles. The piles were made in Sweden, the installation and engineering was dealt with by the UK, and the main contract was held in Denmark. 
"We had a three-way communication network to deliver the project on-site."
A project involving several divisions based in different countries may sound like a logistical nightmare, but Kevin insists that, while it does produce some challenges, early engagement means there is nothing that can't be resolved.
"Technology brings us closer together," he revealed. "However, technology doesn't sort out cultural boundaries, different working practices and approaches to work. Language (can be a challenge), although technology does help us with that and within Europe most people within business speak very good English. 
"I believe the biggest challenge is making sure everyone is on the same page and heading in the same direction. However, I think with the communication networks we have, the use of Skype and email, and the fact we're only an hour behind Denmark, communication is not that difficult. 
"As long as we're engaged early enough, most of these challenges can be resolved quite quickly."
On the subject of technology, Kevin said Aarsleff is "leading" in the application of virtual reality within the organisation. Ambitions for this year include attracting more engineering talent into the business.
"We are looking to inspire more people to join us," Kevin added. "We're blazing a trail for graduate recruitment. What we can offer is something we're going to focus on. 
"We want to strengthen our position overall. We have no real desire to get, dare I say, turnover-led. There is a forgotten word in construction called profit. We aim to deliver a quality service for clients, a professional service for clients and a safe service for clients."