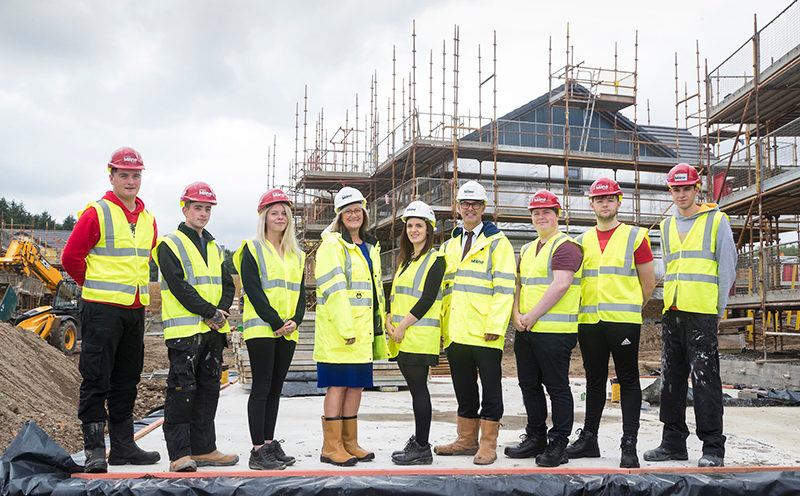 STEWART Milne Group has reported its gender pay gap is now "significantly lower" than the construction industry average.
The housebuilder and timber frame manufacturer has submitted its gender pay gap report, which has dropped from 18.1% to 13.1% – compared to the 23.6% industry average.
All UK companies with over 250 employees are required to publish a gender pay gap report by today (4 April). Prompted by changes in the Equality Act, which came into force in April 2017, the first figures, published in 2018, showed that the construction sector had the worst average median gender pay gap.
Stewart Milne Group said it had closed the gap by attracting and recruiting more women and providing them with "clear career progression opportunities".
Karen Catto, HR director at Stewart Milne Group said, "The gender pay gap, defined as the difference in the average pay and bonuses of all men and women across an organisation, can often be misconstrued as paying women less than men. This is certainly not the case at Stewart Milne Group where we offer equal pay for equal work. At the root of the so-called pay gap in our industry and many others, is the under-representation of women.
"Our gender pay gap has closed because of the strides we have made towards encouraging more women into the organisation, through several different routes and initiatives, and then making sure we provide them with clear progression routes into senior positions."
Research from recruiter, Randsrad, shows less than 20% of construction industry employees are female, while data from the Young Women's Trust highlights that for every female apprentice there are 56 males. The firm has also introduced a number of training programmes aimed at attracting more people into a career in construction, regardless of gender.
Ms Catto continued, "In the past, there has been a perception that site supervisors would be required to work on-site in a manual role before progressing to a managerial position. This can often deter people, particularly females, who have an interest in construction but do not feel that they are suited to a labour-intensive role.
"The introduction of both the Graduate Apprenticeship in Construction and the Built Environment programme and a newly launched Fast Track Modern Apprenticeship provide alternative routes into senior roles at Stewart Milne Group."
In addition to attracting women into the sector, there have also been challenges in retaining female staff, Stewart Milne Group noted. A study published by Moncaster and Dillon has shown the majority of women leave the industry within five years of beginning a career in construction.
Ms Catto added, "We are very pleased to have some great examples of women who have risen to senior roles in the group and act as mentors and role models to those joining our industry.
"Of course, we recognise we have some way to go.  We will continue to promote the benefits of our industry to women and also ensure our own recruitment, learning and development strategies support their development into senior roles."