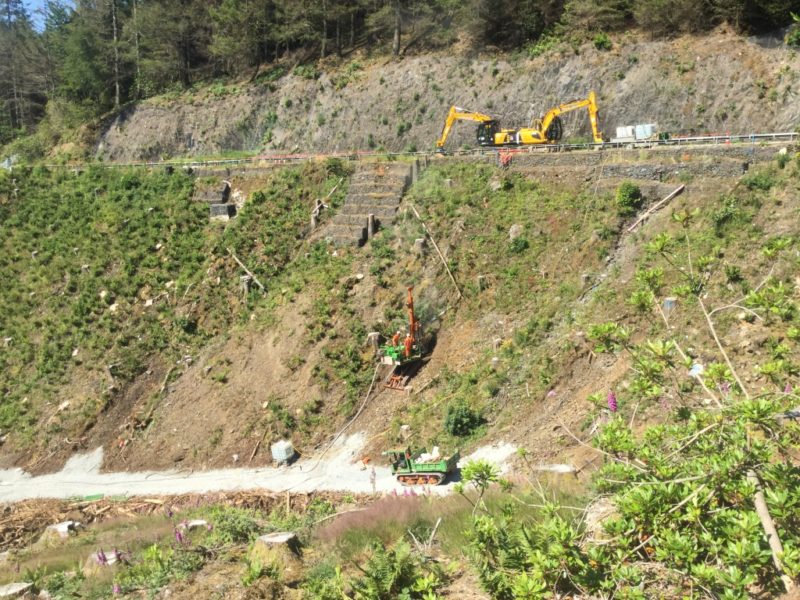 SPRING has sprung and with the worst of the inclement weather hopefully behind us, it is the "perfect" time to examine geotechnical assets – and just because it may have made it through the winter without incident, that doesn't mean it is not at risk.
That's the view of Angus MacGregor, ground investigation contracts manager at BAM Ritchies, who told Project Scotland that an increase in "severe" swings in dry and wet weather has led to ground not being given time to react to changes. This, combined with geotechnical assets being assessed infrequently, is resulting in failures.
"Inclement weather causes the ground water conditions to change in the soil and the soil gets liquified and falls down either onto the infrastructure that we drive along or take trains along, or it happens below us, in which case the road or railway line gets washed away," Angus explained. "it used to be that the drainage ditch at the bottom of a slope would provide two jobs – it would take the water away but it would also catch the rocks that came off, but if you're an asset owner and you're not going out every few months to clear out the ditch then suddenly the ditch is full of debris and when the big rock comes off it no longer gets caught in the ditch; it rolls over the ditch because the ditch is filled in and lands on your road."
While a lot of infrastructure in higher risk areas already has some kind of mitigation in place, these extreme weather events mean that, sometimes, that which may have worked in the past, isn't working as well now, Angus continued. "We're getting more severe swings so – incredibly wet and then incredibly dry – and unfortunately these things can happen quite quickly."
Signs to look out for include cracks in the ground; extra debris in a ditch; water coming from a slope where it didn't before; and trees leaning over more than they used to. This, Angus said, is a classic sign of a long-term failure of a slope.
BAM Ritchies can provide emergency and planned ground investigation services to allow asset owners, with support from consulting engineers, to assess ground conditions in order to assess the likelihood of an issue and mitigate against a 'geo-emergency'.
"What we pride ourselves on is being given a challenge," Angus said, highlighting BAM Ritchies' ability to offer bespoke solutions to geotechnical issues. He went on to give the example of a project on slopes below the A77 at Carlock Hill in South Ayrshire, which required a full-scale ground investigation to analyse the rock core of the asset. This led to the first outing of BAM Richies' Sherpa 3 drilling rig – so named because "it can go to places that other drilling rigs can't".
Angus concluded, "If it hasn't failed during the inclement weather, it doesn't necessarily mean that your asset isn't at threat of failure… so this time of year is a perfect time (to assess your asset)."