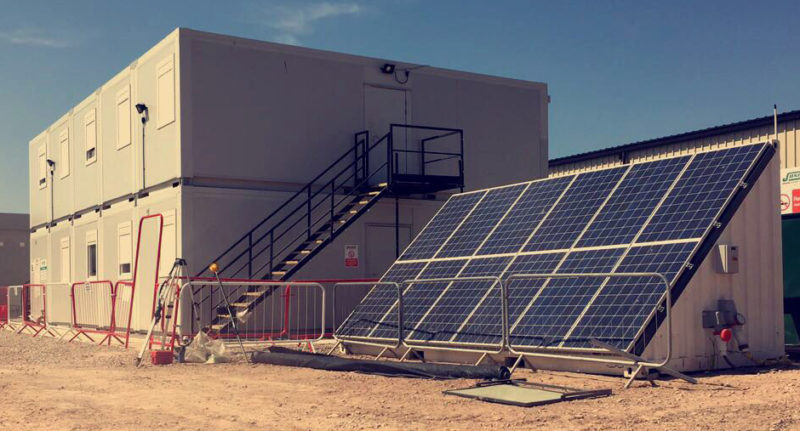 PROLECTRIC, a supplier of temporary solar lighting and off-grid power for highways, rail and infrastructure projects, has announced the acquisition of the Solatainer solar generator.
The purchase, from Gaia Renewables, includes all Solatainer assets and intellectual property. Prolectric described the Solatainer as the UK's 'first autonomous solar-powered off-grid generator' and has been utilised at more than 50 sites nationwide.
The move, Prolectric claimed, makes the firm the country's first specialist single-source supplier for off-grid renewable light and power, making it easier for contractors to use renewable energy to reduce fuel costs, noise, NOx, PM and carbon emissions.
"We are delighted to confirm the acquisition, which supports our vision to provide everything our customers need to end their reliance on diesel and operate a 'Site of the Future' using renewable power and light," said Chris Williams, managing director of Prolectric Ltd.
The Solatainer is now available to Prolectric customers. Modelled on a standard 20ft shipping container, the product's photovoltaic (PV) solar panels charges on-board lithium ion or deep-cycle lead acid battery storage, with a diesel generator providing only occasional back-up power. Fuel usage is said to be reduced by 80% compared to a conventional diesel generator.
As part of the agreement, Stuart Thomas and Jamie Morris, who invented and developed the Solatainer, will continue to be responsible for overseeing its manufacture from its production facility near Swansea.
"The Solatainer generator perfectly complements our temporary solar lighting range," Williams added. "Both technologies deliver low- or zero-in-use carbon emissions and are usually needed on the same construction and rail welfare compounds. Both also dramatically reduce the noise nuisance of diesel generators close to residential areas, especially during night-time working.
"We've listened to our customers and we know they would prefer a 100% reliable, renewable energy on-site operation that is sourced, delivered and set up through a single supplier, and available via direct hire or cross-hire as they require."